Daniel Jones Soars Up Card Market After Stellar Performance
The collecting industry is alive. It breaths every day and the market fluctuates based on current events.
Case in point: Daniel Jones.
All eyes were on Jones on Sunday. Mocked when he was selected No. 6 overall in 2019 draft, the Duke product is officially the Giants starting quarterback for the present and future. Big Blue Nation could not wish for a better result. On the road vs. the Buccaneers, Jones threw for 353 yards and two touchdowns. He also ran for two scores, including a 7-yarder that turned out to be the game-winning touchdown with 1:16 remaining.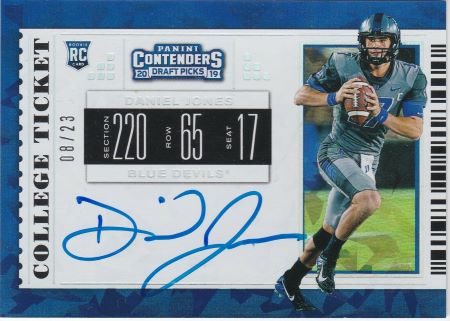 He is the first rookie quarterback with at least 300 passing yards, two passing touchdowns and two rushing touchdowns (since 1970) in a single game.
It's important to note that the pick was almost universally dogged. Jones took all the criticism in stride and took advantage of the opportunity in front of him.
"You can start to see — and as you get to appreciate him as a player — there's plenty of things he needs to do better. But as you get to — there's certain things that I knew about this kid when we drafted him: He was tough, he was competitive, and in my opinion he's a winner," Giants coach Pat Shurmur said, per ESPN. "Now, the rest of it is just pure quarterback stuff. And because of those first three things, that's why he's gonna have a chance moving forward."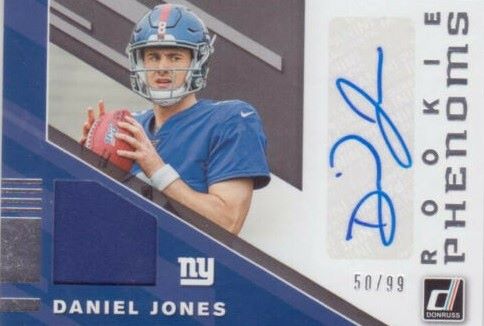 Right on cue, several high-end Jones cards hit the market on Monday, many listed in the triple digits.
Just as it is too soon to tell if Jones can continue the excellence displayed Sunday (and he is rookie so there will be bumps in the road), it is too soon to measure the impact his one game had on the market. But the bump is there and collectors are trying to strike while the iron is hot.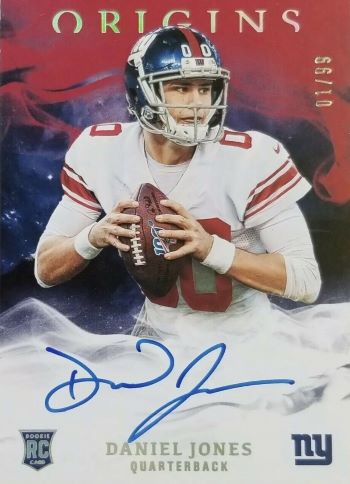 Here are a few newly listed Daniel Jones cards for auction.
2019 Panini Contenders Daniel Jones Cracked Ice AU 08/23 Jersey #
Price: $895
2019 Donruss Rookie Phenoms Jersey Auto #RPJ-4 Daniel Jones 50/99 – Giants
Listed Price: $139.99
2019 DANIEL JONES ORIGINS #1/99 1/1 1st TRUE RC ON CARD AUTO
Listed Price: $299.99
2019 Origins Daniel Jones Passing Stars Rookie Auto 19/25
Listed Price: $400
Daniel Jones 2019 Panini Flawless Jersey Patch Non Auto /25
Listed Price: $139.99