Dale Earnhardt buy back autos in Press Pass Power Packs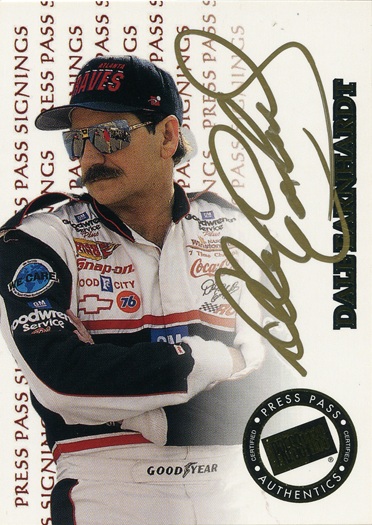 By Susan Lulgjuraj | Beckett Sports Card Monthly Editor
Press Pass introduced its Power Pack program last year where the company offered bonus packs with exclusive content to customers.
The packs contained the Power Pick set, autograph buy backs, memorabilia cards and instant win prizes.
Press Pass has released a new Power Pick set for 2013. Some of these packs can be found in 2013 Press Pass Racing, but can also be obtained through local hobby shops.
Contact your local shop to learn how you can get your hands on the packs.
One of the buyback autographs in the newest Power Packs is Dale Earnhardt, who died in a crash in the 2001 Daytona 500.
Earnhardt consistently signed for products in the late 1990s. Since 2006, his autographs have appeared as cut signatures or buybacks in racing products (Click here to see a checklist of Dale Earnhardt cards in the Beckett database).
Check out the gallery for other buy back autos available in the Power Packs.
The 2013 Power Pick set includes three levels of 25 base cards: Blue (numbered to 99), Gold (numbered to 50) and Holo (numbered to 25). Names on the checklist include Kurt and Kyle Busch, Matt Kenseth, Richard Petty, Dale Earnhardt Jr., Danica Patrick and Travis Pastrana.
Autographs of many of the top drivers can be found in the bonus Power Packs along with instant win prizes.
Susan Lulgjuraj is an editor of Beckett Sports Card Monthly. You can email her here with questions, comments or ideas. Follow her on Twitter here.