Dak Prescott Cards Heating Up Ahead of New Season – Beckett Pricing Insider
This edition of the Beckett Pricing Insider is brought to you by GTS Distribution. Watch Go GTS Live – The Hobby's Web Show, every Thursday at 9 PM EST.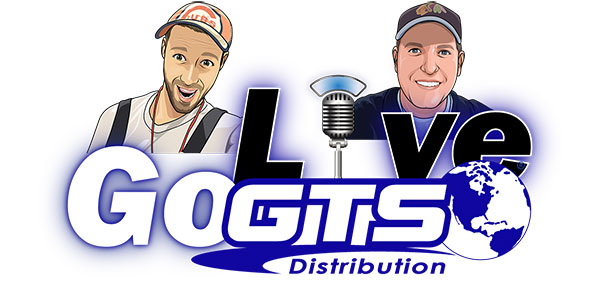 Dak Prescott started off last season at a record pace. In only five games, he threw for 1,856 yards and nine touchdowns. Collectors responded, chasing after his cards and sending prices higher. Then the worst-case scenario happened and a devastating injury ended his season. While his card values didn't drop off completely, their growth certainly came to a halt.
During the offseason things started to heat up again, though. There was good news about Prescott's surgery and that he is going to be ready to start the season. He also got his mega contract, ensuring that he will be in a Cowboys uniform for years to come. In the collecting world, being a Dallas Cowboy always helps.
With values for Dak Prescott cards on the rise recently, here are some of the biggest movers:
2016 Panini Prizm #231 Dak Prescott RC
This card has been on a roller coaster over the last year or so. At the beginning of the pandemic the value of this card shot up to $300. In the fall, values dipped to the $100-$150 range. The most recent sales of this card are closer to the high book value of around $200-$250. This is one to keep an eye on during the season if Prescott starts off hot.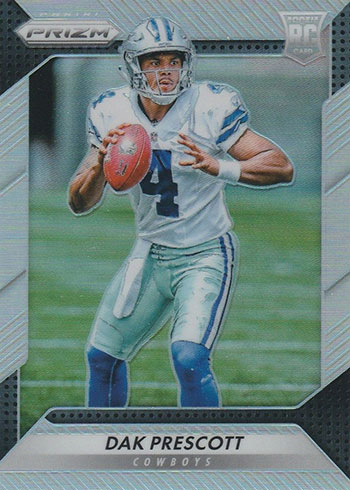 2016 Panini Contenders #307 Dak Prescott AU RC
Here is a card on the rise. When it was first priced in 2017 it was $800. It did take a huge dip in 2019 down to $200, but slowly started to gain value again. It now has a high book of $1,000, the highest this card has ever been.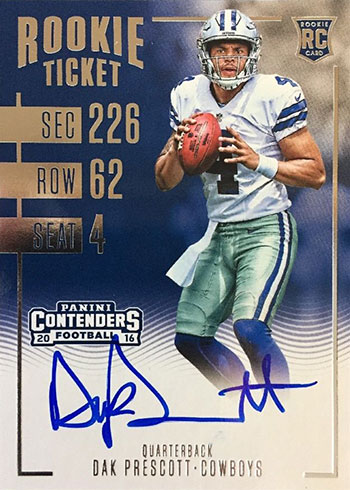 2016 Panini National Treasures #130 Dak Prescott JSY AU RC /99
This card is the biggest mover in value in the Dak catalog. When it was first priced, it was $4,000. But by July, 2019, it dipped as low as $600. As of today, this card's high book value of $8,000 and I am watching some active sales right now. There is a chance that number could be adjusted even higher in the near future.