The Daily: 2008 Inkworks X-Files: I Want to Believe David Duchovny/Gillian Anderson Autograph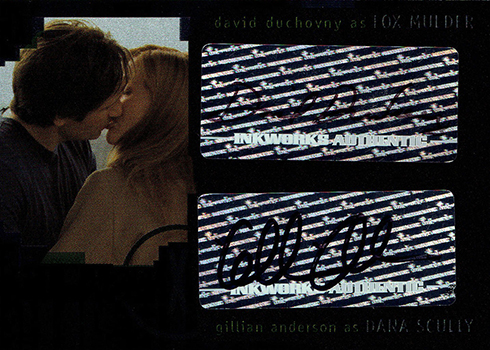 The X-Files kicked off its final final season last night, bringing back TV's most '90s duo this side of Ross and Rachel — Mulder and Scully.
Over the years, there have been plenty of sets based on the show and its two theatrical spinoffs. It started with Topps, who also had a popular run with the show in the comic realm. After a handful of seasons, Inkworks took over and brought with it more autographs and, eventually, memorabilia.
Gillian Anderson had multiple autographs during that run. David Duchovny held off until the bitter end. His first autograph cards didn't arrive until the franchise's final set, 2008 Inkworks X-Files: I Want to Believe. That set was based on the second movie.
Not only did both Anderson and Duchovny both have regular autographs in the set, but the two were paired up for a special Dual Autograph. Not available in packs, it was given to dealers as a ten-case incentive.
I Want to Believe came out not long before Inkworks went out of business. Like their other sets from the era, autographs shifted to foil labels. Although not as aesthetically pleasing as the on-card autographs Inkworks did, having the iconic duo's signature on the same card is still important.
The revival series has yet to see a new set of trading cards. Could it happen at some point? The truth is out there — we just don't know what it is yet.
The Daily highlights a key player or personality in the world of sports or collecting from the past 24 hours along with one of their key cards.