The Daily: 1986-87 O-Pee-Chee Patrick Roy RC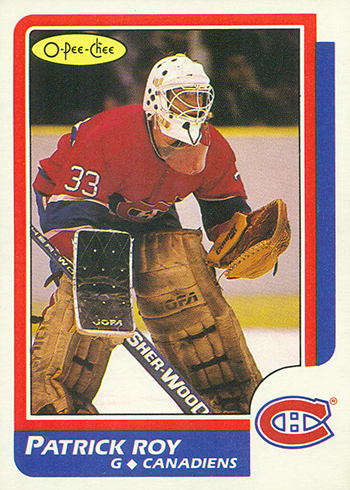 On February 23, 1985, the NHL got its first taste of a goaltending great. Patrick Roy coming in for Doug Soetaert in the third period may not have seemed like a huge deal at the time. That single period probably wasn't in and of itself. But it was the beginning of a prolific playing career filled with NHL records, awards and four Stanley Cups.
Despite making his debut in 1985, Patrick Roy Rookie Cards didn't arrive until 1986-87, after he had already won his first Stanley Cup. The 1986-87 O-Pee-Chee Patrick Roy is one of the top hockey cards of the decade. He appears in 1986-87 Topps as well, but it's the O-Pee-Chee one that gets the most attention.
Before 1986-87, the closest thing collectors have to chasing Roy is a puffy sticker in the regional  1985-86 Canadiens set. He also has a team-issued postcard from 1985-86.
The Daily highlights a key player or personality in the world of sports or collecting from the past 24 hours along with one of their key cards.