Rick and Morty and Adventure Time aren't the only modern animated shows to get the card treatment. 2019 Cryptozoic Steven Universe trading cards mark the hobby debut for the popular Cartoon Network show.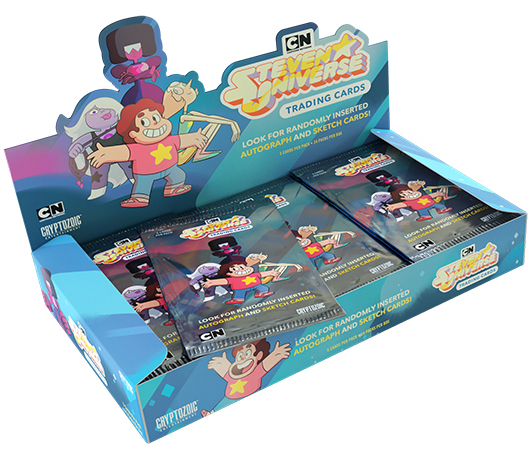 Following a similar format to Cryptozoic's recent Rick and Morty offerings, the set has a broad mix of card types. Among them? Autographs and sketch cards.
2019 Cryptozoic Steven Universe Trading Cards Overview
The base set has 72 cards. These cover episodes from the show's first five seasons as Steven not only protects his home of Beach City, but discovers who he is and why he's so special.
Randomly inserted autographs feature the show's cast while sketch cards all come with original artwork. Hobby boxes have both a sketch card and an autograph.
Signers dig deep into the show's stars with a large roster of variations. This makes for a large checklist of almost 40 different autograph cards. All come with serial numbers, making several short prints. Signatures include Zach Callison (Steven Universe) and Rebecca Sugar, the show's creator.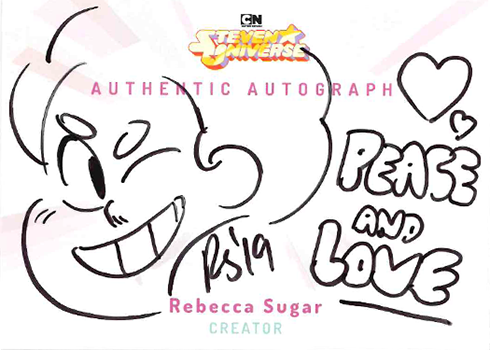 Joining these are a handful of additional insert sets including Crystal Gem Friends, Fusions and Greatest Hits. Each of these are relatively easy to pull.
Totally Fabricated are manufactured relics featuring fake bubble gems embedded in them, meant to resemble memorabilia cards.
Base cards and select inserts also have foil parallels and printing plates.
Rounding out the product is a custom binder. Sold separately, it comes with an exclusive card not found in packs.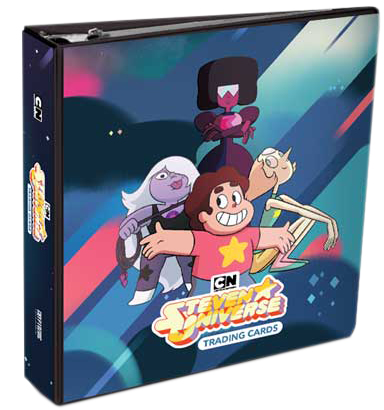 The first 2019 Cryptozoic Steven Universe trading cards are in the February/March issue of Non-Sport Update magazine. Each issue comes with one of three different promo cards. Cryptozoic also has additional exclusive promos for Emerald City Comic Con and WonderCon that will be handed out in March.
Cryptozoic has been producing digital Steven Universe trading cards and stickers on the Quidd app for a while now. It remains one of the app's most popular channels.
2019 Cryptozoic Steven Universe trading cards at a glance:
Cards per pack: 5
Packs per box: 24
Boxes per case: 12
Set size: 72 cards
Release date: June 19, 2019
What to expect in a hobby box:
Sketch Cards – 1
Autographs – 1
2019 Cryptozoic Steven Universe Checklist
Base
Autographs
Inserts
Sketch Cards
Promo Cards