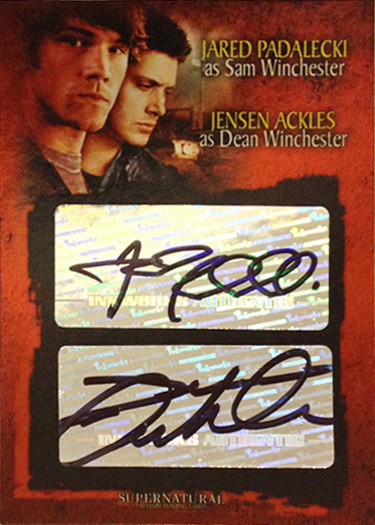 By Susan Lulgjuraj | Beckett Sports Card Monthly Editor | Commentary
Cryptozoic Entertainment announced four new licenses this weekend at the Philly Non-Sports Card Show.
It picked up Supernatural, Arrow, Scandal and Adventure Time, according to Non-Sports Update.
I'm excited. I watch three out of four of the shows with Supernatural being one of my favorites. I watched Supernatural from the beginning and have the Inkworks base sets from the first three seasons and maybe a wardrobe card or two. The picture above is from an Inkworks set.
I know what my collection is going to focus on next. Supernatural is set to come out next year starting with the first three seasons, according to Non-Sports Update.
Arrow is a logical choice. The show is based on the comic character and has been popular with fans. The main character may not even be one of the most popular actors on the show. If Cryptozoic can get John Barrowman to sign, Arrow fans won't be the only ones chasing after this product.
I thought Scandal was an interesting choice. It's a very popular show (and one I also watch) with women. This is a different demographic than what most trading card companies chase, but non-sports products tend to be different. In this case, Cryptozoic is going right after the female market. I definitely want to add a Kerry Washington autograph to my collection.
I don't know much about Adventure Time other than what I've caught on television in passing. A post-apocalyptic world with very odd characters. The cartoon aspect will allow Cryptozoic to use sketch cards and different type of cards that aren't normally associated with the other television shows.
What do you think about these new licenses?
Susan Lulgjuraj is an editor at Beckett Media. You can email her here with questions, comments or ideas. Follow her on Twitter here. Follow Beckett Media on Facebook and Twitter.