2019 Cryptozoic DC Bombshells III Trading Card Details
2019 Cryptozoic DC Bombshells III sees the return of one of the popular trading card line with new cards and a new series of vinyl figures. Like the first and second sets, and other items under the Bombshells banner, cards image the DC Comics universe through the lens of a 1940s pin-up style. It's largely about the ladies as well, offering up different designs and concepts from the main DC line for Wonder Woman, Supergirl, Catwoman and more. It's one of those instances where things are both familiar and different at the same time.
The base set, which has 60 cards, finds its roots in artwork from DC Bombshells sketch cards from the previous releases. In their original form, they were one-of-a-kind meaning the audience was small. These reprints make the art more accessible and visible. Parallels include foil cards and one-of-one Printing Plates.
Original sketch cards are also available. Unlike the cards from the base set, these all have original art.
2019 Cryptozoic DC Bombshells III has four additional insert sets: Gotham's Greatest, On the Front Line, Show-Stoppers and Wonder Girls.
One of the things that has made the DC Bombshells trading card line stand out is the fact that it's more than cards. It adds vinyl dolls to the mix. That continues here with a Golden Goddess DC Lil Bombshells figure in each box. Well, almost every box. Hand-painted figures are randomly inserted as well, although tough.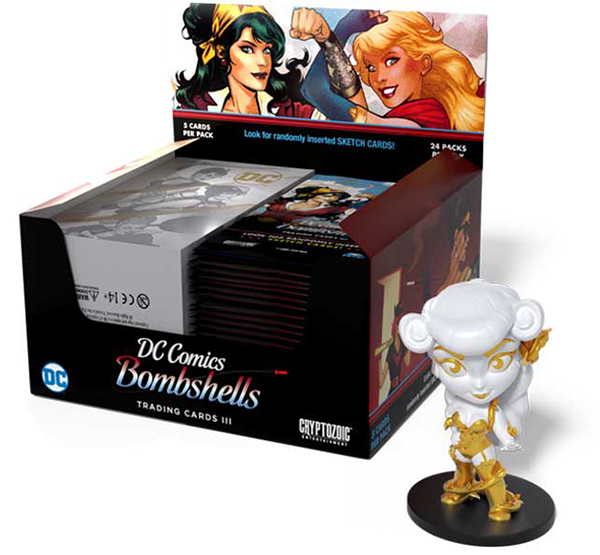 The set has its own custom binder that's available separately. It comes with an exclusive card not found in packs.
2019 Cryptozoic DC Bombshells III trading cards at a glance:
Cards per pack: 5
Packs per box: 24
Boxes per case: 12
Set size: 60 cards
Release date: TBA
What to expect in a hobby box:
Sketch Cards – 1
Vinyl Figures – 1