2021 Cryptozoic CZX Crisis on Infinite Earths Crosses Over
Crossovers have long been used in comics to tell epic stories, bring together superhero dream teams and have some unexpected battles. That premise carried over to the sweeping and Arrow-verse altering Crisis on Infinite Earths, a series of episodes bringing together not just a handful of DC superhero shows, but featuring plenty of other cameos as well. And now it's time for the trading cards. 2021 Cryptozoic Crisis on Infinite Earths is putting a premium spin on the television event.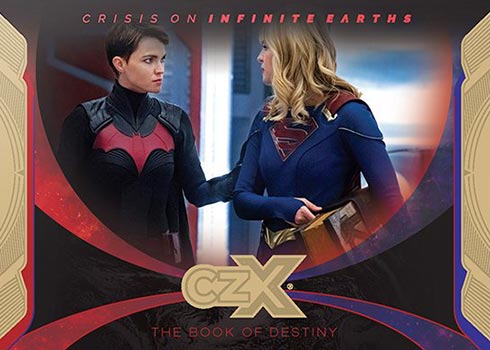 The base set is a 50-card affair, covering the events of the five-episode crossover. Although it spread across Supergirl, Batwoman, The Flash, Arrow and Legends of Tomorrow, the ramifications and reach were further than that, touching on a variety of other parts of the larger DC Universe.
Base cards use premium stock and foil highlights. This is similar to previous CZX Super Heroes and Super-Villains and Outlander releases. Foil parallels and printing plates are also available, combining to land approximately one per box.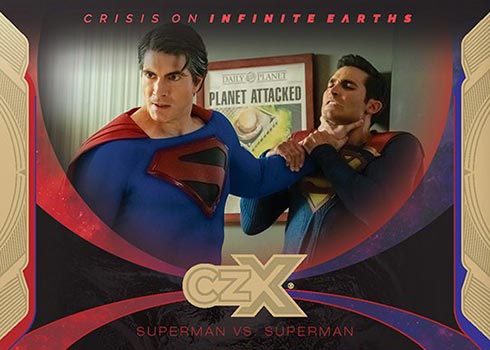 Autographs are a box hit as well. Although a list of signers has not been released, with so many shows and cameos, there's plenty to draw from. In addition to traditional autographs, multi-signed cards and autographed sketch cards are also available.
Wardrobe cards with pieces of costumes and sketch cards are also both one per box.
Rounding out the checklist is a new batch of character-based CZX STR PWR inserts. These have been in a variety of Cryptozoic products and lines over the last few years. Here, they're one per box.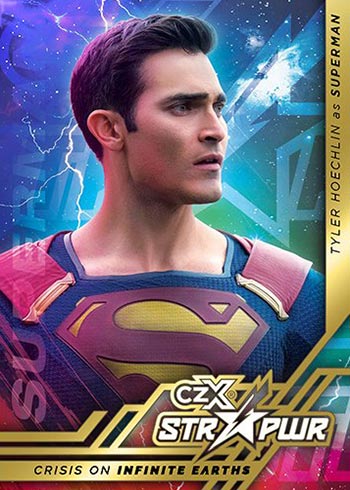 Available separately, there's a binder that comes with an exclusive Dual Wardrobe card not found in packs.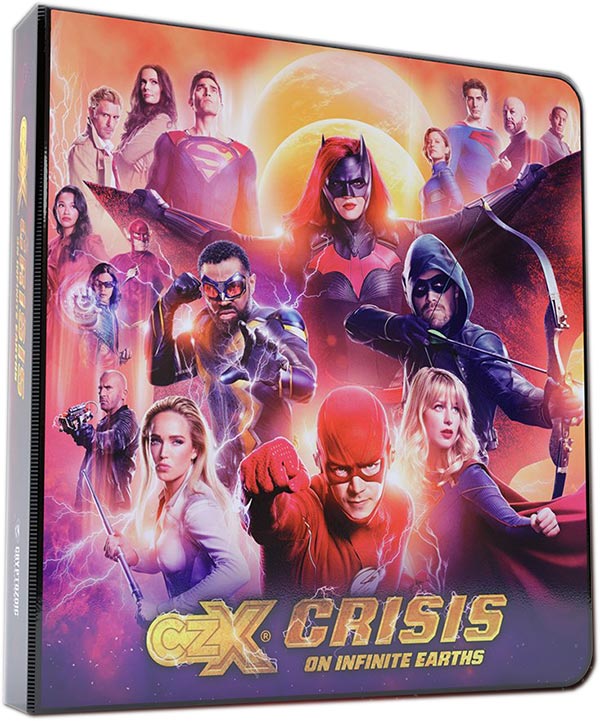 2021 Cryptozoic CZX Crisis on Infinite Earths trading cards at a glance:
Release date (subject to change): TBA
Cards per pack: TBA
Packs per box: 6
Boxes per case: TBA
Set size: 50 cards
What to expect in a hobby box:
Autographs – 1
Memorabilia Cards – 1
Sketch Cards – 1
CZX STR PWR – 1
Parallels – 1
2021 Cryptozoic CZX Crisis on Infinite Earths Checklist
Promo Cards
P-BR Superman – Non-Sport Update
P-GSR Batwoman, Arrow, The Flash – Non-Sport Update
P-MB Supergirl – Non-Sport Update
The full 2021 Cryptozoic CZX Crisis on Infinite Earths checklist will be up as soon as it's available.