Creating a New Legacy – Beckett Pricing Insider
This edition of the Beckett Pricing Insider is brought to you by GTS Distribution. Watch Go GTS Live – The Hobby's Web Show, every Thursday at 9 PM EST.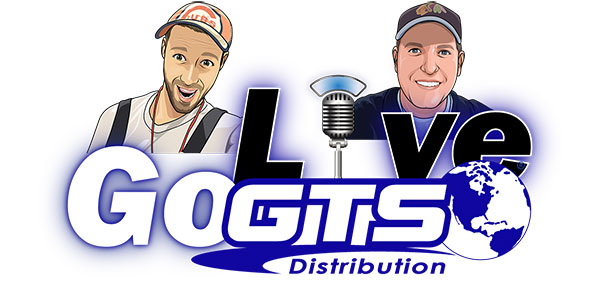 Every year Panini comes out with new products for football card collectors to enjoy. Some of them only last for a short time, while others become mainstays in the hobby. Panini Legacy seems like it will become part of the latter.
After only a week on the market there are over 10,000 active sales and 3,300 complete sales accounted for online. Let's look at some of the potential big money cards people can hope to get out of this freshman product.
2019 Panini Legacy Futures Ink Combos Diamond Dwayne Haskins/Kyler Murray /10 – $530
What could be better than getting an autographed card of the two of the year's most anticipated rookie quarterbacks? This is one of the cards that has the best chance to pop, especially if they both exceed expectations.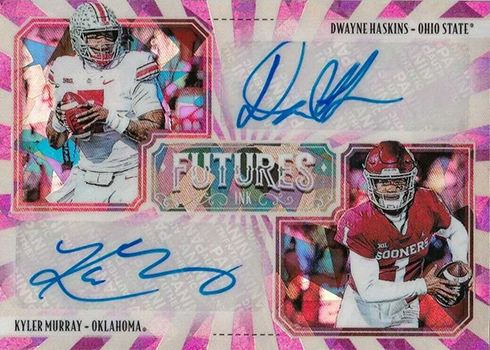 2019 Panini Legacy Futures Dual Patch Autographs Daniel Jones /15 – $300
People are taking a chance on Eli Manning's heir apparent. His pre-draft projections weren't the highest but the New York Giants saw something they liked. Rumor is that he is making front office happy with their decision. This is the base version of this card and it seems like this product focuses on putting some pretty cool patches thing them.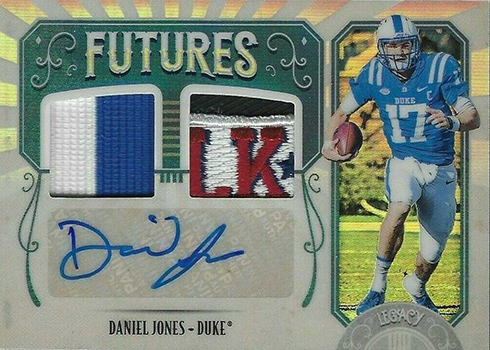 2019 Panini Legacy Premium Penmanship Diamond #199 T.J. Hockenson/10 – $165
The Lions drafted this tight end with the eighth overall pick of the draft. It is a rarity but if he can reach Gronkowski levels his value could stay strong.