Cowboys Rookie Quarterback Mike White Talks Football Cards, Playing in Dallas and More
Mike White has a couple of things going for him as far as football cards go, he's a quarterback and he's on the Dallas Cowboys. Now he just needs some playing time, which might be a bit given the fact that he's playing with Dak Prescott.
Beckett Media's David Lee spoke with White at the NFLPA Rookie Premiere about the Cowboys, cards and more.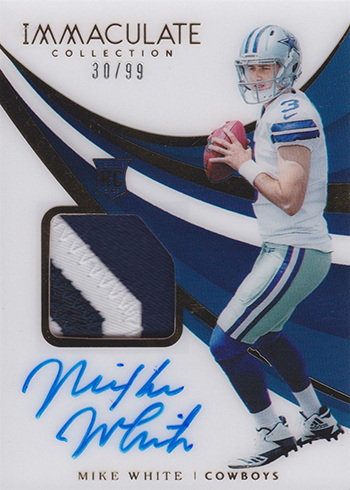 Beckett Media: What do you think of this big event the NFLPA and Panini put on just to create some football cards?
Mike White: I didn't think it was going to be this intricate, but it's part of it and it's cool. This is what you dream of when you were a little kid. Definitely no complaint on my end. I'm just taking it all in.
BM: What's it like seeing yourself on all these professional, licensed cards?
MW: It's really cool. I collected cards like this when I was little, and now I'm signing them for someone else to collect. It's very weird, but it's really cool at the same time. I'm thankful for it and thankful for Panini for putting this on.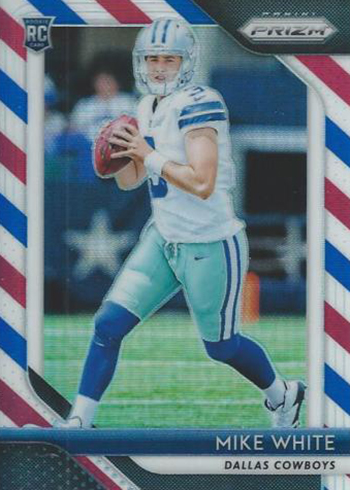 BM: What did you collect?
MW: I was a big baseball card guy. So I had the binders and everything by team and year. They're somewhere back at my parents' house. We made it a big thing, me and my dad, for a couple years. I didn't realize how big football cards were. I just thought baseball cards were the big deal. Boy, was I wrong. The whole business is interesting.
BM: What's been your favorite part about the Rookie Premiere?
MW: The first thing is the weather in Los Angeles. I've never been on the West Coast. The no humidity thing is awesome. Besides that, just meeting so many different people from different companies, and the people who help make the sports world go around from the marketing side is really neat. That's probably been the highlight of the weekend.
BM: What are your thoughts on joining one of the biggest sports brands in the world with the Cowboys?
MW: I think it's really cool, and obviously a good opportunity for anyone who can play in that market. I'm just excited for the history with the franchise. There are some guys who wore that star on their helmet that are living legends and Hall of Famers, Super Bowl champions. I think that's the coolest part, just sharing that tradition with them. Coach Garrett harps on it all the time—respect for the guys in front of us, respect for the logo, and respect for yourself and the game.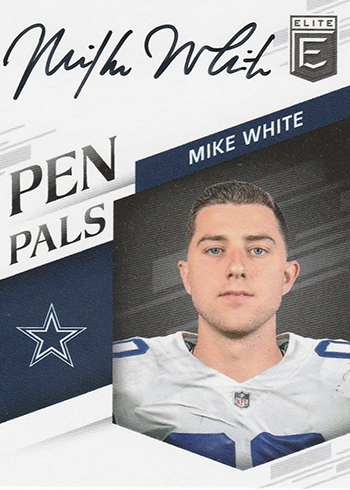 BM: What are you most looking forward to being part of this season?
MW: I'm looking forward to being part of the Dallas Cowboys and Eagles rivalry. Honestly, just the rivalries in the NFC East. I think it's one of the coolest divisions in football. I'm excited to experience those home games and then those away games with a tough atmosphere at The Link and the Redskins and Giants. So, just taking in my first season in NFL stadiums will be neat.
BM: What type of quarterback are Cowboys fans getting?
MW: I would say I love pushing the ball down the field. As a quarterback, that's the most fun, throwing the deep ball. One thing I was so good at in college was taking care of the ball while doing the same thing. We really pushed the ball down field at my time at Western Kentucky, and we didn't turn the ball over. Besides that, just being a good teammate and being a good leader. The genuine love I have for the game and the camaraderie of the sport, you'll be able to see when I'm playing. When I go out there, I'm having the time of my life.
BM: What indications did the Cowboys give that they were interested in you?
MW: I knew they were interested leading up to it. It was just a matter of if they were ready to pick a quarterback at the time and if I was still on the board. We all know how crazy the NFL Draft can get. You can have a first-round grade on a guy and he can fall all the way to the fourth round and throw everything off. It all worked out, because I told my fiancé when I woke up on draft day, 'I want to go to Dallas.'