Could this end up being Bryce Harper's lone (non 1/1) minor league certified autograph?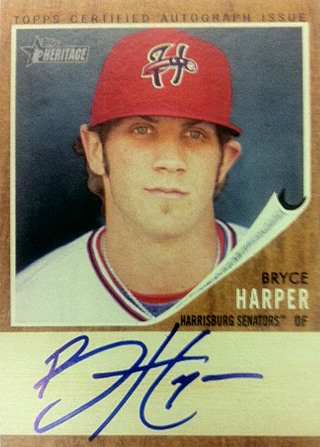 By Chris Olds | Beckett Baseball Editor | Commentary
As Bryce Harper's first season as a professional player winds down with his Harrisburg Senators in the hunt for the Class AA Eastern League title starting next week, some collectors are eagerly looking forward to the arrival of 2011 Topps Heritage Minor League.
Why? Bryce Harper, of course.
While the 18-year-old No. 1 overall draft pick of the Washington Nationals probably didn't live up to lofty expectations when he arrived in Harrisburg, Pa., he has hit a combined .297 with 17 home runs and 58 RBI this season — not bad.
Another stint in Class AA is probably needed — a .256 average with three homers and just 12 RBI in 37 games says that — it's still not too much of a leap to wonder whether he'll still be fast-tracked to the Nationals next season because of the attention and business-side potential, his immense potential according to one manager and, of course, his lofty contract.
Which makes me wonder … could this debut edition of Heritage Minor League end up including the only (non 1/1) certified autograph card made for Harper? It's a possibility if he is, indeed, fast-tracked — he might not be around in the minors long enough to be in another Topps MiLB set.
This year's Heritage Minor League set will include a pair of autographs and a Relic in every box but the real draw is the kid who has been dubbed baseball's LeBron, the kid who has blown kisses to mouthy pitchers (read the potential link for the full story) and had nearly any outburst get way more media attention than any Class AA player should if he jaws with an umpire.
Harper is already a polarizing figure, a player fans show up to watch — and a player some show up to boo. That's the kind of player who will get just as intense scrutiny on cardboard when he arrives in The Show. (As if you couldn't figure that out by the demand for his cards that have been Beckett Baseball Hot List staples for some time now.)
There will be just 54 copies of Harper's Real One on-card autograph (above) to be found with 45 parallel versions of the card in the mix, too. That's fewer than 100 autographs for the entire product, which, while it probably won't be a landmark release based on the rest of the checklist, might be the starting point for a Heritage set in the future. After all, Heritage is a line that has proven to be popular as it's in its 11th year as an MLB release.
Could this Harrisburg Harper card end up being his lone MiLB autograph? It's a possibility — but it's also already among his rarest signatures made, too. It's also — easily — much rarer than his popular 2011 Bowman autographs merely because the MiLB product's print run will be nowhere near that of Bowman.
Those are a few reasons why I'll be watching it closely — as close as an argument between Harper and an ump — when it arrives later this month.
Chris Olds is the editor of Beckett Baseball magazine. Have a comment, question or idea? Send an email to him at colds@beckett.com. Follow him on Twitter by clicking here.