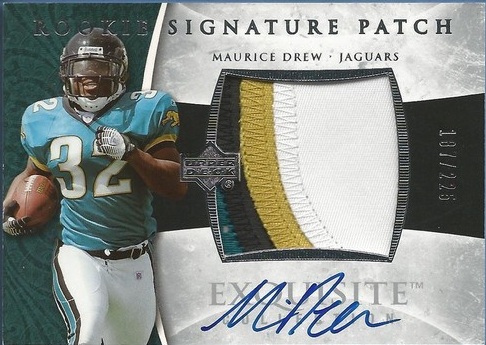 By Susan Lulgjuraj | Beckett Football Editor
Maurice Jones-Drew has been one of the best running backs in the NFL the past couple of years. Last year, he ran for more than 1,600 yards – about 250 more than the closest running back.
That hasn't helped his card value much, however, in a quarterback-heavy hobby.
One of the issues is MJD plays for the Jacksonville Jaguars, not exactly one of the top markets. NFL teams seem to have also shied away from having one back carry the load. Instead, they have a couple of different guys share the responsibility.
But could MJD's card values change after everything is over?
Considering reports that MJD has said he is open to a trade, many people have speculated where he might end up should the Jacksonville brass take him up on that offer. Some teams that have been thrown around were the New York Jets, New England Patriots, Detroit Lions and Washington Redskins.
All better markets. All would likely help raise his profile in the hobby as well.
Of all of MJD's 37 Rookie Cards, just one has a value of more than $100. His 2006 Exquisite Collection autographed jersey card numbered to 225 has a valued range of $100 to $200.
In the last month, two of those cards sold on eBay for right around $100. A 2006 Ultimate Collection autograph /150 and a BGS 10 sold for $200 in July.
MJD doesn't get a lot of hobby love. Perhaps a change of venue is all he needs.
One person who could benefit from MJD's departure is Jags' back up running back Rashad Jennings. Right now, his cards are very affordable with his most expensive Rookie Card selling for around $20.
Susan Lulgjuraj is the editor of Beckett Football magazine. You can email Susan here with ideas, comments and questions. Follow her on Twitter here.