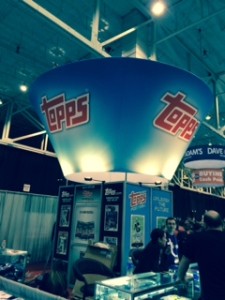 By Stephen Laroche | Beckett Basketball Editor
Does your brand make a mark?
Beckett Media asked its Global Branding Expert, Sushmita Gulabani, to walk the 2014 National Collectors Convention show floor in Cleveland to watch collectors interact with corporate and dealer exhibits, and give a first-person perspective to share with our  readers.
We'll share her review of The National's corporate exhibitors after the jump.
While there was plenty of action in the corporate area, Gulabani found that there were some exhibitors that stood out with their efforts due to the enthusiasm they were putting behind their brand.
"I have always believed that if you're not having enough fun with your brand, go back to the drawing board and tap into why you started your business in the first place," she said. "Your target audience has an uncanny ability to pick up on your brand "pulse" or brand energy.
"The National Sports Convention is a huge playground for raising the brand energy levels of the sports collectors and enthusiasts in various different ways. Leading brands like Upper Deck and Panini were on top of their game with user engagement activities and affinity marketing techniques."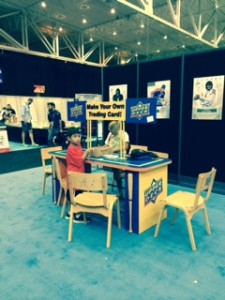 With their enormous corporate space, Gulabani believes that Upper Deck made a major impact on a visual level and created an overwhelming positive setting for visitors. Among the highlights from a branding perspective were:
– a spectacular booth presence.
– an easy-to-find list of each day's promotions, including wrapper redemption programs and raffles.
– activity areas for kids and collectors to engage and spend time without getting bored, especially the Man Cave.
– personalized trading cards that delivers a personal touch and a permanent souvenir for attendees.
– the 25th Anniversary celebration, especially the history wall that reminds attendees of Upper Deck's impact and innovation.
– subtle features such as the availability of the Upper Deck Educates kit pushes their booth experience and brand equity beyond the show itself.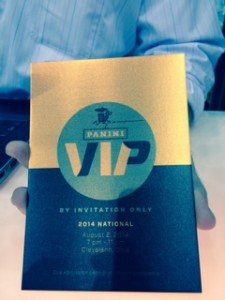 In her opinion, the following characteristics set Panini apart:
– case breaker engagement, including free breaks for kids, creates an experience for the whole family.
– the company was handling redemptions onsite, giving collectors instant gratification.
– promotion and build-up for its Saturday night VIP party.
– overall, they provided an open, easy-to-access and very well merchandised booth with clear, powerful branding.
Other brand-specific highlights in the corporate area on Thursday included a Pack Wars event hosted by Topps which drew significant crowds while Leaf Trading Cards brought sports artist Paul Madden to their booth to create eye appeal.
Major hobby retailers also had a strong presence in the corporate area. Online marketers Blowout Cards, Dave & Adam's and Steel City Collectibles hosted various engagement events (raffles, social media promotions, Beckett Media card giveaways, etc.) to drive wax sales. The Group Break Pavilion was hard to miss and drew collectors in to watch product being opened by various retail outlets.
One thing in particular that Gulabani appreciated was the fact that manufacturers were endeavoring to bring collectors closer together through a variety of methods. Perhaps the strongest of these was their willingness to introduce kids into the hobby.
"Much of the hobby's future is built around creating future generations of collectors. Seeing the manufacturers and case breakers take the time to ensure that young people felt welcome at the National was a sign that established hobbyists are willing to share their knowledge and create a positive experience."
Stephen Laroche is the editor of Beckett Hockey and Beckett Basketball magazines. Have a comment, question or idea? Send an e-mail to him at SLaroche@beckett.com. Follow him on Twitter @Stephen_Laroche.