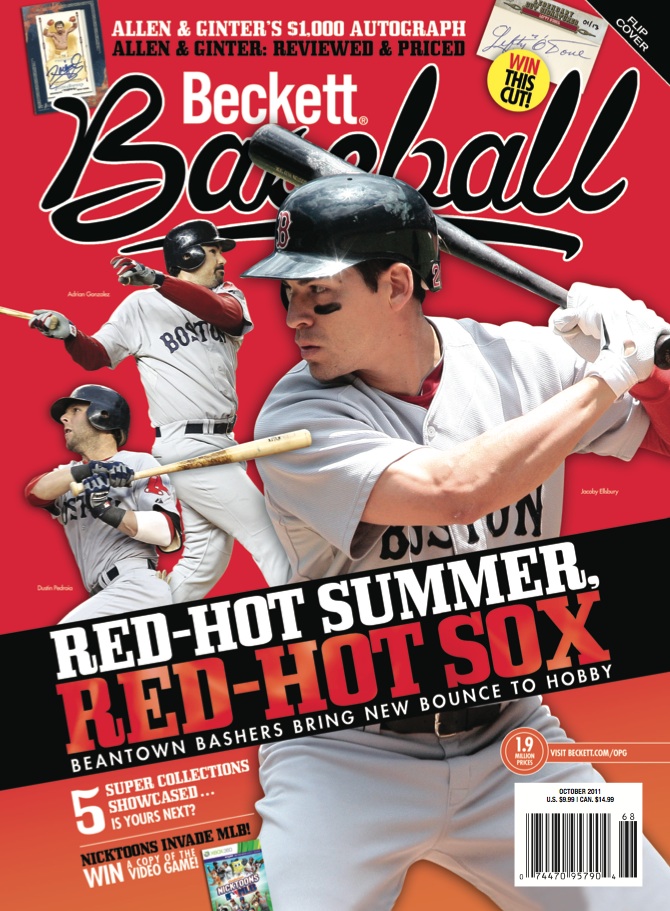 By Chris Olds | Beckett Baseball Editor
The postseason will be here before we know it, meaning that the MLB awards voting will be, too, but there's another vote that's perhaps as red-hot as the trio of Boston Red Sox on the cover of the latest issue of Beckett Baseball.
And that's the voting for "The Showdown" taking place in advance of the arrival of the Nicktoons MLB video game, which you can have a chance to win a copy of if you pick up the magazine thanks to 2K Sports — or if you keep reading. (Click the link above for a look at our recent sneak peek at the game.)
As part of the video game's promotion — and an overall push by MLB to get kids more involved with the game and its merchandise (sound familiar, card collectors?) — fans online can vote until Sept. 7 on which 11 MLB stars they want to see in The Showdown as well as which park and, of course, which Nicktoons they want to see take them on in a simulated game on Sept. 13, the day the game arrives.
The current voting (click here) looks like a who's who of MLB All-Stars right now with Albert Pujols, Jose Bautista and Roy Halladay in the mix but it's also a world where the done-for-the-year Buster Posey can play injury-free, too. (He's the leading vote-getter at catcher.)
How can you win a copy of the game? Pick up the magazine for instructions on how to win one — and leave a comment below to a chance to win another.
We'll give one of our games to one of you at random once they arrive.
Chris Olds is the editor of Beckett Basketball magazine. Have a comment, question or idea? Send an email to him at colds@beckett.com. Follow him on Twitter by clicking here.