Contenders football celebrates 20 years on cards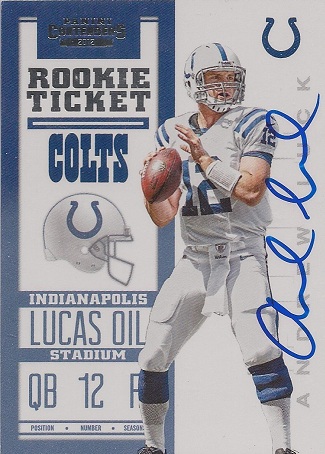 By Susan Lulgjuraj | Beckett Football Editor
Twenty years ago the first Contenders football product launched. Playoff started a product that would last decades with some of the most celebrated football rookies on cards.
Rookies from the 1993 set included Drew Bledsoe, Jerome Bettis and Mark Brunell.
Over the next couple of years, Donruss released cards of rookies on unique insert designs, looking to find something that would resonate with collectors.
Then came 1998 – the debut of Rookie Contenders Ticket, an autograph subset that became a mainstay even under Panini America.
That first set featured 99 cards but only 19 of them were autographed, according to the Beckett database.
Nearly all of the top stars in the NFL over the last 15 years have had their cards featured on a Contenders Ticket. But the autograph versions are where collectors really reacted to the chase.
In 1998, players such as Peyton Manning, Randy Moss and Hines Ward had autographed tickets. That year also had players such as Ryan Leaf. Not all winners, but still a highly collectible set as it marked the beginning of a popular set.
To this day, the Contenders Rookie Tickets are anticipated. This season highlights a fun rookie class with the likes of Robert Griffin III, Andrew Luck and Russell Wilson. Their Rookie Ticket Autographs are already going for a hundreds of dollars.
One of Luck's Contenders Tickets sold for $1,100 on eBay, several others for $500. The only RG3 Contenders ticket that has sold so far has gone for $375, and a Wilson redemption sold for $300.
Popular Contender Ticket Autographs
Year Player
1998 Peyton Manning

1998 Randy Moss

1998 Hines Ward

2000 Tom Brady

2000 Brian Urlacher

2008 Matt Ryan

2008 Joe Flacco

2008 Chris Johnson

2009 Matthew Stafford

2010 Joe Montana

2010 John Elway
2012 Rookie Ticket Autographs to watch
Andrew Luck

Robert Griffin III

Russell Wilson

Doug Martin

Justin Blackmon

Luke Kuechly

Rueben Randle

Ryan Tannehill

Trent Richardson

Brandon Weeden

Doug Wilson
Susan Lulgjuraj is an editor of Beckett Football. You can email her here with questions, comments or ideas. Follow her on Twitter here. Follow Beckett Media on Facebook.