Connor McDavid signs exclusive with Upper Deck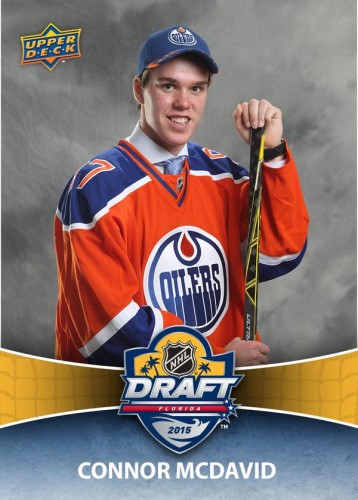 By Stephen Laroche | Beckett Media
Moments after the Edmonton Oilers officially announced that they were selecting Connor McDavid with the first overall pick in the 2015 NHL Entry Draft, Upper Deck made an announcement of their own and revealed that it would be the sole source for autographed trading cards of the league's newest star.
"Connor McDavid has been on our radar for a long time and we are thrilled to be able to add him as one of Upper Deck's exclusive trading card signers," said Upper Deck's president, Jason Masherah. "The sky is the limit with a player of his caliber, and to be able to deliver exclusive content of this sensational talent is a thrill for us here at Upper Deck. We are excited to watch his career begin with a historic franchise like the Edmonton Oilers, and we look forward to delivering hockey fans the best of the best in terms of licensed trading card content for McDavid."
The deal between Upper Deck and McDavid will also give the company the option to feature him on product packaging and have the ability to partner with each other on promotional opportunities related to trading cards.
When can collectors expect to find the first NHL-licensed trading cards of McDavid? Find out after the jump.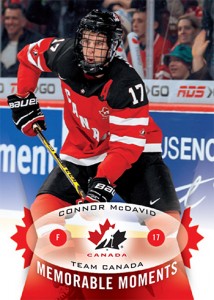 The first mass-market trading cards of McDavid surfaced during the 2012-13 season as In The Game included him in its Heroes & Prospects release after he was the top choice in the 2012 OHL Priority Selection at the age of 15. He spent three seasons with the Erie Otters and helped the club build into a championship contender alongside fellow prospects like Dylan Strome, who was taken third overall in the 2015 NHL Entry Draft by the Arizona Coyotes. In 2014-15, he earned several OHL and CHL accolades, including the Player of the Year and Top Draft Prospect Award in addition to helping Canada to a gold medal at the 2015 IIHF World Junior Championship. Dominant in the playoffs, he scored an incredible 21 goals and 49 points and was named postseason MVP despite the fact that the Otters ultimately lost to the Oshawa Generals.
McDavid's first NHL-licensed trading cards are expected to appear in the Young Guns subset in 2015-16 Upper Deck Series One, but there will be redemption cards in early season products such as 2015-16 Upper Deck MVP and 2015-16 Upper Deck Artifacts which can be exchanged for a card of the young phenom that which will be sent to collectors later in the year. The Young Guns card is expected to be an extremely hot commodity and is bound to sit atop the Beckett Hockey Hot List upon release.
Stephen Laroche is the editor of Beckett Hockey. Have a comment, question or idea? Send an e-mail to him at slaroche@beckett.com. Follow him on Twitter @Stephen_Laroche.