Connor 2.0: Connor Bedard's First Hockey Card Arrives
Here's the thing about Connor Bedard: Exceptional barely begins to describe him.
The 15-year-old center made history once this season by becoming the first in Western Hockey League history to be granted Exceptional Player status by Hockey Canada. By the time he left the Regina Pats to join Team Canada at the IIHF U18 World Championship in April, he'd done it again. The 5-foot-9, 184-pound rookie led the league in scoring with 12 goals and 28 points in just 15 games, an unprecedented offensive output. Although it's a small sample size, his 1.87 points-per-game average was far and away the best ever posted by an exceptional status player. John Tavares held the previous mark at 1.14 PPG. Connor McDavid averaged just 1.04 when he was 15.
Coincidentally, Bedard became just the third-ever double underaged player to suit up for Team Canada in the U18 tournament, following in the footsteps of Tavares and McDavid.
"It's pretty cool when you hear your name with those guys," Bedard told Global TV. "Those are two of the best players in the world and have both accomplished so much at the highest level possible."
Fair to say his early success has captured the attention of prospectors who are now anxiously anticipating the 2023 NHL draft.
Fortunately, collectors don't have to wait that long.
Bedard made his first hobby appearance via a team set distributed by the Pats. The 26-card set was limited to a print run of just 500, and was available at the Brandt Centre in Regina and online through the team's store for $15 Canadian. The set went on sale April 21.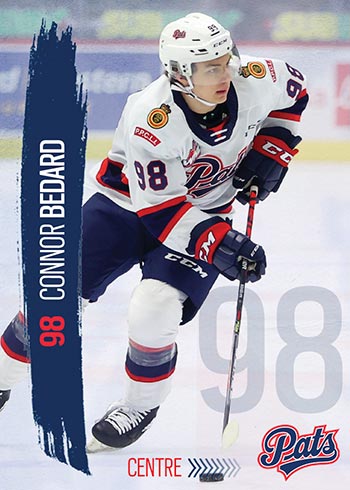 Given the print run, the single stands to rank among the most coveted of a player who could come to define the hobby over the next decade.
"Bedard is a generational talent," an Eastern Conference scout told Beckett Hockey. "You hear that a lot, and it's misapplied to a lot of players, but he's the real deal. He has elite hockey sense. The puck follows him around the ice. He's going to be a terrific pro."
If you miss out on this all-important first card, don't despair. Bedard will appear in Upper Deck's next Team Canada Juniors series, set to release early this fall.