Commentary: Possible issues in some parts of game-used industry shouldn't taint everything
Is it real or not? What's real, anyway?
Those are two questions that are seemingly always on the minds of collectors when it comes to game-used memorabilia, and as it's an aspect of the industry that requires specific knowledge of a topic and, of course, faith.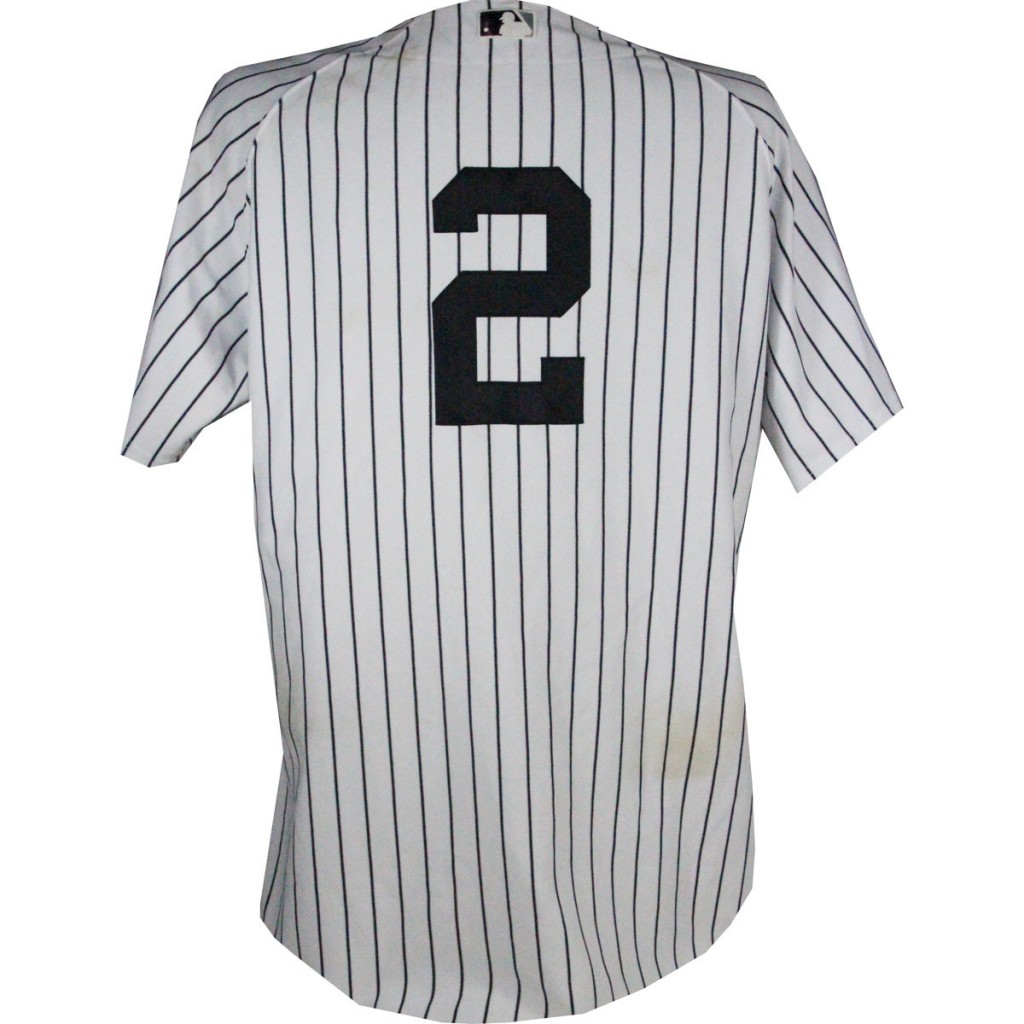 Faith being that those in positions of "have" in this industry of "need" are doing the right thing — that the players, agents, equipment managers, teams, dealers or card companies are not intentionally misrepresenting items to be something that they are not, that they know what they are talking about, and that they are diligent in what they present to the public.
In some cases, the public could be the everyday collector. In others, it could be a card company buying items to place into memorabilia cards.
It's inevitable that misrepresentation has happened at some point at one of those levels in the game-used industry through the years as more than 750,000 different (total was 738,395 late last year) game-used memorabilia cards have been made for all sports since they were introduced to the world in 1996. That's a lot of jerseys and other items with who knows how many swatches inside the millions of cards made. An exploding industry of game-used memorabila — mem card numbers alone went from 4,256 unique cards made in 2000 to 78,954 different in 2005 — is bound to draw the attention of someone trying to exploit it and make a buck.
But that shouldn't mean every item or every card is suspect.
During an FBI investigation, Florida-based game-used memorabilia dealer Bradley Wells told federal agents that he had altered hundreds of jerseys from 2005 to 2009 while in business as Authentic Sports Inc. and Historic Auctions LLC and that he had sold some of them to the three major card companies — Topps, Upper Deck and Donruss (which was bought by Panini and became Panini America in 2009). At that time, just Topps and Upper Deck were MLB/MLBPA licensees. Today, Topps is the sole fully licensed company and Panini added an MLBPA deal last year.
Last week, Wells pleaded guilty to mail fraud charges and, according to court documents, he alleged that, based on unusually low prices they were willing to pay, the card companies he worked with had to have known that his game-used items — for multiple sports, not just baseball — were not real. For example, according to the interview transcript, a buyer for Upper Deck allegedly told Wells in 2006 that the company needed eight jerseys used by its spokesman, New York Yankees shortstop Derek Jeter, and were willing to pay between $1,000 and $1,200 per jersey. According to the transcript, Wells said he was buying them (in quantity) from Steiner Sports at the time for somewhere between $3,500 and $5,000 per jersey.
Steiner, which has an exclusive deal with Jeter and the New York Yankees for game-used items, currently sells Jeter gamers (like the one seen above) to the public for between $11,500 and $25,000 per jersey.
Wells is one of a handful of dealers to plead guilty to mail fraud charges in the investigation. When the initial wave of pleas came in November 2011, each of the trading card companies contacted declined to comment on the case. None contacted have commented specifically on Wells' allegations.
When it comes to business deals, licensing agreements and practices, the leagues and trading card companies often keep details of their operations confidential for various reasons. The processes and regulations for card companies acquiring game-used memorabilia are not public. However, according to those familiar with the processes who have worked in the industry, it has been common practice for card companies to only use dealers who have been approved by the leagues or players associations when it comes to buying memorabilia destined for game-used cards. The documentation from those dealers is supplied to the leagues and/or PAs during the process.
On Tuesday evening, Evan Kaplan, the MLB Players Association Director of Licensing and Business Development replied to questions about the Wells allegations and  affirmed that authenticity is of utmost importance for its licensed products. He did not, however, specifically respond to a question about whether violating procedures would result in a loss of license for a card company or if a previously approved dealer has been removed from its approved list.
"Ensuring the authenticity of game-used memorabilia has always been paramount," Kaplan said in a statement to Beckett Media. "All game-used memorabilia is required to have been used in actual MLB game.  We work closely with MLB, the players and our licensees to help procure authentic materials."
On Thursday morning, MLB Properties Vice President of Business Public Relations Matt Bourne issued the following statement in response to the same questions asked of the MLBPA.
"Topps is our exclusive trading card licensee," said the statement to Beckett Media, "and for current players, we provide jerseys which are authenticated under the auspices of the MLB Authentication Program."
While Topps, Upper Deck and Panini have not commented in this instance, game-used memorabilia authenticity has been publicly discussed at times in the past. For example, Topps briefly addressed its practices during a question-and-answer session with collectors during the 2011 National Sports Collectors Convention.
"Up front on our end, we do things clean. So, we get our jerseys from clean vendors," said Topps VP Mark Sapir during the session when he was asked about aftermarket patch-faking of memorabilia cards. "We have specific things in place to make sure that everything we put in product is legit."
—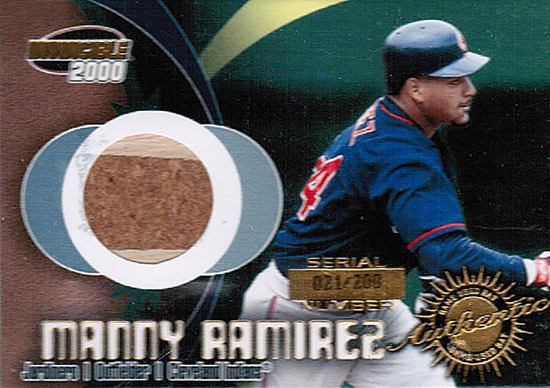 Memorabilia cards have been questioned before and one notable example came back in 2000 when the now-defunct Pacific Trading Cards drew the attention of collectors and the MLBPA when a Manny Ramirez card in the company's Invincible product surfaced with a piece of game-used bat also included cork — a sign that the bat had been illegally altered for play.  Pacific claimed it purchased the bat from a third party, not Ramirez or his agent, and the MLBPA disputed that the bat had belonged to Ramirez.
"At this point, there's no evidence that it's his bat," said Kaplan in a Beckett.com story from Oct.27, 2000. "We've been doing some legwork internally to determine the authenticity of the bat, and we can't trace it back to him. That's what we know."
At that time, Kaplan also said the MLBPA would be assessing its practices for game-used items headed into its products.
"We're going to have to examine the process," Kaplan said. "I don't think all items will come through our office exclusively, but I'll be talking to a lot of people to make sure we're doing everything we can to ensure that everything is authentic. I think it's still a lot of responsibility on the trading card companies as well."
Pacific was out of the baseball card market by 2001 and out of business completely by 2004 when its trademarks were purchased by Donruss.
—
So, why the overall silence in the industry so far with the Wells case? One, it doesn't make much sense for companies to address allegations — which might not be true — if a substantial number of their jerseys did not come from Wells, or, particularly, if the companies followed all of the procedures as are required by their overseeing entity. After all, mistakes could have been made anywhere throughout the process — however, pointing the finger of blame at your licensor won't work to sustain business or licensing agreements, either. Needless to say, at some point, dealers found to have issues with their game-used memorabilia should come off of league and player associations' approved lists, too. We don't know, but we should assume that dealers who have pleaded guilty to fraud were jettisoned at some point. On top of that, it's highly unlikely every single piece of a particular jersey could be accounted for years later, which means there's likely no way of knowing what cards could be in question.
Two, memorabilia authentication is far from foolproof unless an item is pulled from play during the game and stickered immediately — such as those items from the MLB Authentication program. Meanwhile, in many instances, even an MLB-stickered item's specific timeframe for use cannot always be determined. If it's not clear that a jersey was used, it would be tagged as game-issued — which can happen when items were in storage and authenticated at a later date. For items from before the program's launch in 2001 — or one of the many items used regularly today that are not authenticated — expert opinions and research are needed to weed out the good from the bad. Even then, though, the process can't be 100-percent foolproof. Not every item ever used in action on an MLB field could be sufficiently photo-matched — nor do all items have distinctive features that make them look different from any other. Weeding through the potential issues when acquiring memorabilia for products is a spot I wouldn't want to be in — it's hard enough to do it as a collector of a single player whose equipment modification habits I am familiar with.
Three, Wells' allegations are reflective of an unregulated game-used (and autograph) memorabilia industry where opinions and research are paramount but there is not any sole authority — just ones that are more-trusted than others based on their backgrounds, training, experience, expertise and reputations. Only when legal cases arise are problems often discovered — and in some instances there have been problems even with dealers who have exclusive deals with teams. Meanwhile, the backs of memorabilia cards themselves, although at times too ambiguous for many collectors, show where the responsibility resides — with the manufacturer first and then their overseeing body. Situations like these show how important event-focused deals (MLB All-Star Game, Futures Game or the rookie photo shoots in other sports) are and how vital other licenses (USA Baseball) can be for manufacturers when it comes to obtaining memorabilia in larger amounts without potential potholes.
Are there aspects, when it comes to memorabilia cards, that this collector would prefer to see improved? Sure, but I also understand the logistical issues and the impossibilities in many instances. Are there some brands or companies I trust more than others? Yes, but I personally speak with my spending habits and not with my keyboard when it comes to that because definitive proof of problems can be elusive. But I also know, as a collector of game-used memorabilia, that there's plenty to learn about what's what in that part of the hobby and that there is never, ever 110-percent certainty about an item unless you get it directly from the athletes themselves on the field.
If you get an item in a different way? Well, you just have to put your faith in someone. The mistakes — whether intentional or not — of a few in the hobby shouldn't taint everything else that's in it.