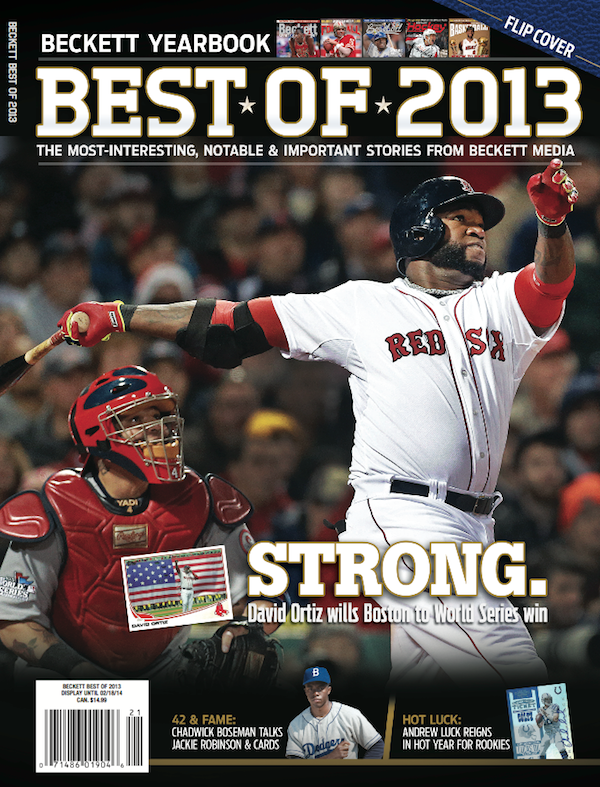 The year isn't over yet, but the calendar year for Beckett Media's five sports card titles is — and that means it's time for a new addition.
Joining the Beckett lineup beginning in December will be the Beckett Yearbook, a full-color look at the Best of 2013 — the most-interesting, most-notable and most-important stories found in the pages of Beckett Sports Card Monthly, Beckett Baseball, Beckett Football, Beckett Hockey and Beckett Basketball this year.
Arriving in early December in hobby shops and then on newsstands in the middle of the month, Beckett Yearbook will pack 128 pages of nothing but stories about sports cards and memorabilia from Beckett Media's editors as well as other contributors this past year. World Series champion David Ortiz of the Boston Red Sox graces the magazine's front cover, while Indianapolis Colts quarterback Andrew Luck gets the nod on the back.
The cover price for this special issue is $9.99.
Among the highlights in this issue, which includes stories just as they appeared in each title along with a small year-end update, include:
— Playing a Legend: An exclusive interview with Chadwick Boseman, who played Jackie Robinson in the hit movie, 42.
— Money-making rookies: A look at the hottest Rookie Cards of the hottest new playmakers in the NFL this past season.
— Father's Day: We join a dad as he becomes a minor leaguer for a day to give his son some big-league memories.
— Players who collect: A few of those guys on baseball and football cards collect cards, too.
— As seen on TV: We go behind-the-scenes with reality show stars from All-Star Dealers.
— Hot Players: We look at Dodgers star Yasiel Puig, retiring Yankee Mariano Rivera, NBA star Jeremy Lin one year later, Robert Griffin III and more.
— Classic sets: See a few of our Top 10 best lists.
— Her time is now: A look at Danica Patrick's arrival at the highest level of NASCAR and the impact she's had on its collectibles.
— From the ice to the shop: Former NHL star Marcel Dionne sells the cards he used to appear on.
— Making Cards: We go behind the lens with a Topps NFL photographer.
— Garbage Pail Kids: Looking back at the history of these lovable fiends.
Look for plenty more inside the pages of this issue, which also will be available at BeckettMedia.com closer to release date.
For now, check out a few of the spreads in a gallery below.