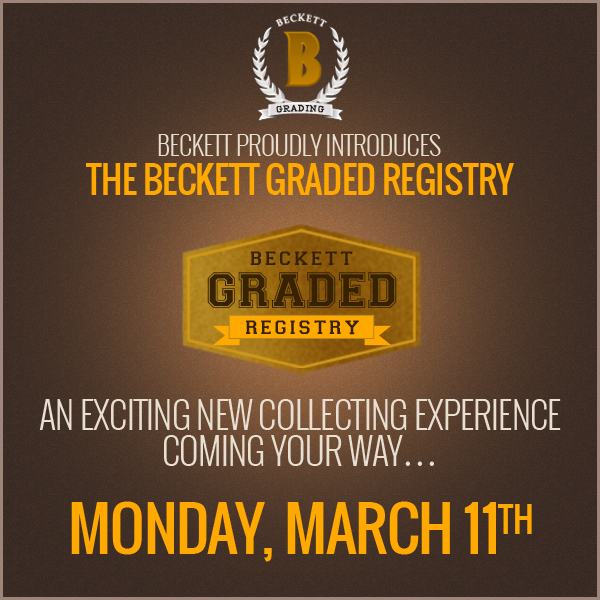 Beckett Grading Services customers have wanted a dedicated registry for years – one that worked seamlessly and provided a great user experience.
Well, that time is close. On Monday, BGS will roll out the new Beckett Graded Registry with a completely customizable interface.
"You get to create any collection you want," said BGS Director of Grading Mark Anderson. "It could be Hall of Fame Rookie Cards or have a bunch of team collectors get together and build a custom registry of the 40-man roster. The thing about the customer registry is the user gets full control of what they want the registry to be."
The registry will be able to handle any card in the Beckett database, including non-traditional sports, gaming and non-sports cards.
"There's no collection too odd or strange to create a custom registry for," Anderson said.
The registry is free to use for Beckett.com members. In addition, once cards show up in the BGS order page, the cards will move seamlessly to the Registry where they can be added to any collection.
Each registry can be made public or private based on the user preference. In addition, cards are given points based on grade and weighted according to subgrades for each card. This essentially creates a competition between collectors that may never end — not until the first customer gets the first registry with BGS 10 and all four subgrades with a 10, a difficult feat.
Customers who have used the previous registry should notice their cards have migrated to the new one for the Monday launch, including images.
"Customers have been waiting six to eight years for a greatly improved registry, which is what this is going to be," Anderson said. "I think people are going to see why it was worth the wait. We could have thrown something out there which is similar to what others have on the market but we wanted to make this most incredible user experience of a registry possible."
Throughout the use of the registry, Beckett welcomes feedback from its customers. The registry will be capable of scoring BGS and Beckett Vintage Grading cards.
Visit the Beckett Graded Registry at www.beckett.com/registry.