COLUMN: Bat knob 1/1 volume doubles since 2009 — and they're still sweet cards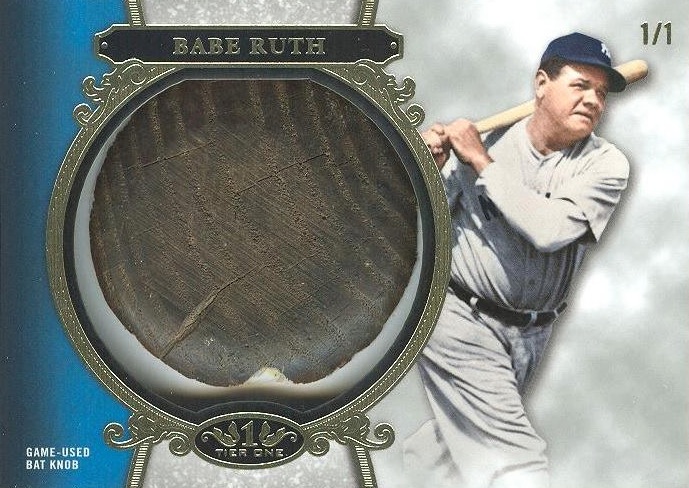 By Chris Olds | Beckett Baseball Editor | Commentary & Opinion
Just a few years ago back in 2009, Topps revived the bat knob card as part of its high-end repertoire with two large sets of knobs found in a new brand, Topps Unique, that turned out to be a one-year wonder.
But bringing back the bat knob card from what essentially had been a four-year slumber for the company and a couple years off for the hobby as a whole, turned out to be a move that has stuck around.
So much so, the numbers might drive you batty if the cards weren't so cool.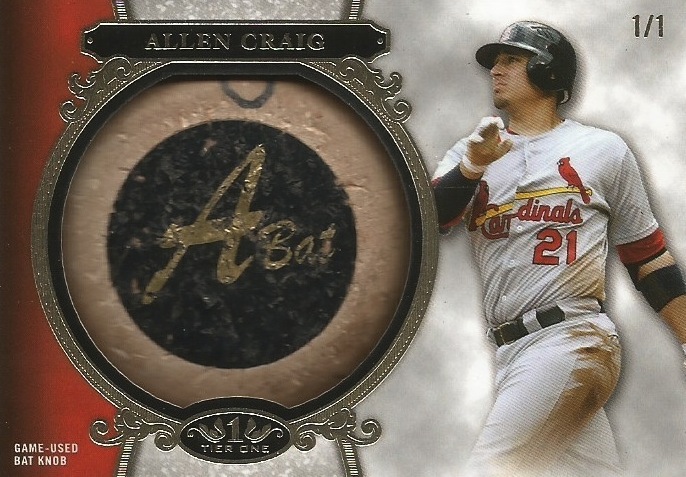 At that time, just 551 unique knobs — total cards for the hobby, not the brand — existed as there had been just 13 sets released with the south end of a gamer showcased since Fleer had introduced them in 2002. (Inflating those numbers slightly are some sets from Fleer, Donruss/Playoff and Topps that used slices from knobs, not the entire knob.)
So far this year, there have been five knob sets, all 1/1 cards of course, among the products released with the latest being Tier One, which arrived last week with 125 knobs and 25 more signed knob cards among the offerings. That's a stout mix for a type of card I simply can't get enough of as a window-shopper and a fan of game-used baseball bats in general. (Meanwhile, I own just one bat knob card. Go figure.)
Knobs have been on the rise presence-wise and it's a trend that Panini America and In The Game also have got in on in the last couple of years. Panini produced the first USA Baseball bat knob cards in its USA Baseball Champions product (13 cards), and the first National Treasures baseball release (44 cards) under its MLBPA license included knobs from some of the biggest names in MLB history — an inclusion appropriate for a notable high-end brand. ITG included 18 knobs in its 2011 Heroes and Prospects release. In all, since Unique's arrival in 2009, there have been 14 sets showcasing knob cards — more than the previous seven years combined — and the volume has increased as well.
The total in the Beckett database is now 1,016 unique knobs — a number that's nearly doubled since 2009 (exclude the knob-slice cards and it likely has) and a potential indicator that there's still plenty of game-used memorabilia being found in our wax boxes because, after all, there's only one knob per bat and most cards are 1/1s. In fact, every bat knob card made since 2009 has been a 1/1 creation.
On the secondary market — eBay being one leading indicator — there are many bat knob cards available with steep asking prices that in some cases are more than what an entire game-used bat would cost for some players. That's a trend perhaps similar to the cut autograph, which began as a way to get deceased legends of the past back into packs as autographed cards. On the flip side, completed auctions show that there's still a healthy market for these rarities despite the uptick in sets and overall volume of these still-rare cards.
Chris Olds is the editor of Beckett Baseball and Beckett Sports Card Monthly magazines. Have a comment, question or idea? Send an email to him at colds@beckett.com. Follow him on Twitter by clicking here.
—
What do you think about bat knob cards? Let us know in the comments below and by answering these questions …
—
Loading ...
—
Loading ...
—
Loading ...
—
Loading ...
—
WANT TO GO BATTY?
Since 2009, bat knob card collectors have had a lot more options …
2002 Fleer Fall Classics Series of Champions Bat Knob
2003 Fleer Fall Classics Series Contenders Bat Knobs
2004 Topps Chrome Handle With Care Bat Knob Relics
2004 Topps Chrome Handle With Care Bat Knob Relics 1 of 1
2005 Fleer Showcase Timepiece Ink Autograph Bat Knob
2005 Prime Patches Next Generation Autograph Bat Knob
2005 Prime Patches Next Generation Bat Knob
2005 Prime Patches Next Generation Bat Knob End
2005 Prime Patches Portraits Autograph Bat Knob
2005 Prime Patches Portraits Bat Knob
2005 Prime Patches Portraits Bat Knob End
2005 Topps Pristine Power Core Bat Knob Relics
2005 Topps Pristine Power Stick Bat Knob Relics
2007 Artifacts Bat Knobs
2009 Topps Triple Threads Bat Knobs
2009 Topps Unique Bat Knob Autographs
2009 Topps Unique Bat Knobs
—
2010 Topps Sterling Bat Knob
2010 Topps Sterling Bat Knob Autographs
2010 Topps Triple Threads Bat Knobs
2011 ITG Heroes and Prospects Batting Tips Knobs
2011 Topps Triple Threads Bat Knobs
2012 Panini National Treasures Bat Knobs
2012 Topps Five Star Bat Knobs
2012 Topps Tier One Bat Knobs
2012 Topps Triple Threads Bat Knobs
2013 Topps Allen and Ginter Dual Bat Knobs
2013 Topps Tier One Bat Knob Autographs
2013 Topps Tier One Bat Knobs
2013 Topps Tribute Bat Knobs
2013 USA Baseball Champions Game Gear Bat Knobs
—
TIER ONE BAT KNOB CARD GALLERY