Collectors' votes are in … The top 60 Topps baseball cards of all time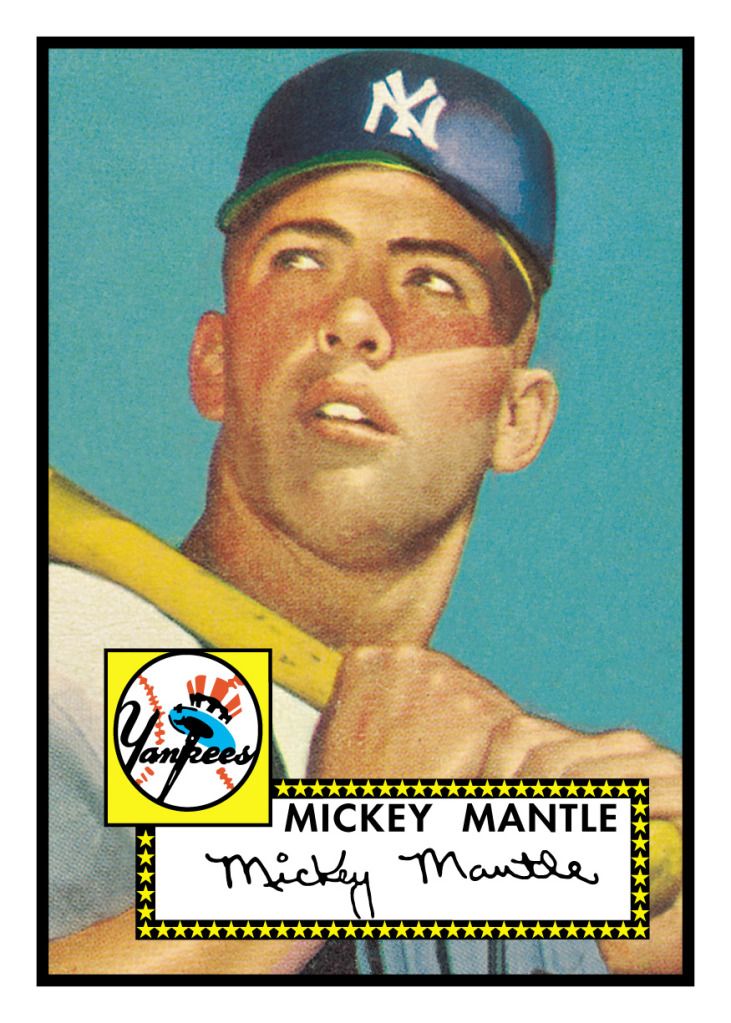 By Chris Olds | Editor
The collectors have spoken as part of the 60th anniversary of Topps baseball cards, and they have picked the best of the best on cardboard for the last six decades.
No. 1 wasn't a tough decision and the voting wasn't even close as the 1952 Mickey Mantle topped Hank Aaron's 1954 Rookie Card by more than 1,600 votes cast online at vote.topps.com.
Considering that the Mantle is one of the most iconic cards ever made – and it's a double-printed non-Rookie Card that books for $30,000 – it was far from an upset.
The Top 10 included five cards from the 1950s and three cards from the 1980s, while just two cards made after 2000 cracked the entire list. It's also a slugger-centric list with just nine pitchers holding down 12 spots in the top 60.
Here's the rundown… after the jump.
No. Year Player
1    1952    Mickey Mantle
2    1954    Hank Aaron
3    1952    Jackie Robinson
4    1968    Nolan Ryan
5    1989    Ken Griffey Jr.*
6    1980    Rickey Henderson
7    1954    Ted Williams
8    1986    Bo Jackson*
9    1973    Roberto Clemente
10    1952    Willie Mays
11    1985    Mark McGwire
12    1982    Cal Ripken*
13    1970    Nolan Ryan
14    1957    Hank Aaron
15    1953    Satchel Paige
16    1964    Pete Rose
17    1987    Barry Bonds
18    1975    George Brett
19    1984    Don Mattingly
20    1993    Derek Jeter
21    1984    Darryl Strawberry
22    1955    Willie Mays
23    1971    Thurman Munson
24    1953    Jackie Robinson
25    1957    Ted Williams
26    1979    Ozzie Smith
27    1954    Ernie Banks
28    1982    Cal Ripken Jr.
29    1963    Pete Rose
30    1953    Mickey Mantle
31    1969    Reggie Jackson
32    1985    Dwight Gooden
33    1955    Roberto Clemente
34    1955    Ted Williams
35    1956    Roberto Clemente
36    1960    Carl Yastrzemski
37    2001    Albert Pujols*
38    1985    Kirby Puckett
39    1985    Roger Clemens
40    1977    Reggie Jackson
41    1955    Sandy Koufax
42    1983    Tony Gwynn
43    1978    Eddie Murray
44    1957    Sandy Koufax
45    1987    Mark McGwire
46    1953    Willie Mays
47    1956    Ted  Williams
48    1955    Jackie Robinson
49    1956    Sandy Koufax
50    1967    Tom Seaver
51    1959    Bob Gibson
52    1992    Manny Ramirez
53    1987    Greg Maddux*
54    1989    Randy Johnson
55    1956    Mickey Mantle
56    2007    Derek Jeter
57    1958    Roger Maris
58    1974    Dave Winfield
59    1983    Wade Boggs
60    1973    Mike Schmidt
* — Notes Topps Traded card