Fan's Twitter question lands a Kris Bryant bat
–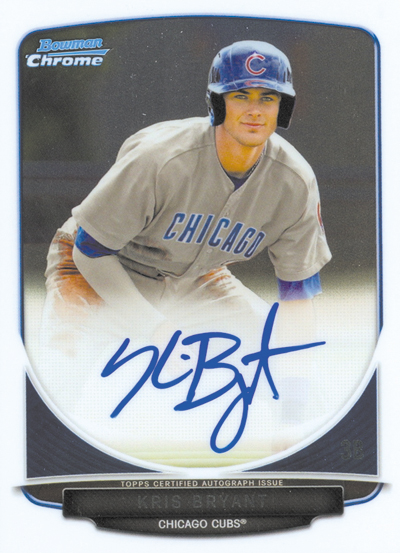 By Chris Olds | Beckett Baseball Editor
It started with a simple question on Twitter last week — a question from a collector to a promising baseball prospect.
It ended on Thursday with a game-used bat in that collector's hands.
The player? Chicago Cubs hopeful and Baseball America Minor League Player of the Year Kris Bryant — one of the best prospects in the game today and a guy who hit 43 home runs and drove in 110 RBI this past season. The bat? A Chandler Model D24 Maple — signed and inscribed "To Mike" with a "Game-used 2014" notation.
For Michael Kennedy, a 37-year-old collector from Las Vegas, it's been a whirlwind of Twitter attention and interviews — and it all started because he went straight to the source, Bryant, to find out if an $850 game-used bat he was eyeing on eBay was truly real. The future Cub saw his tweet — and offered to send him a bat.
"I was stoked when Kris replied back. I was really just hoping he would say 'Yeah that's one of my bats from this year,'" Kennedy said Thursday night. "[Then] I would buy it and that would be the end of it. When he said he would just give me one I was floored."
He's a bit of a prospector as a collector — but the bat of this prospect isn't going anywhere.
"I was just floored by his kindness and generosity. I honestly to this day can't believe I own a bat that was part of his 43-home run season," Kennedy said. "It's by far my favorite item I own. I'll never sell it. I've always been a fan and talked to Kris a few times. I've collected a bunch of his cards. I was lucky and my Blue 2014 Chrome auto graded BGS 10-10. Have his 2013 Bowman Draft auto and his Aflac as well."

Kennedy, who works as a lighting technician for concerts, said he caught the game-used and collecting bug watching another big-name prospect from Las Vegas, Bryce Harper.
"I collected cards as a kid but quit about the time I turned 19. I'm a lifelong Angels fan," he said. "I started collecting again in 2011. I live in Las Vegas, so it's not easy getting to go to a lot of Angels games. I had read a lot of local stories of Bryce Harper back when he was still in high school and was so impressed with his story.  I mean who gets a GED to go to college early and then buys wooden bats to prove his ability to scouts?"
And another promising prospect — one on his beloved Angels — also became a collecting target.
"I also had read about Mike Trout as well, so I went to one of Trout's first games," he said. "Watching him play reminded me what I loved about baseball as a kid. So I started collecting again. Bought a few 2009 Donruss Elite Trout autos and a couple of Harper auto cards as well. … I've always liked collecting prospects."
His tastes moved toward game-used items after a discovery at an Angels game.
"In 2012 I found out the Angels had a charity auction every game for game-used items," he said. "I bought a bat and was hooked. I love cards but game-used is a piece of history. It kind of made cards secondary. I started following Joey Gallo and Kris Bryant in 2013. I just love the fact with all the temptation there is here in Vegas so many good young players are staying focused and becoming some of the best in MiLB. Just the last couple years there's Bryant, Gallo, Harper who all played together — even Zach Walters."
Bryant was the No. 2 pick in last year's draft, signing a $6.7 million signing bonus. When Bryant saw the asking price for his lumber, he was surprised.
"850 bucks?! That's ridiculous! I'll send one to you," he tweeted to Kennedy. "DM me your address!"
Kennedy said that decision surprised him because most big-name players know their market — or at least someone near them does.
"Players can make to ton off their game used stuff so I would never expect them to give it away," Kennedy said. "His Arizona Fall League jersey just sold for like $4,800."
The item was even sweeter for Kennedy because bats are one of his biggest focuses as a collector.
"I have game-used bats of Walters and Gallo and had been hoping to get one of Bryant for a year now," he said. "So I always keep an eye on eBay looking for one. Game-used items are expensive, so getting them early before they play in the bigs is huge. I own a game-used Mike Trout bat and it cost me close to $3,000. Took me a year and sold a lot of my collection to buy it, but it's so worth it. Every day I look at my collection of bats or my game-used Mike Trout pants I always smile."
Kennedy said using Twitter to follow his pastime and help foster his hobby by working with other collectors has been beneficial — beyond just the Bryant baseball bat.
"Twitter is such a great tool for talking to players and meeting people with similar interests," he said. "A lot of times it's just used as a way to vent on players or teams in frustration. We fans are lucky to be able to talk to players. I think people take that for granted.
"I'm a big believer in Karma and trying to be positive, so I think these positive stories of players giving back to fans should be told because it happens a lot on Twitter. A lot of minor-leaguers so give aways to thank their fans. Not for publicity but just cause they want to take care of the people who support them."
And this move, one that has generated national headlines, has also sparked a bit of change in Kennedy.
"I'll always be an Angels fan," he said, "but Kris has definitely made me a Cubs fan as well."
Chris Olds is the editor of Beckett Baseball and Beckett Sports Card Monthly magazines. Have a comment, question or idea? Send an email to him at colds@beckett.com. Follow him on Twitter by clicking here.