Collectors noticing Torey Krug's playoff run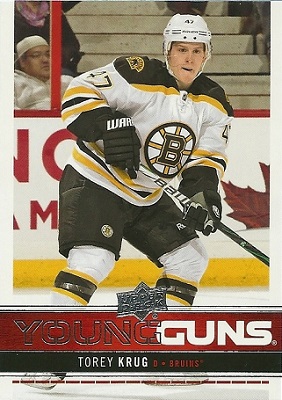 By Susan Lulgjuraj | Beckett Hockey Editor
Boston's Torey Krug had never competed in a Stanley Cup playoff before. He actually had just three NHL games to his name coming into the series with the New York Rangers.
But Krug's playoff performance so far has caused fans and collectors to take notice.
The 22-year-old defenseman has three goals in four games against the Rangers – looking more like a savvy veteran than an undrafted rookie.
Krug appears on this year's small crop of his rookies on cards. He skated his first game for Boston on April 3, 2012, making him eligible for cards this season.
There has not been a run on his Rookie Cards during the season because he played in just one game for the Bruins this year. However, there's an uptick in interest for Krug's RCs now.
His cards have slowly been gaining value over the last couple of days.
From April 1 to May 19, his 2012-13 Upper Deck Young Guns RC
sold for an average of $1.74 on eBay. A simple and easy cards to find and many people were probably happy to give it away.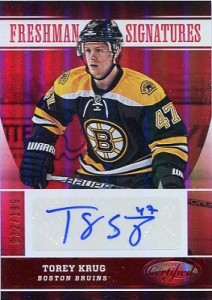 From May 19-21 – after Krug has already scored two goals against the Rangers – the average price of his UD Young Guns card sold for $4.61.
And since Wednesday, the average price is $8.41 with a recent sale hitting $11.11.
His autographs have followed the same trend. Throughout April and most of May, his 2012-13 Certified
autographs could have been picked up for a couple of dollars. Spending $10 would have been a lot for a Krug auto. His 1-of-1 Certified Mirror Black sold for $34 on eBay on April 17.
Over the last two days, however, his auto has sold for more than $20 and there is currently an auction
at $66 for a Certified Mirror Red numbered to 199.
A successful playoff run could really jump start a player value on cards – just ask Chris Kreider collectors. Oh he scored a goal last night too.
Susan Lulgjuraj is an editor of Beckett Hockey. You can email her here with questions, comments or ideas. Follow her on Twitter here. Follow Beckett Media on Facebook and Twitter.