By Susan Lulgjuraj | Beckett Hockey Editor
Upper Deck's exclusive trading card deal with the NHL and NHLPA, which was announced Thursday, drew a range of reactions from collectors and dealers. Some are intrigued to see what Upper Deck will do, while others enjoyed the competition in the marketplace with Panini America.
"I'm very excited to see Upper Deck back as a major card company again with an exclusive license," said collector Mitch Kalman of Herndon, Va. "They have been an innovator of technology dating back to the early '90s with holograms, booklets, etc. Upper Deck brings a lot of great ideas to the industry."
Not all collectors were as optimistic as Kalman. Upper Deck and Panini shared the marketplace over the past four years. Panini brought brands such as Score and Crown Royale back while adding Prime and Dominion.
"I don't think an exclusive or monopoly is a good thing for consumers in any business, no matter who controls it," said Wayne Frazer of The IceBox Cards and Collectibles in Barrie, Ontario. "I have no issue with Upper Deck 'winning' over Panini — I was rooting for both to continue rather than just one."
Many dealers want to see collectors have options when it come to selecting products. From their standpoint, less variety is not a good thing.
"From a retailer perspective, I believe it's always best to have competition," said Blowout Cards' Thomas Fish. "I thought both manufacturers were doing a decent job making hockey cards. I don't like exclusives or monopolies. We want to offer as many varieties as possible. … I believe competition stirs innovation. The industry needs innovation. Having Panini and Upper Deck competing is better for my business and customers."
Scott McCharles of Stadium Sports Cards in Blenheim, Ontario believes Upper Deck and Panini pushed each other, leading to better products.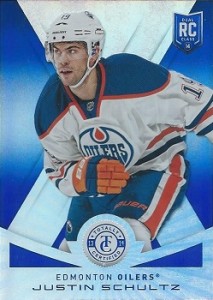 "I thought Panini made Upper Deck better," McCharles said. "I like what both companies have been doing. The younger crowd was attracted to Panini, while the older guys wanted Upper Deck."
The Panini NHL stickers were a big draw in McCharles' shop. Children would come in after school and pick up packs of stickers. Some of the other popular Panini products in his store included the newest release Totally Certified, as well as Select – the first product that came out under the official Double Rookie Class this season.
While Panini was working to grow its hockey offerings, Upper Deck's brands have been around for years, solidifying brand equity. Upper Deck Series 1 and 2 are consistent best-sellers, especially with the Young Guns Rookie Cards. Next season's release will be the 25th consecutive for the brand.
That history is making some hobbyists excited about the future of Upper Deck in the marketplace, including bringing back products such as MVP and Upper Deck ICE. Recently, those brands have only appeared as inserts in other products.
Upper Deck hasn't fully determined the product lineup for 2014-15, but said that the first product will be MVP when it releases in August. It will include 99-cent retail packs. Fleer Ultra will also return in September, another product appealing to collectors looking for low-end nostalgia.
"We are excited to have more details on releases in the future, but we are more interested in hearing what hockey fans want over the next few weeks so we can build products incorporating that feedback," said Upper Deck's Chris Carlin. "We are listening."
Susan Lulgjuraj is an editor at Beckett Media. You can email her here with questions, comments or ideas. Follow her on Twitter here. Follow Beckett Media on Facebook and Twitter.