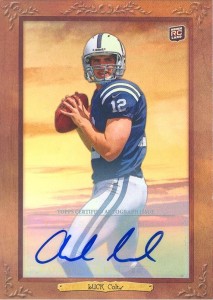 By Susan Lulgjuraj | Beckett Football Editor
Card collectors, dealers – those looking to make a quick buck – ran to the Topps' website to get boxes of 2012 Turkey Red Football. The cards went up around 10 a.m. and because of the rush to get the $25 boxes, the site crashed on Wednesday morning.
However, eventually, some got through and managed to make purchases until the product sold out in less than an hour.
This was one of Topps' online exclusives. Collectors won't initially find these in retail outlets. But it's inevitable that card shop owners bought boxes from the site or other that managed to get some.
As of today, Blowout Cards is offering $35 for sealed boxes, which means if you got all 25 of the allotment per household, that's $250 you can make right there.
But others are looking for more than that. A quick search on eBay
 yields about a dozen sellers with pre-sells of sealed Turkey Red boxes going from $90 to $40 with the median about $50 a box.
Turkey Red is an all-rookie product – 100 cards of the top (and not-so-top) rookies from the 2012 season. With one autograph in every box, many are hoping for $25 a box, they will be able to pull someone who can make them a bit of cash.
But they all can't have Robert Griffin III and Andrew Luck in them. Probably a Michael Egnew or two.
Susan Lulgjuraj is an editor of Beckett Football. You can email her here with questions, comments or ideas. Follow her on Twitter here. Follow Beckett Media on Facebook and Twitter.