Collectors create insert set for Panini's upcoming NBA Hoops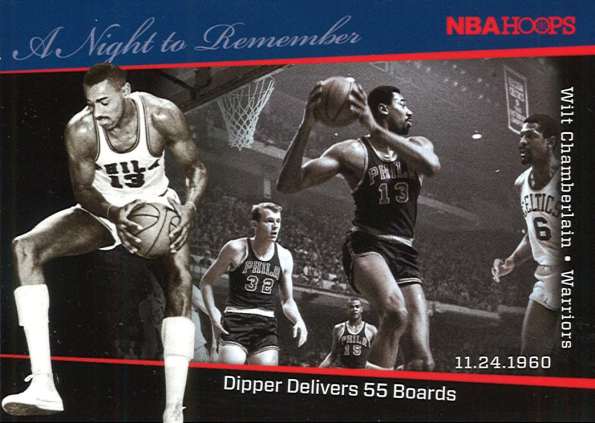 By Susan Lulgjuraj | Contributing Editor
Almost a year ago, Panini America asked collectors to come up with an insert set for an upcoming NBA product.
Collectors were asked to vote on theme, name of the insert, checklist and also design for the cards. It was a insert set essentially made by collectors.
Well, Panini has unveiled the inserts that you – the collector – has made and will be live in 2011-12 NBA Hoops, which should be out next week.
The 20-card set is named "A Night to Remember" and features some of the greatest NBA players in history such as Wilt Chamberlain and Magic Johnson. But current stars weren't forgotten either as guys such as Dwight Howard and Kobe Bryant made the list.
As you can imagine by the name of the set, it's a celebration of some of the most impressive performances in NBA history.
The front of the card features a profile photo of the player along with an iconic photo of the player from the night in celebration. The back of the card tells the story of the famous day or, uh, night to remember.
As an example, the back of card No. 7 of Chamberlain reads: "Of the more than 70 NBA records Chamberlain carved during his one-of-a-kind career, his jaw-dropping 55-rebound showcase vs. the Celtics on Nov. 24, 1960 has to rank near the top of the heap. Practically every loose carom belonged to Chamberlain that night as he topped Bill Russell's old mark (51)."
Chamberlain has three cards in the set and Johnson and Ray Allen join him with multiple cards with two. Some of the others in the set include Jason Terry, Mark Eaton, Rick Barry and Bob Cousy.
The backs of their cards read with the same poetic flare, showcasing memorable performances, some of which many people have not forgotten.
Susan Lulgjuraj is a contributing editor for Beckett Media. You can email Susan here. Follow her on Twitter here.