Collector Explains Why He's Selling His PSA 10 2000 SP Authentic Football Set
The only man who owns two entire PSA 10 sets of 2000 SP Authentic Football will be down to just one if his eBay sale is successful.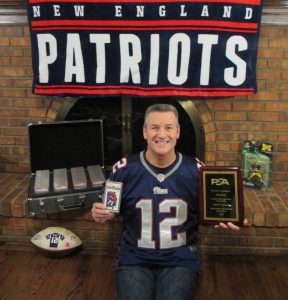 Joe Rock has been obsessed with the set for the same reason just about everyone cares about it — the Tom Brady Rookie Card. Rock, of Livonia, MI, is a big fan of Brady because of his University of Michigan connection.
He started collecting Brady cards after the quarterback won his second Super Bowl. But it wasn't until about 2007 that he began putting the 2000 SP Authentic set together. Getting most of the cards was a breeze, since most non-Brady cards don't have much value on their own.
But he wanted all 10s, so he had to get several cards for each one to make sure he had at least one that graded a 10.
"Card 54, Kerry Collins, was my toughest card. I probably sent in 15 or 20 of them and only got one 10!" said Rock.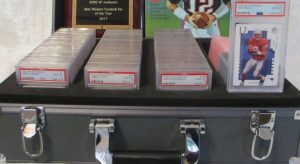 Rock says he sent in over 1,500 cards to be graded for the sets.
It took him from 2007 to 2010 to complete his first set of all 10s, but the second set took even longer. He started it in 2011 and didn't finish until 2017. Obviously the Brady card was the hardest addition.
"I had a whole bunch of Brady 9s, but the 10s were the ones I wanted and those were harder to come by," Rock said.
Rock is a bit bittersweet about selling one of his two sets, so he put the eBay price at $100,000. He's not fully committed to selling it just yet, but he does have several partially completed sets of 2000 SP Authentic that he will be able to complete if he successfully sells this one.
His obsession with the set seems never-ending, as he's also dedicated to finding all of the Rookie Cards in the set with serial numbers under 100.
"I got a thing with numbers," said Rock.