Collecting USA: On the road with Baseball Card Exchange buyer Reed Kasaoka

The following is an excerpt — and also some extra info — from the upcoming Collecting USA issue in Beckett Sports Card Monthly, which arrives in hobby shops next month.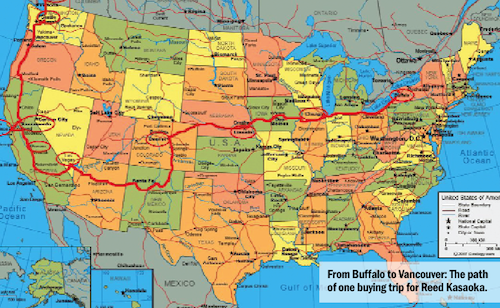 —
By Chris Olds | Beckett Sports Card Monthly Editor
Imagine your job is to get in a Ryder truck and drive from city to city to examine card collections, make offers, buy cards and load the truck for your next stop. Mile markers, highways, iTunes and baseball cards are your best friends for days on end — if you're even sure what day it is.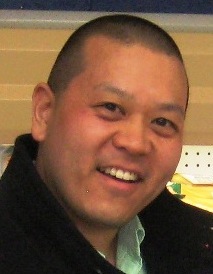 That's the job of Reed Kasaoka, the buyer for Baseball Card Exchange, a leading dealer of vintage wax in the hobby.
He's spent a decade on the road as a buyer and he's seen plenty of collections, loaded plenty of trucks and more.
We caught up with him in the midst of a five-day road trip for this Q&A about his days of helping people "collect USA" while traveling the USA, too.
—
Q: You travel the U.S. buying cards, putting in thousands of miles a year in a Ryder truck. Any idea how many other people in the industry do what you do?
A: I think I'm the only person in the hobby whose full-time job is to travel and buy cards. Any dealer would gladly jump in a truck to pick up a significant collection, but once they get back to their office, that's when the real work begins. They have to unload the truck, process and sort the collection, price each item, find ways to market to the public or other dealers, pack and ship orders, and do all the paperwork. I'm lucky to have co-workers and a boss who take care of all these steps, freeing me up to just concentrate on buying cards.
Q: Have you ever logged how many miles you have done in a year? What's the longest stretch of days on the road you have done? And how many years have you done this now?
A: I've been a dealer since I was 14, but didn't start traveling extensively until May 2004, when I moved from Hawaii to Buffalo, N.Y. I'm not sure of actual miles I drive each year on the road, but 2013 has been the busiest year of my career, and I'll log about 35,000 miles this year. The longest trip was in the Summer of 2006. I drove from Buffalo to the National Convention in Anaheim, spending 32 days on the road covering 7,979 miles.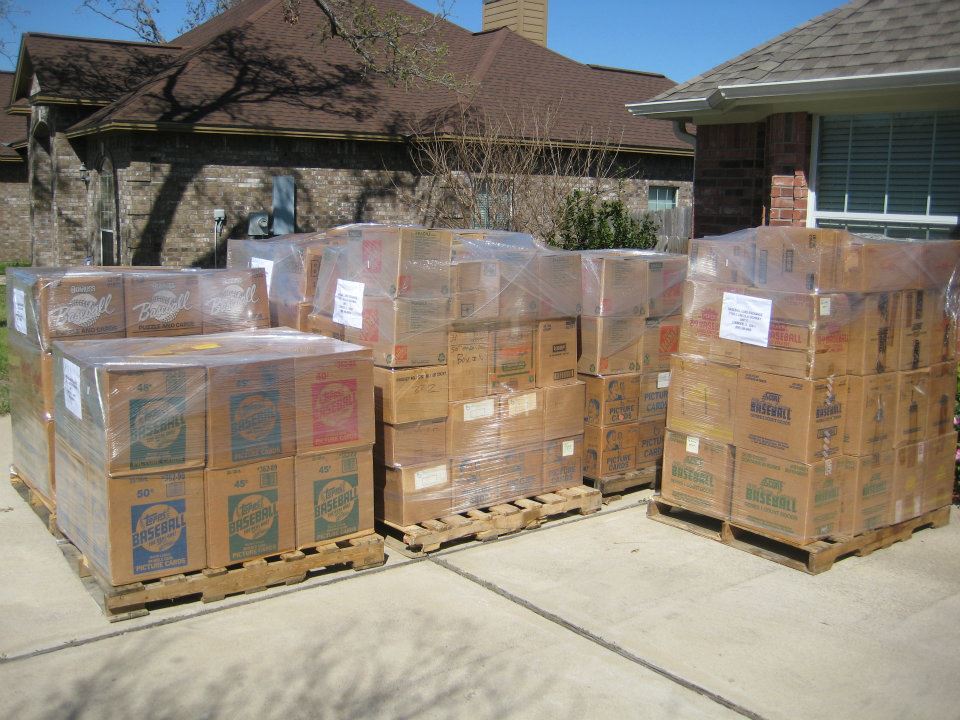 Q: What does the typical road trip routine entail?
A: I continuously have to ask myself the following questions:  How long will it take to drive to the next deal, and how much time will I need to allot to properly review the collection, make an offer, and load it on the truck? How do I maximize the hours I have available per day/week, while adhering to the rules enforced by the Department of Transportation? If the seller expects to be paid in cash, will I have enough on hand to last the entire trip or will I need to "reload" with more money? How do I keep the all the expenses of travel around the country manageable? That includes flights, car/truck rentals, gas/tolls, hotels, packing materials, food.
Q: What has been your best "find"?
A: There are definitely many stories that can't be told for several decades for various reasons, like confidentiality, unbelievable quantities or legal reasons. One was a grocery store in Illinois. Card dealers dream of finding a mom 'n' pop store that stashed all their leftover inventory in the back room and forgot about it for decades. In 2005, I found baseball wax, cello, rack boxes and cases from 1978-87 behind the walk-in freezer in an IGA store that filled a 16-foot box truck. … Don't get any ideas trying to track her down; she's made it perfectly clear that I'm the only person she will ever sell to.
Q: What's on your top five favorite products list?
A: 1. 1986-87 Fleer basketball –- In high school, my friend and I used to specialize in this set, and even before grading took off, we realized we could get ridiculous prices for high-grade examples.  I know just about everything with this set –- which cards have centering issues, where common print marks are, the collation within the packs, etc.  In 2005, I was the last person to buy a factory sealed case, and it's safe to say another one doesn't exist.
2. 1984-85 OPC hockey — There are tons of cards per box (48 packs of 15 cards), features an awesome rookie class, and it's quite the challenge to find straight cut and centered examples.  Include one of the most obscure redemption cards in the hobby (NNO instant-win card), and it is arguably the most enjoyable hockey product to open.
3. 1992 Stadium Club High Number football — Possibly the lowest print run of any regular-issued product in Topps history, reportedly only 300 16-box cases.  Small set (100 cards), lots of cards per box (36 packs of 15 cards) and tons of quarterbacks (Favre, Montana, Aikman, Marino, Kelly.)
4. 1957 Topps Baseball – The first year Topps went with photos rather than art.  This set has it all — key Rookie Cards (Brooks Robinson, Frank Robinson, Don Drysdale, Jim Bunning, Rocky Colavito), one of the earliest insert cards (contest cards and checklists), multi-player cards (Dodgers' Sluggers, Yankees Power Hitters), and even a rare printing error (Gene Baker "Bakep").
5.    Single-Signed Baseballs — I think these are the most-attractive display pieces of sports memorabilia.  Each baseball is dedicated to just one subject, and when stacked in ball cubes, looks very impressive.
Q: What's on your iPod or driving music list? I won't ask for a top five — but it's a key on the road, right?
A: The best songs on my iPod are the ones I know the words to, because singing along is a great way to break the boredom of a desolate highway and keeps me entertained.  I have a ton of R&B songs from my high school and college days, plus a lot of Def Leppard, Guns N' Roses, No Doubt and Queen.  Like everyone else, I have songs I secretly admit I like, but you'll have to steal my iPod to find out.  No one likes to be judged, right?

Q: What kinds of surprises or disappointments come with jobs that involve hunting like this?
A: Surprises would be showing up to an appointment and finding even more product that wasn't quantified on their initial inventory list. Pointing out an item to a seller they had no idea was so valuable. Hearing a collector say their stuff is really nice, cherry, mint condition –- and when I show up to their house, finding out that it is as they said it was. … Disappointments? When sellers lie about what they say they have, only to find out after showing up that they "don't have it" or "couldn't find it." Negotiating with sellers who are doing so with bad faith, like quoting 2003 prices in 2013, using eBay Buy-It-Now data for items that are listed but not actually sold, or not willing to adjust their expectations when the inventory has changed. Upon making a firm offer for a collection, finding out only then that there is a third party involved in the deal who has the final say, even though said third party had no involvement in the negotiating process up to that point.
Look for much, much more from Kasaoka's stories on the road in the Collecting USA issue of Beckett Sports Card Monthly coming in December.
Chris Olds is the editor of Beckett Baseball and Beckett Sports Card Monthly magazines. Have a comment, question or idea? Send an email to him at colds@beckett.com. Follow him on Twitter by clicking here.