Collecting the best retired Seahawks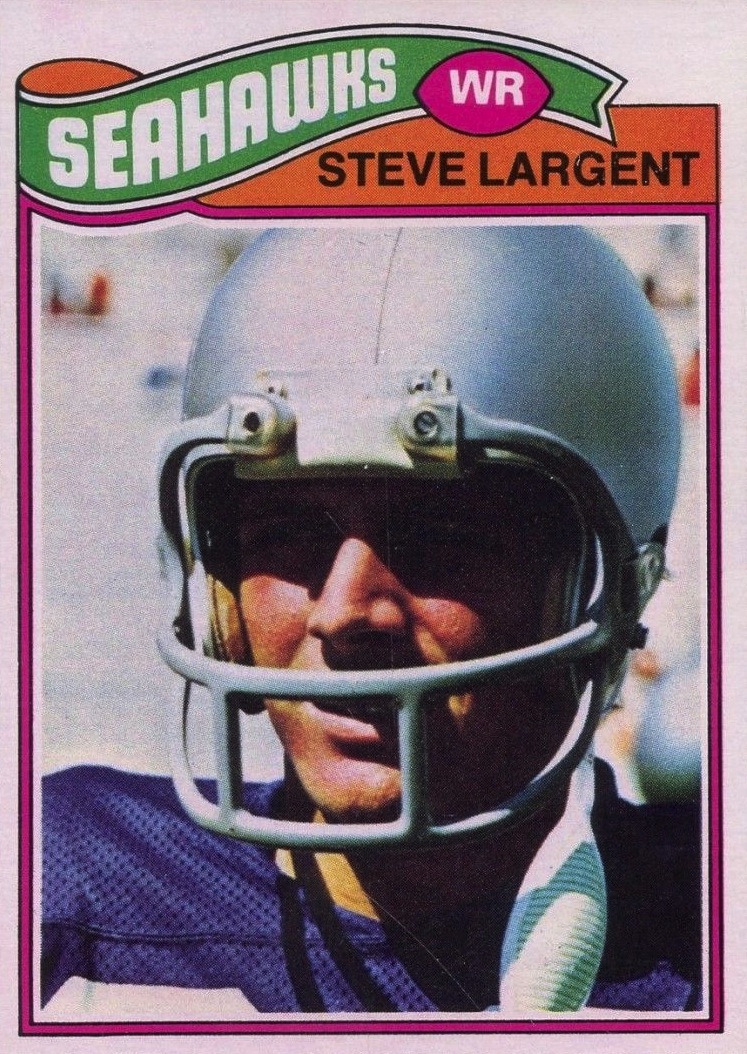 By David Lee | Beckett Football Editor
As part of the #BeckettBigGame celebration of Super Bowl XLIX, we are taking a look at some of the most collectable retired Patriots and Seahawks. The Patriots are posted here. The Seattle Seahawks have just three players in the Pro Football Hall of Fame: Steve Largent, Walter Jones and Cortez Kennedy. Although, today's Seahawks may end up having more HOFers than that playing this Sunday. The team's history hasn't included many hobby stars, but there definitely are a few retired players collectors have chased after. Here are four retired Seahawks who have made some waves in the hobby.
Steve Largent, WR
Largent was fourth-round draft pick in 1976, but actually was a Houston Oiler for about a minute. He ended up playing his entire career with Seattle. He was a seven-time Pro Bowler and was inducted into the Pro Football Hall of Fame in 1995. He posted eight 1,000-yard seasons during his time and led the NFL in receiving yards twice. His 13,089 career yards are most in team history, and rank 16th all-time. His 100 career touchdowns are tied for seventh-most all-time.
Largent has 1,132 total cards and 356 autographs. His 1977 Topps Rookie Card still carries a solid $40 value. He has been a pretty regular inclusion in several insert sets in products the last few years, including a 2014 Elite Passing the Torch Autographs with rookie receiver Paul Richardson.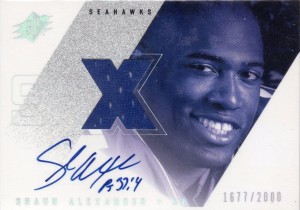 Shaun Alexander, RB
Alexander currently sits at No. 32 on the career rushing list with 9,453 yards. He played just nine seasons in the NFL, including eight with Seattle. He is the team's top rushing leader, although Marshawn Lynch may surpass him if he returns to the Seahawks. Alexander's best season came in 2005 when he led the NFL in rushing with 1,880 yards and 27 touchdowns. He played in nine playoff games for Seattle, including a Super Bowl loss against the Steelers in 2005.
As a first-round draft pick in 2000, he has 70 Rookie Cards but fewer than 300 total autographed cards. His top RCs are very inexpensive at about $25. These four are autographed:
2000 UD Graded #157 AU RC
2000 Bowman Chrome #177 SP RC
2000 Playoff Contenders #113 AU RC
2000 SPx #152 JSY AU RC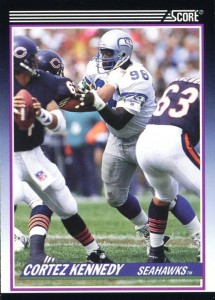 Cortez Kennedy, DT
An 11-year star for the Seahawks, Kennedy was one of the most dominating defensive tackles of the 1990s. He was an eight-time Pro Bowler and was names First Team All Pro from 1992-1994. He totaled 568 career tackles. Kennedy was inducted into the Pro Football Hall of Fame in 2012.
He has more than 500 total cards, and his Rookie Cards from 1990 can all be picked up for about $2 total. He has just four autographed cards, including two from 1991 and 1995. His other two were produced until 2012 and 2013 — both by Panini and both celebrating his HOF induction. He has just three jerseys cards, and the only one that is not a Pro Bowl jersey is the 2000 Pacific Omega Game Worn Jerseys #10.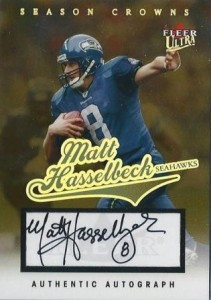 Matt Hasselbeck, QB
Hasselbeck has announced that he plans to retire after last season. We're taking his word for it and including Seattle's all-time passing leader on our list. He spent 10 seasons with the team racking up 29,434 yards and 174 touchdowns during that time. He also led the team to 11 postseason games, winning five of them.
Hasselbeck has never been a hobby star, and as a sixth-round draft pick in 1998, Collector's Edge was the only company that released cards of him. So, the 1998 Collector's Edge First Place #131 (picturing him as a Packer) is his only Rookie Card. He would end up having more than 3,000 total cards produced including more than 700 memorabilia cards and more than 100 autographs. There are just 10 copies, but the 2006 Playoff National Treasures Super Bowl Signatures #HA is one of just two autographed cards pairing him with Alexander.
David Lee is the editor of Beckett Football and can be reached at footballeditor@beckett.com and on Twitter @FreeEnergyDude.