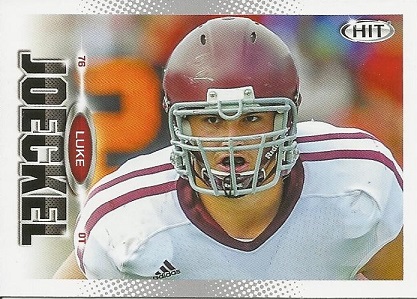 By Susan Lulgjuraj | Beckett Football Editor
The first round of the 2013 NFL Draft is tonight in New York City. The draft has talent, but not the type that is going to excite many collectors.
There won't be many skilled positions going in the first round of the draft, but that doesn't mean it's not going to happen. There is a quarterback or two that could end being drafted tonight with a running back or wide receiver thrown in the mix.
Here's a look at some of the top draft picks that could go in the first round, and what collectors can find on cards.
Luke Joeckel, OT, Texas A&M (view OPG here): Many mock drafts have Joeckel as the first overall pick, but an offensive tackle isn't exactly exciting to football collectors. However, his status alone will have companies producing his cards.
Total cards: 29
Autographs: 10
Geno Smith, QB, West Virginia (OPG): Smith has received mixed scouting reports, but he will probably be the first quarterback to go in the draft – although some mock drafts have him going outside of the top 10. Right now, he's probably the player from this draft collectors are looking most forward to.
Total cards: 90
Autographs: 53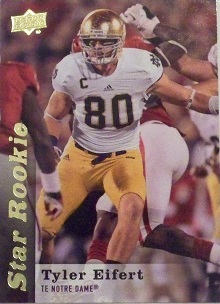 Tyler Eifert, TE, Notre Dame (OPG): Eifert could go in the first (some experts are looking at the Dolphins). He's not one of the most talked about players in the draft, but he is getting attention from the card companies.
Total cards: 65
Autographs: 40
Tavon Austin, WR, West Virginia (OPG): Austin is one of the top receivers in the draft and has gotten more attention as of late. If he ends up in a place with a strong quarterback, these two might be able to do some damage together.
Total cards: 49
Autographs: 32
Eddie Lacy, RB, Alabama (OPG): Lacy should be a solid running back in the NFL, which means teams shouldn't wait too long to pick him up. He's likely the first running back off the board. He had 1,322 yards for Alabama in 2012.
Total cards: 88
Autographs: 51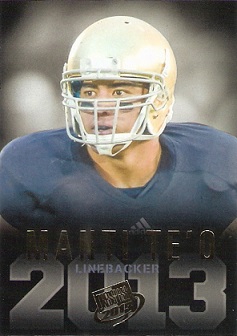 Manti Te'o, ILB, Notre Dame (OPG): Te'o will likely hear jokes for his entire football career, but there is team that will take a chance on him, even in the first round. Te'o was one a Heisman Award finalist last year and will get attention.
Total cards: 74
Autographs: 38
Eric Fisher, OT, Central Michigan (OPG): Fisher could be a top five draft pick, but OTs just don't get any collecting love. If he goes high enough, he'll likely get some cards from Panini and Topps.
Total cards: 6
Autographs: 2
Ryan Nassib, QB, Syracuse (OPG): Nassib is more of a sleeper pick at quarterback, and could drop out of the first round. He's a strong quarterback, but a work in progress. However, he plays the most popular position for collectors.
Total cards: 72
Autographs: 36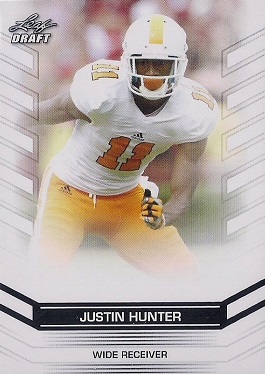 Justin Hunter, WR, Tennessee (OPG): Hunter missed some time in college due to injury, but scouts see raw talent in him and hope teams could harness it. Not the top WR in the draft, but he's definitely up there. Hunter could drop to the second round.
Total cards: 82
Autographs: 57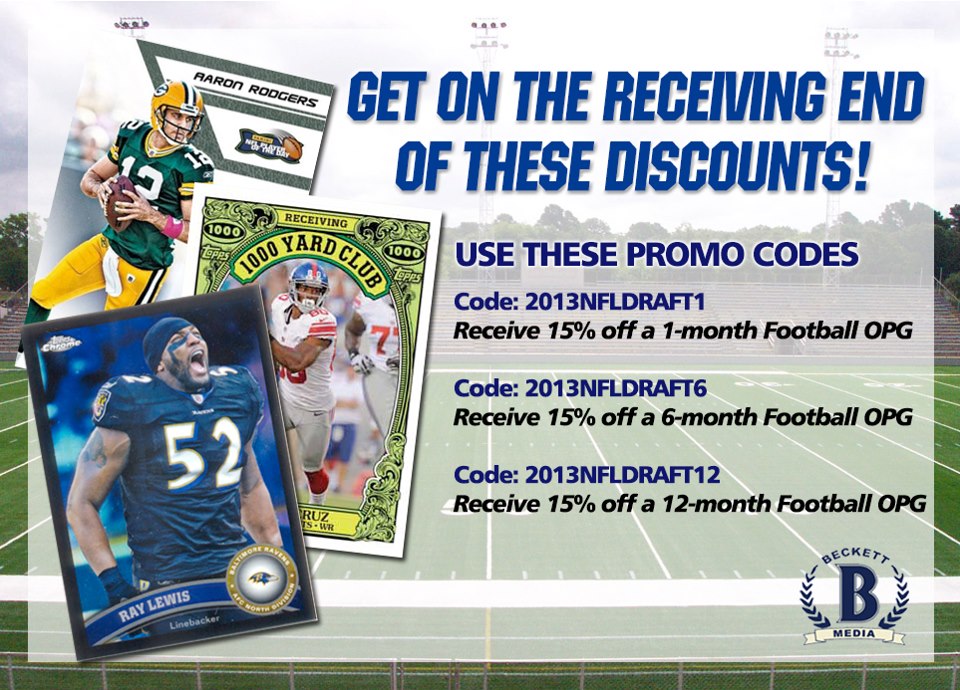 Susan Lulgjuraj is an editor of Beckett Football. You can email her here with questions, comments or ideas. Follow her on Twitter here. Follow Beckett Media on Facebook and Twitter.