Getting KHL cards of NHL players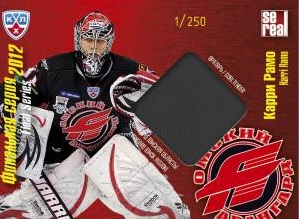 By Susan Lulgjuraj | Beckett Hockey Editor
Even though new NHL products may be limited over the coming months, there may still be new products with NHL players in it.
Several NHL athletes have gone overseas to compete in the Kontinental Hockey League, or KHL, including Evgeni Malkin, Alexander Ovechkin and Ilya Bryzgalov.
Those players will be coming to KHL cards, starting with the first series, a spokesperson from Sereal said, the official licensee of KHL cards and stickers.
"We are honored to produce cards for players like Kovalchuk, Ovechkin, Datsyuk, Malkin, Gonchar, Bryzgalov and many more," Sereal wrote on its official Twitter page on Thursday.
Sereal creates about four to five KHL products a year. A Locomotiv Memorial Series was created as part of the 2011-12 product line. All the money raised from the sales of that set will be donated to the families of the victims.
Sereal's flagship product consists of a basic trading card set. There are standard cards with multi-level parallels of the base cards. There are also several inserts included in the product.
"We really hope that we will be able to have also autograph cards from all these stars in the first collection," Sereal spokesperson Kristians Purvins said.
Fans looking to get past and future KHL products can visit Sereal's eBay store
.
Check out the gallery to see examples of KHL cards.
Susan Lulgjuraj is the editor of Beckett Hockey magazine. You can email Susan here with ideas, comments and questions. Follow her on Twitter here.