Collecting even more details via Instagram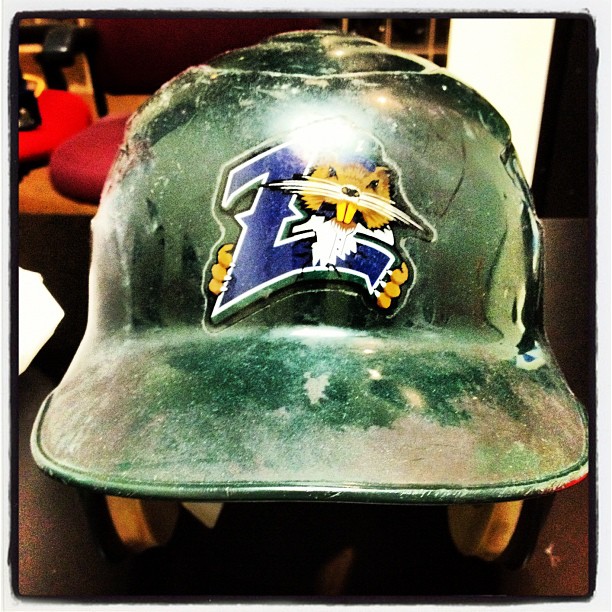 By Chris Olds | Beckett Baseball Editor | Commentary
Collectors often like to refer to themselves as detail people.
We notice the flaws in cards down to the surface divots and fibers on vintage cards, and we notice the most miniscule markings on modern releases. It's what we do. And we also notice things like Eric Davis' batting glove bunny ears on his 1988 Fleer card. (Go look, we'll wait.)
Well, at least some of us do.
And some of us out there have noticed the peculiarities of cardboard and other collectibles when they have been viewed using Instgram and shared with others.  The free social media app for your smartphone allows people to share photos of whatever they choose with certain effects added to enhance the moods, the feels, of whatever they were feeling was worth a picture. In the case of some items? Well, grunging up a photo of it can often bring out its flaws, its uniqueness.
And, to me, it can be quite interesting.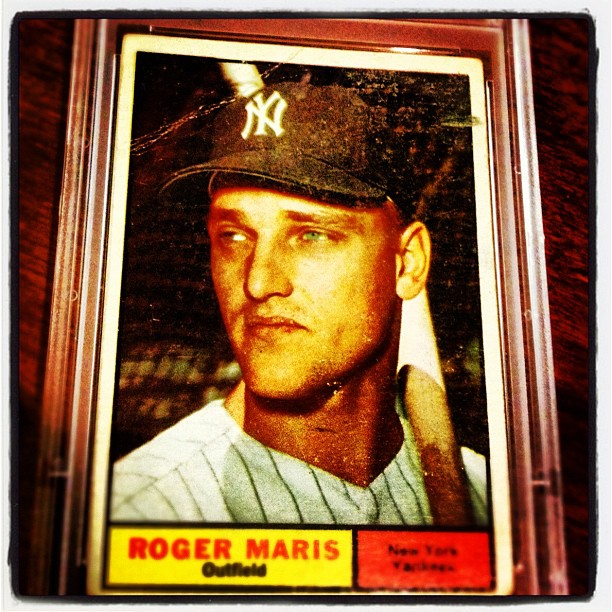 Many people have enjoyed using the program, so much so that the small company was sold to Facebook for $1 billion back in April. (That's not a typo, and that kind of money could get you all of the card companies these days — with plenty left over to start a collection. And the company's Twitter feed? It's got more than 10 million followers, dwarfing all of us in the hobby.) And it's all, at its simplest, a way for people to share what they enjoy and to collect their own little view of the world in a particular place. And it's quite popular.
For some of us, that view includes a lot of baseball cards and memorabilia.
I could see the flaws in my New Orleans Zephyrs batting helmet any day of the week as it sits in a shelf on my office daily. Why? Because it's interesting and it was cheap — not because it was used by a superstar (unless you count one-time can't-miss Pirates prospect Chad Hermansen among that group). But with a little "Lo-fi" image adjustment and a little more brightness/contrast added, those scuffs and scrapes, those layers of dirt and pine tar seem to take on new meaning. Well, at least I noticed some of it more. (You know, us collectors love our details.) I had noticed the scrapes and cracks before, but seeing the helmet in a new light made me go back and look at it again — and there were things I hadn't noticed before, cracks and marks that make me wonder more about its previous life and how its owner, the player, treated it.
Vintage baseball cards can often have the same feel with those cards that are more flawed sometimes even more impressive. Roger Maris' 1961 Topps card seems to carry, at least for me, a perfect reflection of the haunted hero — a simple portrait taken before his life-changing chase of Babe Ruth's single-season home run record.
It's a pricier card that I decided I wanted — but I kept things reasonable by buying a low-grade copy that had a clean, unobstructed view of his face. On my particular card, he is framed by a crease alongside the top left — damage caused years before he joined my cardboard cache — and some scrapes and surface spotting on the right. But the face remains as clear and concerned as it was back in 1961 when it rolled off the Topps printing press, save for a grouping of tiny white spots near his jaw.
After Instagram, though? Those flaws are enhanced with its worn corners enriched just like its colors. The face feels the same to me, though it seems to glow even more intensely. I can't help but look at it even more.
It's trivial, but it's powerful. And it's simple — and maybe that's why many of us enjoy collecting.
—
Do you use Instagram? Share some of your cardboard photos in the comments below … we just might show off some of them in a future issue of Beckett Baseball. (Here are a few more images from Olds' messing around with Instagram — we're sure you can do better than these.)

Chris Olds is the editor of Beckett Baseball magazine. Have a comment, question or idea? Send an email to him at colds@beckett.com. Follow him on Twitter by clicking here.