Collecting becomes a family affair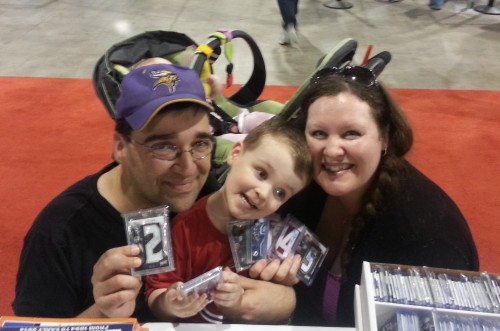 By Stephen Laroche | Beckett Hockey Editor
Marcus Antoniuk may only be three years old, but he is already a seasoned collector – and a budding math expert thanks to trading cards.
At the recent 49th Sportcard & Memorabilia Expo, he came to the Beckett Media booth along with his family and showed off his addition skills. His father, Kevin, explained how pulling a Jonathan Quick card with a large number on it created a new collector.
"We started a year ago," he said. "We were looking at some of my cards and open one box a month together as a family and when I opened a box and we pulled this card, which is his favorite and he loved it, he put it in there and said 'it's two'. He went through every card of mine that had a number and he wanted to take a look at it and he wanted to see what was two plus one and he loves everything about numbers. It was a great way to get him interested in the hobby and every time we open a box, he'd say 'do we have number cards?' It's just a great way for us to share as a family and get him interested in sports and get him interested in cards at the same time."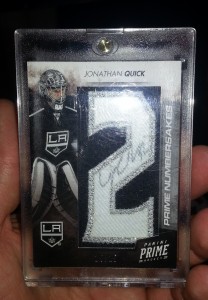 Kevin is a veteran collector himself and reflected upon his own start in the hobby.
"I've been a collector for over 25 years and it's a great little hobby that was introduced to me through my grandfather, who had collected some really old baseball cards, which I still have," said Kevin. "That was something that got me into the Parkhurst hockey, which he showed me the next year, and it built from there."
When asked what his favorite numbers were, Marcus replied "one and four" and the young fan of both the Cincinnati Bengals and Montreal Canadiens could quickly add them together when asked. His favorite card is the previously-mentioned 2013-14 Panini Prime Numbersakes card of Quick, but he also pointed to an Alex Ovechkin 2010-11 SP Game-Used Number Marks card.
"This is my new favorite card," he proclaimed. "It's an eight."
While younger sister Maia is not quite ready to become a collector, his mother, Carolyn, is also enthusiastic about the hobby.
"I'm excited about it," she said. "It's got me excited about cards as well and I have my own small collection starting up and it's great. I'm very grateful that he's learning about math and it's a wonderful way to do it. He's sharing a hobby with Daddy and it's a great way to start him in it. I'm excited."
Stephen Laroche is the editor of Beckett Hockey. Have a comment, question or idea? Send an e-mail to him at slaroche@beckett.com. Follow him on Twitter @Stephen_Laroche.