Collecting baseball cards that should not be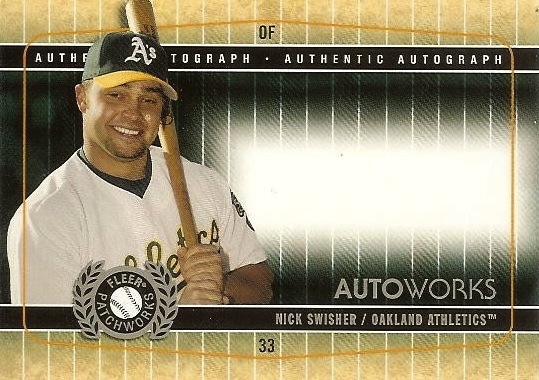 By Chris Olds | Beckett Baseball Editor | Commentary & Opinion
It started like any other day, visiting eBay recently for auctions of the certain things I collect, lurking beneath the sea of what makes everybody else tick.
In other words, I was watching for Nick Swisher cards — that thing I do that's tougher when he's got a sub-.250 average. It was a typical scroll and skip session on my iPhone before I was stopped instantly. I spotted something I hadn't ever seen before in nearly a decade of hunting his cardboard.
I spotted a thing that should not be.
It was a card that doesn't officially exist but took years to finally surface — a 2005 Fleer Patchworks Autoworks card, a certified auto missing his ink but appearing to have all the accoutrement of a proper card. With a flick of a thumb (and $10), the card was mine and a few days later it arrived just as the seller described. It was printed on the stock that was used for that year's release just slightly oversized but still fitting in a top-loader.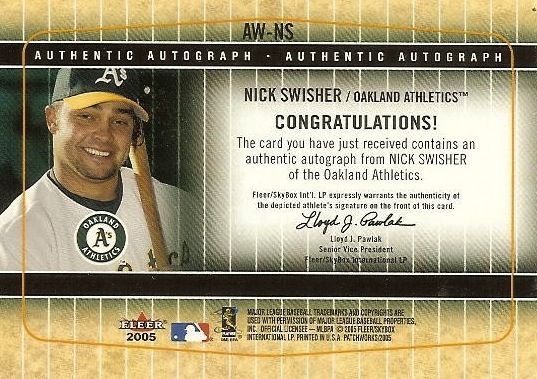 In recent months, plenty has been said online about cards like these on the auction block, though some are a bit more mysterious than others. When Fleer closed in 2005, its assets were auctioned to pay its bills that totaled more than $33.5 million, according to filings at the time. Everything from slides to office chairs and, of course, plenty of cards went out the door to help pay off some of its bills, which included owing two printing companies more than $1.5 million apiece and more than 300 creditors. Because of this auction, oddball Fleer cards can be found regularly — everything from paper proofs to the card like mine that was mocked but then nixed for some reason.
The new, more mysterious, wave of cards that should not be have often been from uncut sheets that made their way out of Topps printing facilities — and it's a problem that all companies have had in the past. Unfortunately, these cards have been Superfractor and certified auto sheets from past years that made their way into dealer hands and then cut down into cards. The only difference? Those cards didn't get numbered or signed — and some of the cards on them were never made. The cards look just like the real thing because they likely are, though they are often called "test" cards by the sellers.
Topps has declined to comment on these in the past, but if you look on its typical wrapper or box, there's been a disclaimer there for years. It reads: "Topps has authorized only the packaging and distribution" of the numbered cards' quantity and that it "cannot guarantee that counterfeit or other unauthorized cards will not exist."
That's a legal acknowledgement that, yes, these things can happen. Should they? No, but card companies can't control everything at every minute when it comes to the printing facilities it works with 24 hours a day, seven days a week thousands of miles away from its headquarters. If there were problems in the past, you can bet that card companies have aimed to fix it. As much as some collectors don't like seeing some of these cards on the market, you can bet card companies — and their licensors — don't, either. (Topps now uses printers in Texas just like most of the other card companies.)
I recently bought my Fleer card hoping that it was the only one — and that was proven wrong when another replaced it on eBay the following week. That's the beauty of these cards — and that's the sign there should also be a warning that comes along, too. They're unique but we'll never know how rare they may be.
I picked up mine — this single card and have since added two others that were never released (a dual and a quad; all ink-less) — because I collect my player and appreciate something different, not because I'm going to get rich off having cards that others probably won't.
These cards shouldn't drain you of your sanity or your money. If you want to collect them, go ahead, but I suggest doing it for the fun of wanting to have it all for your player or your team, not for the financial possibilities that something might be rare. What happens if you overspend on things that should not be and they turn out to not be that rare after all? Well, in madness you may dwell.
Chris Olds is the editor of Beckett Baseball and Beckett Sports Card Monthly magazines. Have a comment, question or idea? Send an email to him at colds@beckett.com. Follow him on Twitter by clicking here.