COINage Magazine Sweeps 5 Categories in the 2016 Numismatic Literary Guild Awards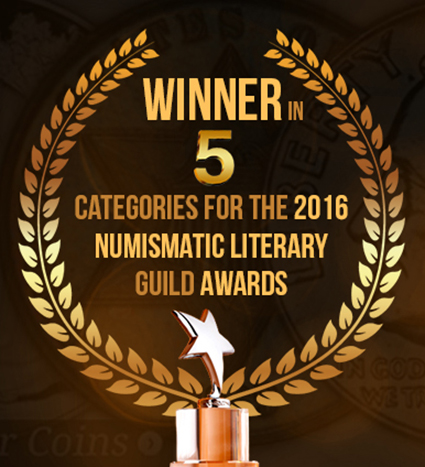 COINage is an award-winning monthly magazine for the coin-collecting hobbyist. This standout publication is consistently recognized for editorial excellence by the Numismatic Literary Guild.
For the second year in a row, COINage has accomplished a rare feat by sweeping the five categories in which it was nominated for the period of May, 2015 through April, 2016, winning:
• Best Article: Coins
• Best Article: Tokens & Medals
• Best Article: Paper Money
• Best Column
• Best Issue

Each monthly issue of the magazine includes:
• Articles and features for the experienced coin collector
• Introduction to key concepts for the novice
• Stories about current events
• Historical pieces about the people, places and events associated with coinage
• Insights from the hobby's leading authorities
• Beautiful color illustrations
• An updated price guide
The COINage magazines are available in both print and digital versions. Subscribe to COINage on Beckett Media.