Clemente RC Sale a "Market Changer"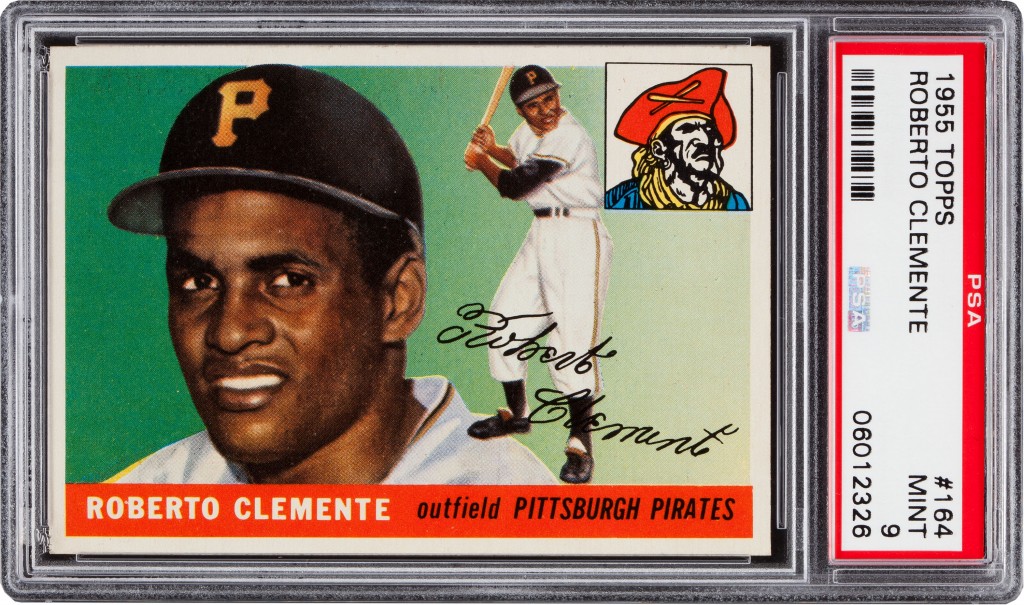 By Mike Payne
Of the first 129 lots sold during the first night of the two-night Heritage Auctions Platinum Night auction Thursday night at the National Sports Collectors Convention, it was a piece of cardboard that shocked Chris Ivy the most.
A 1955 Topps Roberto Clemente Rookie Card, graded a Mint 9 by PSA, sold for an eye-popping $310,700 with buyer's premium.
"That's a market changer," Ivy, Heritage Auctions' Director of Sports Auctions said. "That far exceeded our expectations."
The card had a $25,000 starting bid.
In another surprise, a PSA 8 NM-MT 1952 Topps Mickey Mantle sold for $382,400 (with buyer's premium) . . . or about $60,000 more than a 1966 Mantle game-worn jersey that fetched $382,400.
"That speaks a lot to how strong the cards did" in the auction, Ivy said.
Other highlights included:
1985 Chicago Bears Super Bowl XX Championship Ring presented to William "Refrigerator" Perry ($203,150 with buyer's premium). "An amazing sale," Ivy said.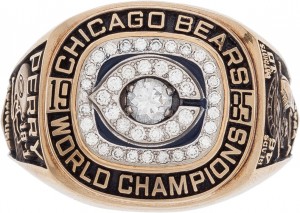 A 1919 Belmont Stakes Trophy Silver Tray presented to the owner of 1919 Triple Crown winner Sir Barton ($71,700). "Horse racing collectors are a smaller group," Ivy said. "But they're die-hard when quality items come up."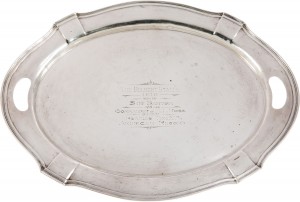 The 1998 NBA Finals Basket and Backboard from Michael Jordan's championship-winning shot that sank the hopes of the Utah Jazz ($41,825)
Circa 1860 Brooklyn Atlantics Baseball Card, SGC Authentic ($179,250) – "A seminal artifact of baseball history," Ivy said of the card, released about the time Abraham Lincoln was elected president. "And not just baseball history, but American history. When this came out the game of baseball was transitioning from cricket to more of what we recognize as baseball."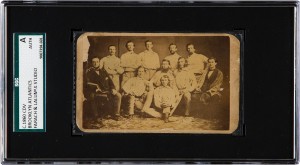 1957 Roy Campanella game-worn Brooklyn Dodgers jersey ($101,575)
1967-68 Wilt Chamberlain game-worn Philadelphia 76ers uniform – jersey and shorts ($89,625)
A 1920 Man 'o War horseshoe worn in his Belmont Stakes victory ($26,250) and a Man 'o War horseshoe worn in the 1920 Preakness Stakes win ($23,900)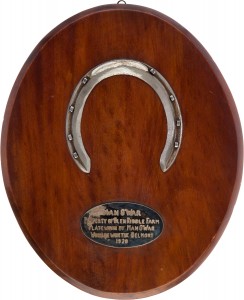 Overall, the first night of the auction realized just over $5 million in sales. The second part of the auction will be conducted online Friday night.