The Chipper Jones, Freddie Freeman ATV Rescue Bobblehead Is as Magical as You'd Imagine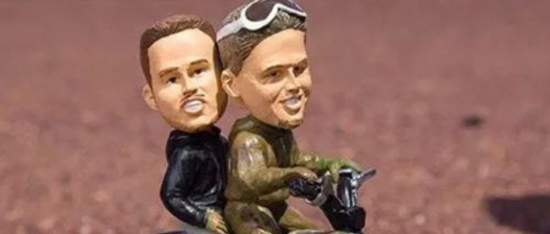 By Ryan Cracknell | Hobby Editor
Chances are, if you scored a bobblehead at a MLB game, it's of a past or present player standing there in their uniform with a goofy grin on their face. The Chipper Jones/Freddie Freeman bobblehead the Atlanta Braves handed out on Friday, May 28 has the goofy grins. But that's about where the normal nature of the figure ends.
The Chipper Jones/Freddie Freeman ATV Rescue bobblehead is one of the more memorable stadium giveaways of the 2016 season. In January, 2014, Freeman got stuck in traffic during a freak southern snow storm. Catching word of this through Twitter, Jones braved the elements on his ATV and got his former teammate out of traffic. It was social media gold.
Fast-forward two years and we've got bobblehead gold. The Braves didn't mess with the moment much. They resisted the urge of putting both in their uniforms, opting instead to keep Jones in his hunting gear and Freeman in street clothes.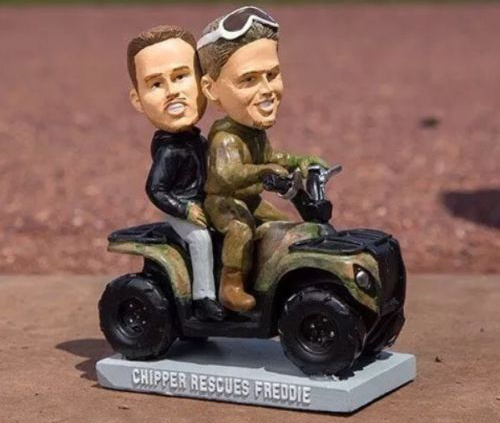 A total of 20,000 of the Chipper Jones/Freddie Freeman ATV Rescue bobbleheads were handed out at the game. For those unable to make it to the game, a bunch have found their way to eBay with prices reaching as high as $55 but most are selling for around $40.
Comments? Questions? Contact Ryan Cracknell on Twitter @tradercracks.