Chicago Cubs 2016 World Series Rings Have 108 Diamonds On Top and a Goat on the Inside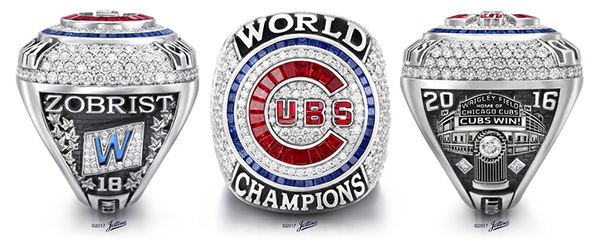 By Ryan Cracknell | Hobby Editor
When a team waits more than a century to win a championship, you know the rings are going to be special. The Chicago Cubs 2016 World Series rings arrived with the expected bling, plenty of team iconography and even a goat.
The rings were given to players during a ceremony before their April 12 game against the Los Angeles Dodgers.
The player rings start out with 108 round diamonds on the top bezel. It's no coincidence that the number matches the 108 years between World Series Championships. The Cubs logo is done with 33 red rubies, which are surrounded by and 72 round diamonds and 46 blue sapphires.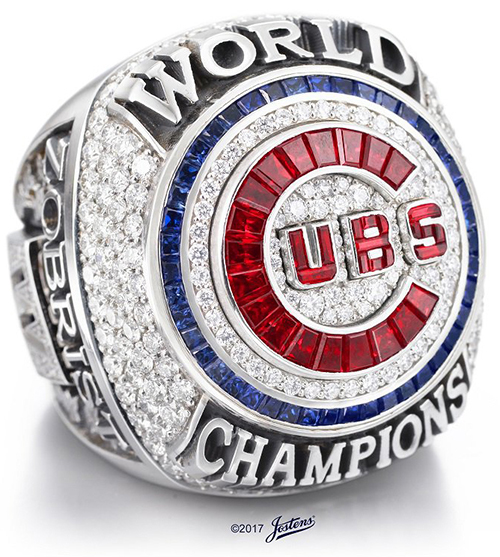 Moving onto the sides, one is customized with the player's name and number. The team's "Fly the W" flag is filled in with another 31 diamonds. The Wrigley Field ivy and brick wall are also imprinted on the side.
The other side of the Chicago Cubs 2016 World Series rings has the Wrigley marquee along with the World Series trophy. A large diamond sits in the middle of the trophy while a pair of princess cut diamonds are on either side.
No part of the ring, which is molded in white gold, is left empty. The bottom reads, "We never quit," the team's motto throughout the 2016 season. On the inside, there's the date and time of the final out, the logos of the teams they beat in the postseason and each series' details. And, yes, there's even a silhouette of the Wrigley Goat, which had apparently cursed the team for decades.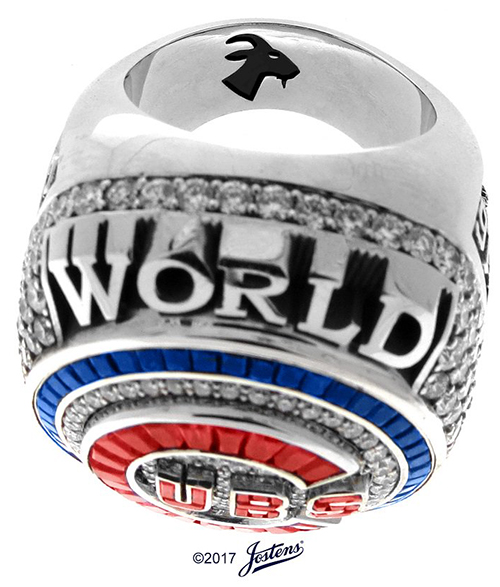 Jostens designed and made the 2016 World Series rings. They have several styles of replicas for sale that range from a few hundred dollars all the way up to the 108 Fan Ring that has a price tag of $10,800.
The Cubs have announced that it won't be only players getting World Series jewelry. In total, 1,908 Cubs staff and ballpark workers will get either a ring or a pin.
Comments? Questions? Contact Ryan Cracknell on Twitter @tradercracks.