Check this out: Something old in something new from Beckett Grading Services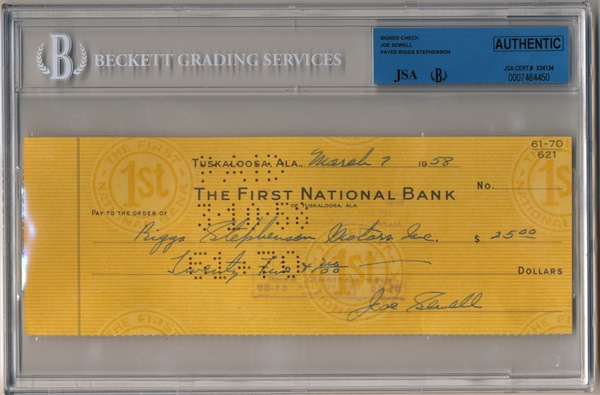 By Chris Olds | Beckett Baseball Editor | Commentary
On one recent Saturday morning I came to work — a bit earlier than normal no less (don't tell the boss) — to take advantage of a relatively new option from Beckett Grading Services.
And now that I've paid up and got my item back, well, naturally I wanted to show it off — and tell its story.
Better yet, I wanted you to, ahem, check it out.
Years ago, while still at the University of Alabama I set my sights on an autograph from Hall of Famer Joe Sewell (checklist and OPG) — the most highly decorated player in the history of its baseball program and a guy whose trivia in the game goes well beyond a 14-year career with the Cleveland Indians and the New York Yankees. (Heck, I just learned a new piece of trivia today when looking him up — we share the same birthday.)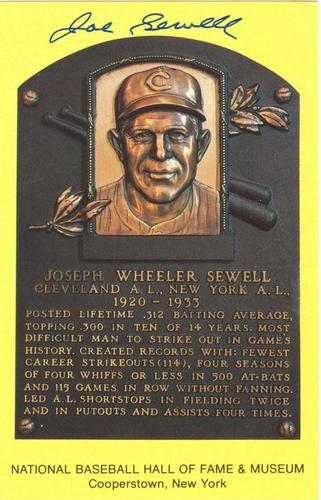 From the Hall of Fame …
"The toughest batter in history to strike out, with just 114 strikeouts in 7,132 at-bats,  Sewell was a perennial .300 hitter over 14 seasons with the Yankees and Indians. In 1920, Cleveland summoned Sewell from the Minors to replace the late Ray Chapman at shortstop, and the rookie batted .329 down the stretch to lead the Indians to the pennant. A great contact hitter, his career rate of one strikeout for every 63 at-bats is by far the best in history, and his three strikeouts in 1932 are the fewest ever for a full season."
Sewell isn't a tough autograph despite his death in 1990 — he was a prolific signer through the years — and the Chapman part of his history is a somber, but interesting one when you think about life on the diamond. (Chapman is the only player in MLB history to die after being hit with a pitch.)
But that bit of trivia, for me, wasn't why I picked up the autograph — or even this particular one. I wanted an autograph from all of the notable Crimson Tide players who have played in MLB — a project still not completed all these years later — but I did a double-take when this signed check from March 7, 1958, hit the auction block on eBay all those years ago.
While it's one of many checks out there — you can find others just like it right now — one thing set it apart from all the rest. One detail screamed out at me as a studier of the Crimson Tide's baseball media guide.
The check was written to Riggs Stephenson, another former Crimson Tide star who also played 14 years in the majors and batted .336 with 773 RBI in his career with the Indians and Cubs. He only hit below .300 twice in his career. (Checklist and OPG here.)
I did a double-take — Stephenson had died back in 1985, though his autographs aren't all that rare, either — and I messaged the seller asking whether the item shown was actually the one I was going to bid on and whether it happened to be signed at all on the back. All without showing my hand to what makes it more interesting … at least to this collector.
It was the item — but it wasn't signed on the back. I placed my bid and roughly $20-some later, the item was mine. It arrived in a worn-down check top-loader which got tucked into an envelope for storage where it had been until that recent Saturday.
I had no hesitations that my autograph was real based on the check style and the handwriting — Sewell's sig is as consistent as it gets and there were so many available even back when I was buying — but when James Spence Authentication recently came to Beckett headquarters to authenticate items for the public I got in line on that Saturday morning, paid my $28 (fees vary by item type and signer) and played the waiting game.
Why? I wanted it protected. Permanently.
When my item came back to me approved, I got my first in-person glimpses of the relatively new BGS check-specific grading holder — a smaller frame with the label horizontally placed rather than a larger photo-sized slab.
So, now, all these years later, with it in a tamper-proof and much more protective case, my odd piece of Bamabilia just might be displayable if I choose to show it off.
Oh, who am I kidding? I'll box it up just like before … but at least you can, ahem, check it out here.
Chris Olds is the editor of Beckett Sports Card Monthly magazine. Have a comment, question or idea? Send an email to him at colds@beckett.com. Follow him on Twitter by clicking here.