Check out the NBA's new freshman class with 2017-18 Panini Instant RPS First Look
With the 2017 NBA Rookie Photo Shoot in full swing, employees from Panini America are working hard to get what they need from the new crop of prospects for the company's upcoming basketball card releases.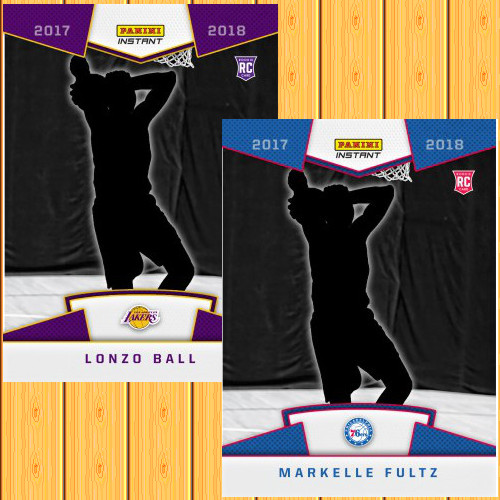 Part of this process is getting photography of the young stars and collectors will be able to get their hands on the first cards of them where they are in their NBA uniforms soon thanks to the Panini Instant program.
The 2017-18 Panini Instant RPS First Look set will feature all 40 players participating in the 2017 NBA Rookie Photo Shoot. At present, Panini is taking the photos and designing the cards and the final cards will likely be shown off via the Panini Instant website on Friday.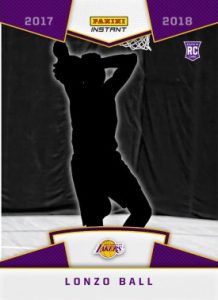 The regular version of the cards are only available for a one-week period and sell for $9.99 each. It should be noted that they will only be produced to the number of copies ordered by collectors before the deadline. Parallel versions of each player are also being made and the Green version (/10) starts at $49.99 while the one-of-one Black parallel is offered up beginning at $149.99. For some players, the Green and Black cards are being sold at a higher price. For example, the Lonzo Ball cards were listed at $99.99 for the Greens and the Black was $499.99 before they sold out within the first 45 minutes of being available. Limited cards of De'Aaron Fox, Markelle Fultz were also quickly off the market and Black one-of-ones for many players were snapped up in the first hour of sale.
To check out the 2017-18 Panini Instant RPS First Look set and order your cards, visit the Panini Instant page here.
2017-18 Panini Instant RPS First Look Checklist
1 Bam Adebayo, Miami Heat
2 Jarrett Allen, Brooklyn Nets
3 OG Anunoby, Toronto Raptors
4 Dwayne Bacon, New Orleans Pelicans
5 Lonzo Ball, Los Angeles Lakers
6 Jordan Bell, Golden State Warriors
7 Tony Bradley, Utah Jazz
8 Sterling Brown, Milwaukee Bucks
9 John Collins, Atlanta Hawks
10 Zach Collins, Portland Trail Blazers
11 Tyler Dorsey, Atlanta Hawks
12 Jawun Evans, Los Angeles Clippers
13 Terrance Ferguson, Oklahoma City Thunder
14 De'Aaron Fox, Sacramento Kings
15 Markelle Fultz, Philadelphia 76ers
16 Harry Giles, Sacramento Kings
17 Josh Hart, Los Angeles Lakers
18 Jonathan Isaac, Orlando Magic
19 Wesley Iwundu, Orlando Magic
20 Frank Jackson, New Orleans Pelicans
21 Josh Jackson, Phoenix Suns
22 Luke Kennard, Detroit Pistons
23 Kyle Kuzma, Los Angeles Lakers
24 T.J. Leaf, Indiana Pacers
25 Tyler Lydon, Denver Nuggets
26 Frank Mason III, Sacramento Kings
27 Donovan Mitchell, Utah Jazz
28 Malik Monk, New Orleans Pelicans
29 Frank Ntilikina, New York Knicks
30 Semi Ojeleye, Boston Celtics
31 Justin Patton, Minnesota Timberwolves
32 Ivan Rabb, Memphis Grizzlies
33 Davon Reed, Phoenix Suns
34 Dennis Smith Jr., Dallas Mavericks
35 Caleb Swanigan, Portland Trail Blazers
36 Jayson Tatum, Boston Celtics
37 Derrick White, San Antonio Spurs
38 D.J. Wilson, Milwaukee Bucks
39 Ante Zizic, Boston Celtics
40 Sindarius Thornwell, Los Angeles Clippers
Stephen Laroche is the editor of Beckett Hockey, Beckett Basketball, and Beckett Sports Card Monthly magazines. Have a comment, question or idea? Send an e-mail to him at slaroche@beckett.com or follow him on Twitter @Stephen_Laroche.