Cheap Wax Wednesday Box Breaks: 2021 Topps Heritage Minors Baseball
When you click on links to various merchants on this site, like eBay, and make a purchase, this can result in this site earning a commission.
Minor League May wraps up for the year with the latest version of one of my favorite minor league products, Topps Heritage Minor League Baseball.
2021 Topps Heritage Minors Baseball matches the major league set and uses the 1972 Topps design. The base set consists of 220 cards, with the last 20 on the checklist being short prints. Each base card also has multiple numbered parallels. In addition to the base set there are a handful of 1972-inspired insert sets. Also included, and found twice in each hobby box, are autographs.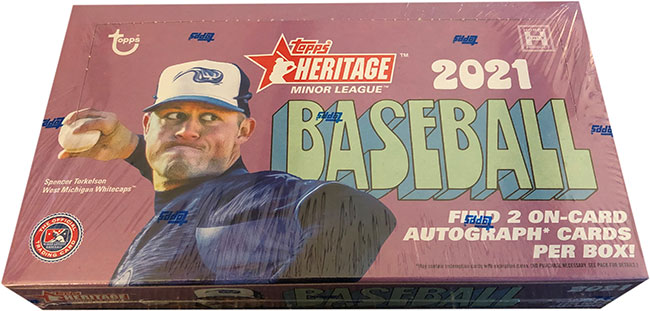 One thing missing from the 2021 release is relic cards. Topps was forced to go without relic cards because of the lack of a 2020 minor league season.
2021 Topps Heritage Minors Baseball Box Break
Cards per pack: 8
Packs per box: 18
Price paid: $50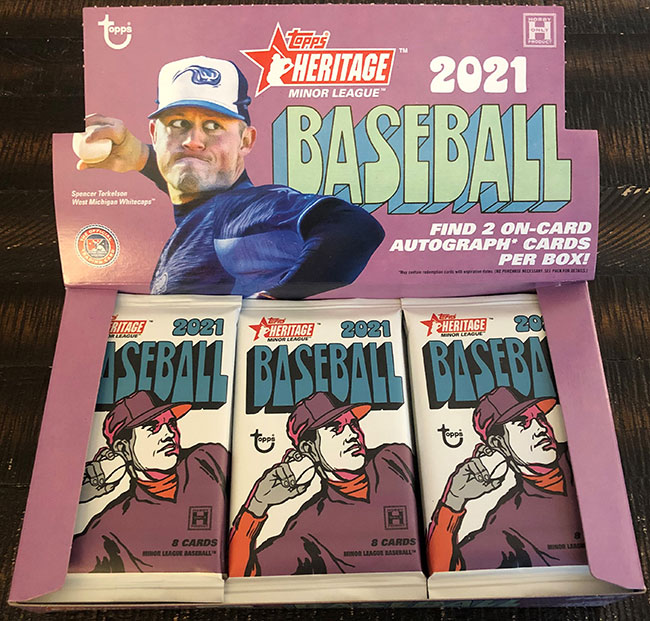 Boxloader:
1972 Topps Poster cards of Kevin Alcantara, Austin Hendrick & Austin Martin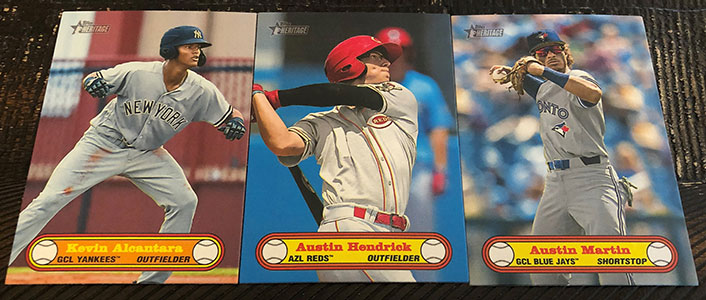 Pack 1 highlights:
Freddy Zamora & Adley Rutschman Pack Cover (1 in every 4.5 packs)
Rutschman just recently made his major league debut, tripling for his first big league hit.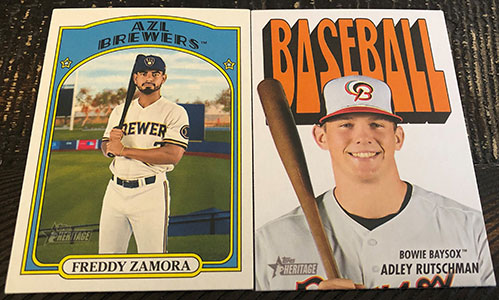 Pack 2:
Matt Manning, Corbin Carroll, Brennen Davis & CJ Abrams Blue #ed 91/99 (1:40 packs)

Pack 3:
Jarren Duran, Ryan Vilade, Matthew Liberatore, Josh Jung & Tink Hence Autograph (1:11 packs)
Hence is a 19-year-old pitcher in the Cardinals system. He recently threw in his first game of the season in A-ball. He pitched three innings, allowing one earned run on one hit while striking out five batters.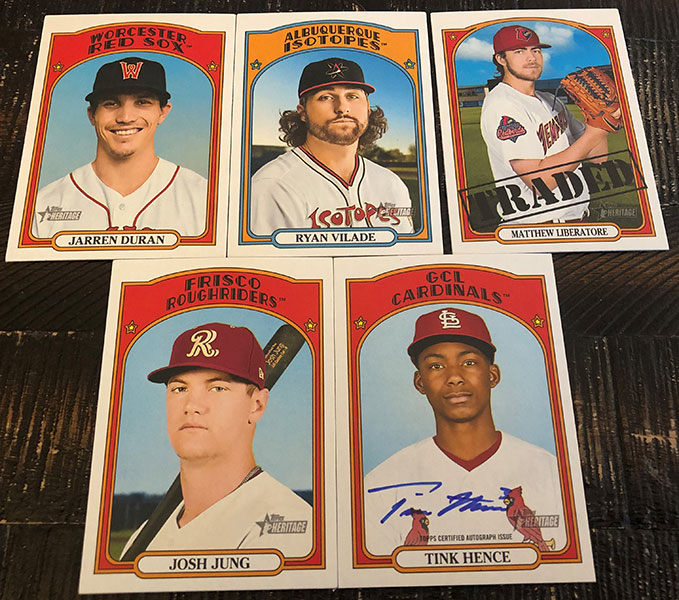 Pack 4:
Braden Shewmake, Burl Carraway, Nick Gonzales & Manny Ramirez Boyhood Photos (1:6 packs)

Pack 5:
Coby Mayo, Jeter Downs, Max Meyer & Wander Franco Pack Cover (1:4.5 packs)
Mayo was a 4th round selection of the Orioles in the 2020 draft. Last season he hit .319 with nine home runs and 41 RBI in 53 games. 

Pack 6:
Nick Gonzales, Jordan Walker & Pedro Leon Venezuelan Stamps (1:4.5 packs)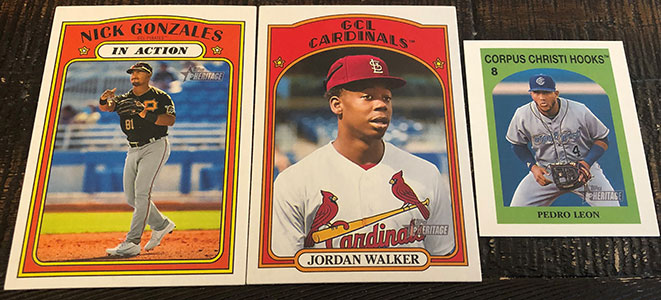 Pack 7:
Cade Cavalli & Spencer Torkelson Black Parallel #ed 13/50 (1:78 packs)
Torkelson hasn't started out his major league career very hot at the plate. He's hitting just .186 with four HR and 11 RBI.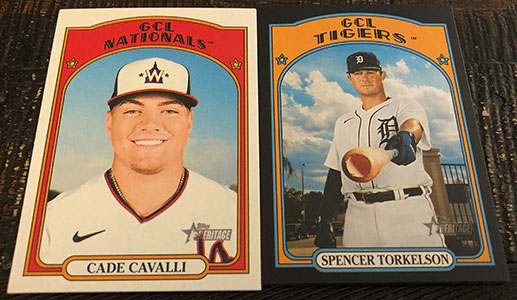 Pack 8:
Alek Thomas, Blaze Jordan & Ken Griffey, Jr. Boyhood Photos (1:6 packs)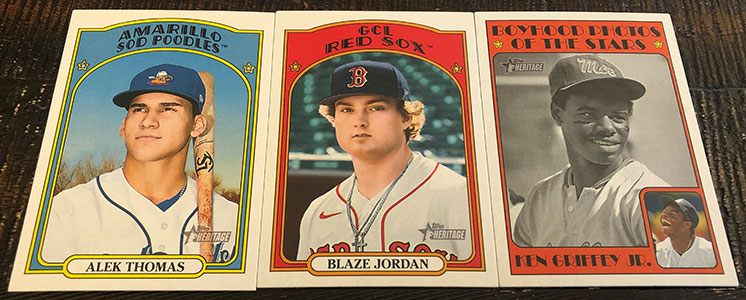 Pack 9:
Nick Bitsko, Heston Kjerstad, Pete Crow-Armstrong & Riley Greene Venezuelan Stamps (1:4.5 packs)
Riley Greene has moved up to the #2 spot in the Top 100 prospect rankings. In spring training this year, he hit .429 over 21 at bats. 

Pack 10:
Robert Puason, Spencer Torkelson & Tyler Soderstrom Pack Covers (1:4.5 packs)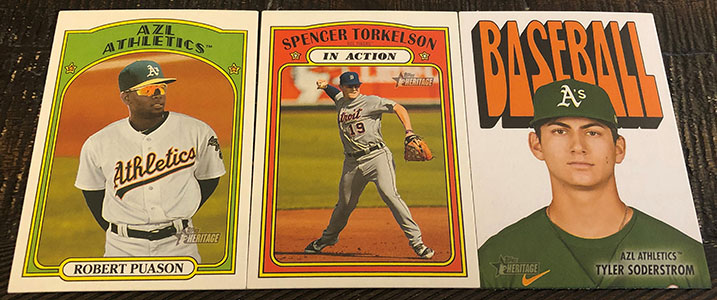 Pack 11:
Matthew Liberatore, Josiah Gray & Spencer Torkelson Venezuelan Stamps (1:4.5 packs)
Liberatore just recently made his major league debut for the Cardinals. The 22-year-old pitched 4 2/3 innings, allowing four earned runs.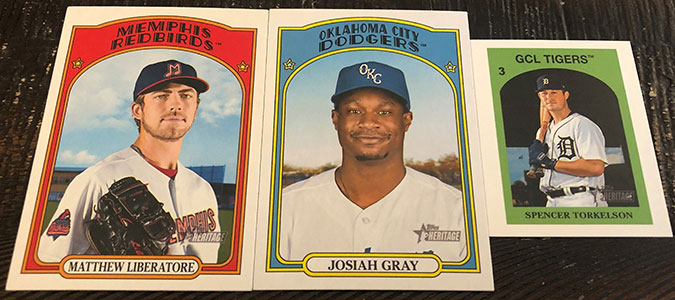 Pack 12:
Nick Yorke, Carson Tucker, Aaron Ashby & Austin Hendrick

Pack 13:
Patrick Bailey, Heliot Ramos & Austin Hendrick Venezuelan Stamps (1:4.5 packs)
Hendrick is playing his second season in A-ball this year. He has started out his first 36 games hitting just .205, but with seven home runs.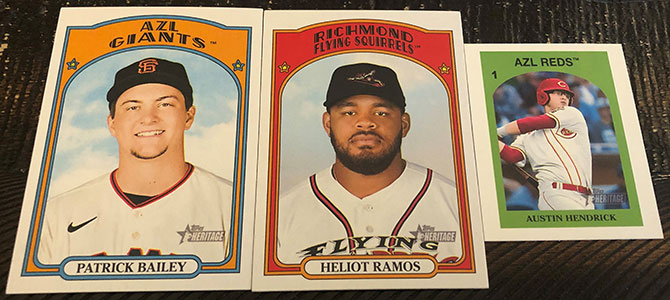 Pack 14:
Justin Foscue, Wander Franco & Miguel Tejada Boyhood Photos (1:6 packs)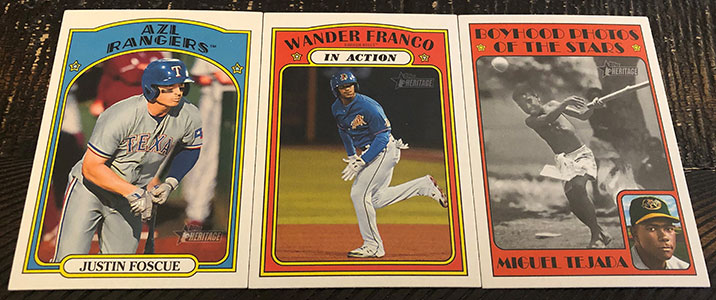 Pack 15:
Spencer Torkelson & Carson Tucker Black & Blue Autograph #ed 10/25 (1:462 packs)
Tucker has struggled mightily at the start of his professional baseball career. He has hit just .114 through his first 44 at bats.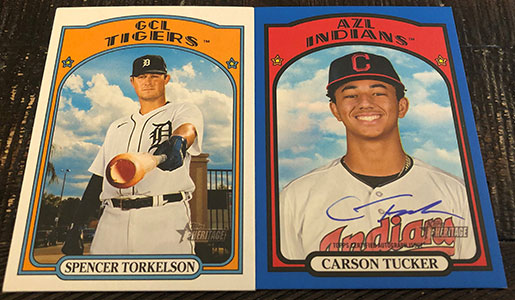 Pack 16:
Vidal Brujan, Ed Howard & Ed Howard Pack Covers (1:4.5 packs)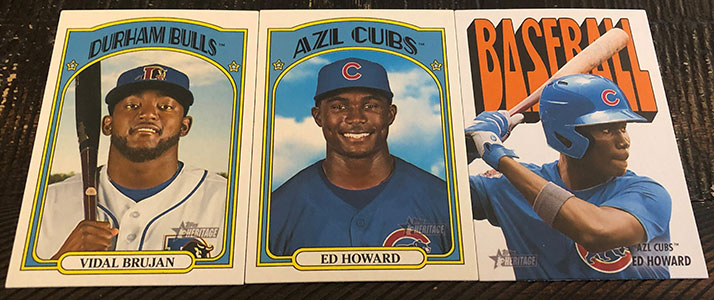 Pack 17:
Brandon Marsh, Nolan Gorman, Garrett Mitchell & CJ Abrams
Abrams got a taste of the big leagues early this season. He was sent back to the minors after hitting .182 in 20 games for San Diego. 

Pack 18:
Zac Veen, Pedro Leon & Jordan Groshans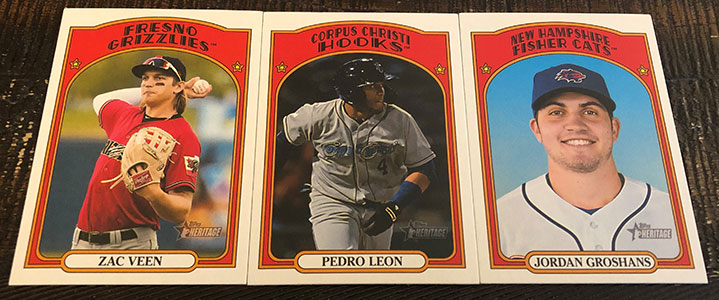 Lastly, the Veen card back. Veen ranks 29th on the recently released Top 100 prospects list.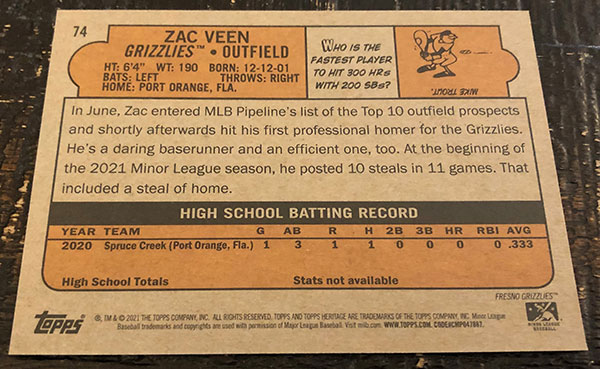 Clearly I did pretty well in this one. I had some tougher pulls in the Tucker Black & Blue Autograph and the Torkelson Black Parallel. 
With teams looking to play their younger prospects, quite a few players featured in this product have already appeared in the majors. 
Throughout much of the hobby, the price of boxes has been on the rise, but Heritage Minors seems to stay fairly low. These 2021 boxes can still be found easily for $60.
Shop for 2021 Topps Heritage Minors Baseball on:
Want more installments of Shane Salmonson's Cheap Wax Wednesday? Check out his other breaks in the archives.