Cheap Wax Wednesday Box Breaks: 2021 Topps Chrome Platinum Anniversary Baseball Hobby LITE
When you click on links to various merchants on this site, like eBay, and make a purchase, this can result in this site earning a commission.
First things first, that product name is entirely too long. At the time of release, 2021 Topps Chrome Platinum Anniversary Baseball was pretty confusing as well. Though it is a 2021 product, the release date was pushed back so far that it didn't become available until June, 2022. So opening this one on release week was awfully strange. Brand new product, but with players in old uniforms, and not the rookie checklist you had become accustomed to. Opening the product now, a year after release, doesn't seem so strange.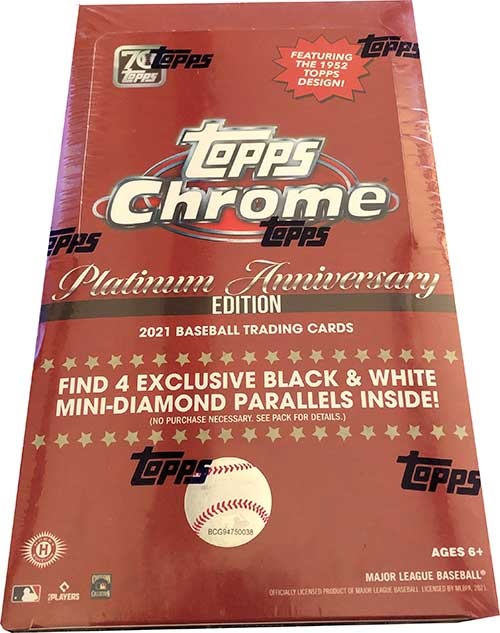 The checklist for this one is absolutely massive! It features 700 cards and includes everyone from rookies to Hall of Fame legends. The base design mimics that of a chromed out 1952 Topps Baseball. The full base set is also found in parallels galore — 16 to be exact. There is also an extensive autograph checklist that is 164 players long. 
Now, some of you may have noticed the word "LITE" in the product name. This is something Topps has started doing in the last few years. Some products are released in both full Hobby and Hobby LITE formats. The difference? LITE has a lower price, less packs and fewer guaranteed hits. For instance, full hobby boxes of this one feature an autograph in each, while autographs are tough to come by in LITE boxes. The price difference? Currently, Hobby boxes are selling around $85, with LITE boxes available under $50. 
2021 Topps Chrome Platinum Anniversary Hobby LITE Baseball Box Break
Cards per pack: 4
Packs per box: 16
Price paid: $45

Pack 1 highlights:
Trevor Story & Brandon Woodruff
Story is nearing a return from his internal bracing procedure on his right elbow. It will be fun to see him back on the field.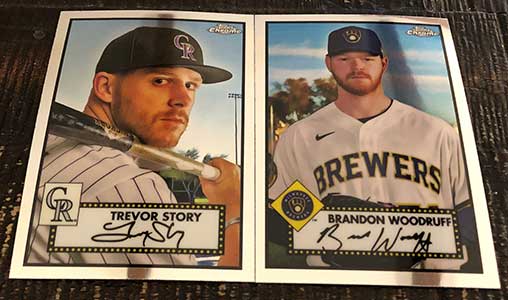 Pack 2:
Edgar Martinez & Taylor Rogers Black & White Mini Diamond (1:4 packs)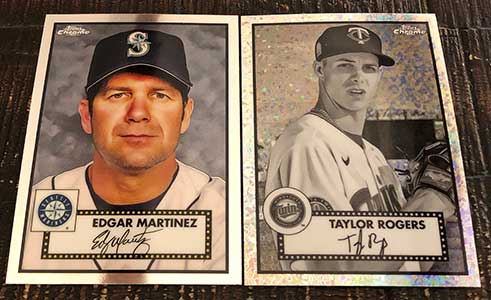 Pack 3:
Joey Gallo & Chipper Jones
The posed photos kind of give me a Heritage vibe.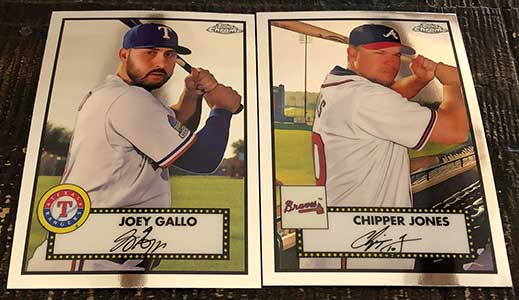 Pack 4:
Bryce Harper, Miguel Tejada, Tommy Edman & Byron Buxton Refractor (1:4 packs)

Pack 5:
Lou Brock, Warren Spahn & Jared Oliva Black & White Mini Diamond RC (1:4 packs)
I always love the inclusion of legends like Brock and Spahn.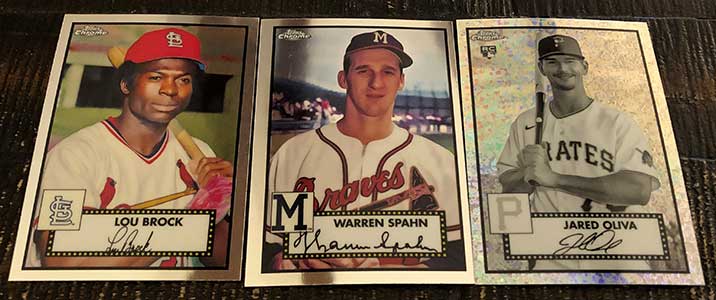 Pack 6:
Mike Schmidt & Luis Patino Black & White Mini Diamond RC (1:4 packs)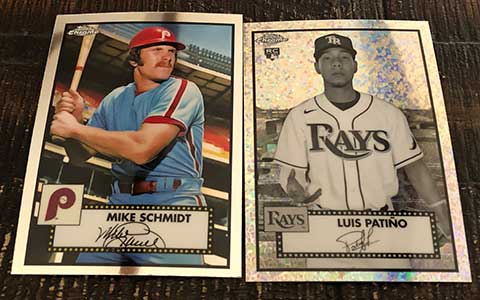 Pack 7:
Tyler Stephenson RC, Ron "Gator" Guidry & Brad Hand
Guidry pitched his entire career for the Yankees, posting a 3.29 ERA in 368 career games.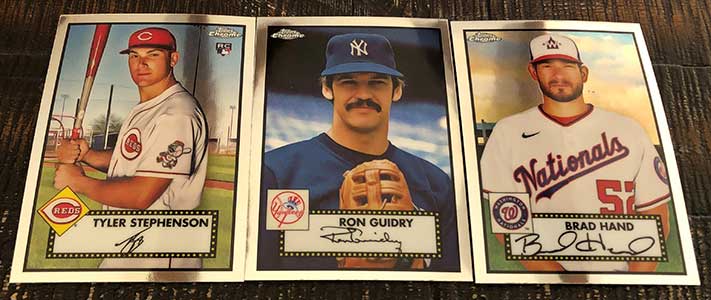 Pack 8:
Ian Anderson RC, Kenley Jansen & Ernie Banks Refractor (1:4 packs)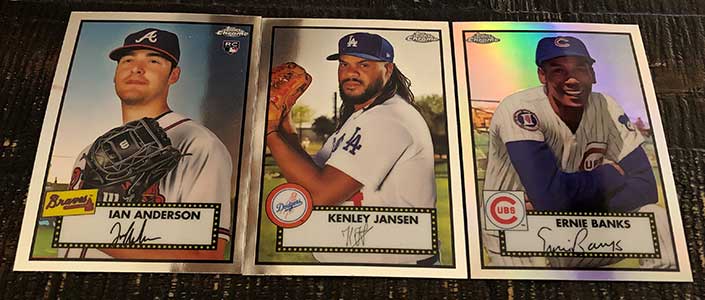 Pack 9:
Marcus Semien, Nathan Eovaldi, Maury Wills & Tim Wakefield Black & White Mini Diamond (1:4 packs)
I recently had the opportunity to take some swings off of Wakefield at Fenway Park. It was a blast!

Pack 10:
Fred McGriff & Victor Gonzalez Green/Yellow 70th Anniversary RC #ed 68/99 (1:99 packs)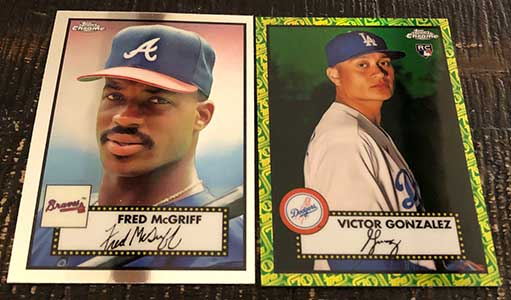 Pack 11:
Starling Marte, Darryl Strawberry, Mike Piazza & Andrew McCutchen Refractor (1:4 packs)
It has been fun watching Cutch back in Pittsburgh, playing almost every day.

Pack 12:
Gerrit Cole, Will Smith, Mo "Hit Dog" Vaughn & Alex Rodriguez

Pack 13:
Brady Singer RC, Framber Valdez & Max Muncy Aqua Wave (1:16 packs)
Currently, Max Muncy is third in the majors with 18 home runs.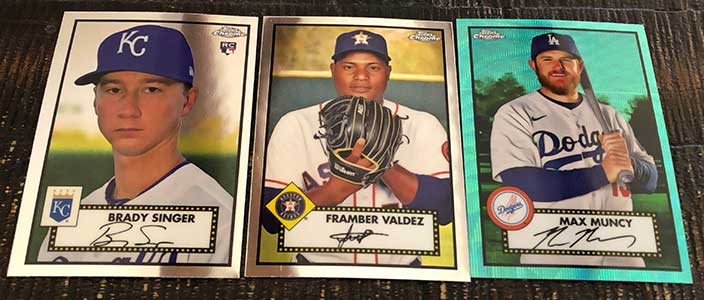 Pack 14:
Jason Varitek & Ender Inciarte Black & White Mini Diamond (1:4 packs)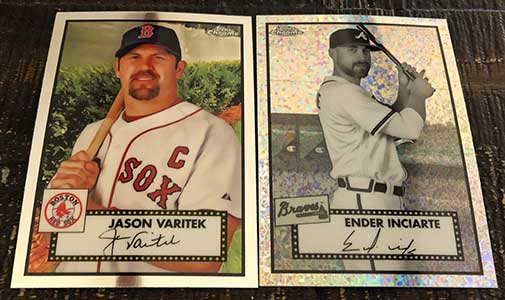 Pack 15:
Lou Boudreau, Noah Syndergaard & Luke Weaver
Boudreau became the player/manager in Cleveland at just 24-years old. He even won the 1948 World Series in that combo role.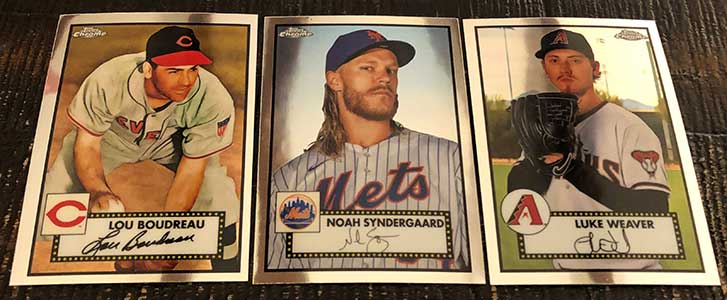 Pack 16:
Monte Irvin, Taijuan Walker & Trevor Hoffman Refractor (1:4 packs)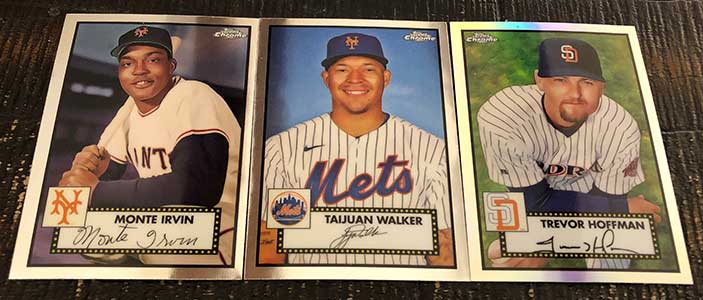 Lastly, the Monte Irvin card back.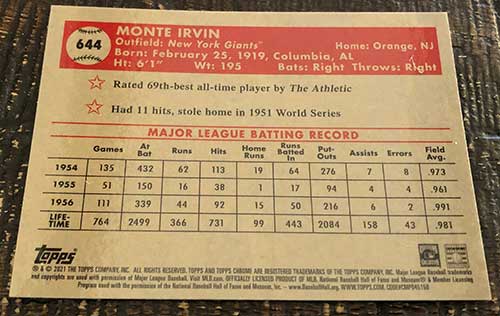 This was definitely a fun rip. As I said above, I always enjoy the inclusion of legends of the game. It certainly helped that I was able to pull parallels of a few of the players I collect. I may have to look at the LITE boxes for some other future releases.
Shop for 2021 Topps Chrome Platinum Anniversary Baseball cards on:
Want more installments of Shane Salmonson's Cheap Wax Wednesday? Check out his other breaks in the archives.