Cheap Wax Wednesday Box Breaks: 2021 Topps Big League Baseball
I am going to be honest, I had my doubts that I would ever see this 2021 Topps Big League Baseball box show up on my doorstep. I preordered this box back in March…2021. The original release date was last spring. But that date kept getting pushed back, again and again. I thought there was a good chance of this release just being scrapped completely so I was surprised to receive the tracking number email.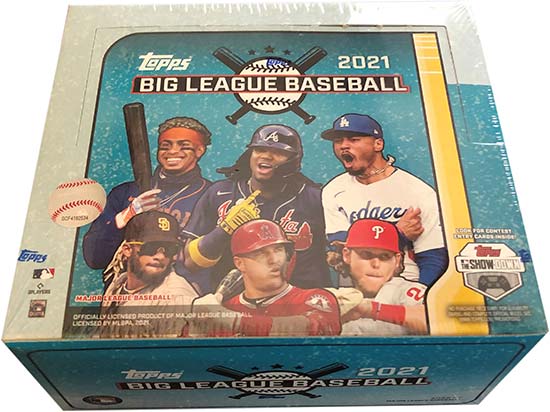 Topps Big League debuted in 2018 as an inexpensive product geared towards younger collectors. That has remained a constant, for now four years straight (kind of). You can't expect to pull anything big out of this. Autographs are not even guaranteed in every box, or even every other box. But if you are looking for something cheap to rip and collect, this works.
2021 Topps Big League Baseball Box Break
Cards per pack: 10
Packs per box: 18
Price paid: $38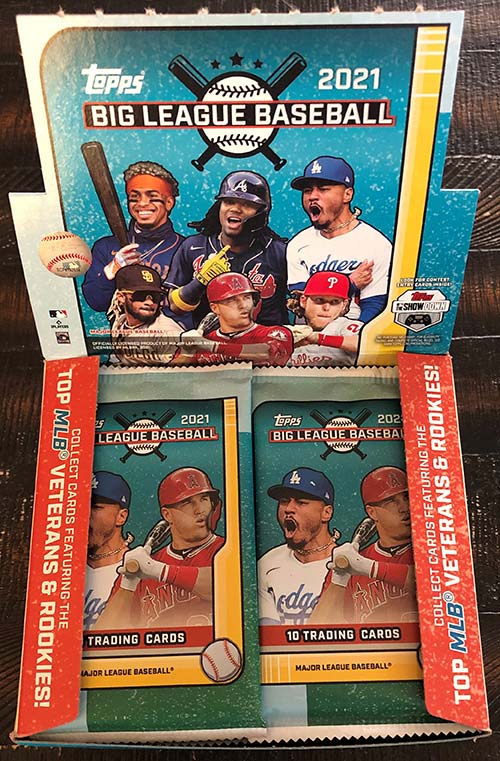 Pack 1 highlights:
NL ERA leaders, NL HR leaders, Jeff McNeil, Max Fried, Mike Yastrzemski, Nick Madrigal RC, Freddie Freeman Orange (one per pack) & Jose Abreu Souvenirs (1 in every 4 packs)
The four main insert sets (Souvenirs, Wanted, Art of the Game and Defensive Wizards) are all found 1:4 packs.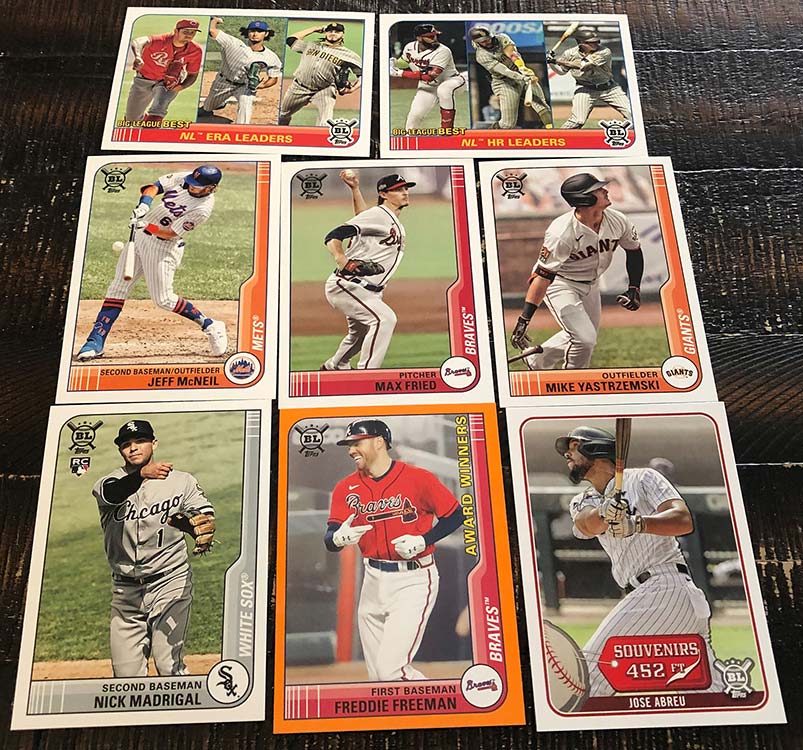 Pack 2:
NL Wins Leaders, NL Strikeout leaders, Tarik Skubal RC, Manny Machado, Ke'Bryan Hayes RC, Yadier Molina, Kyle Schwarber, Deivi Garcia RC, Gavin Lux Orange & Luis Robert Wanted (1:4 packs)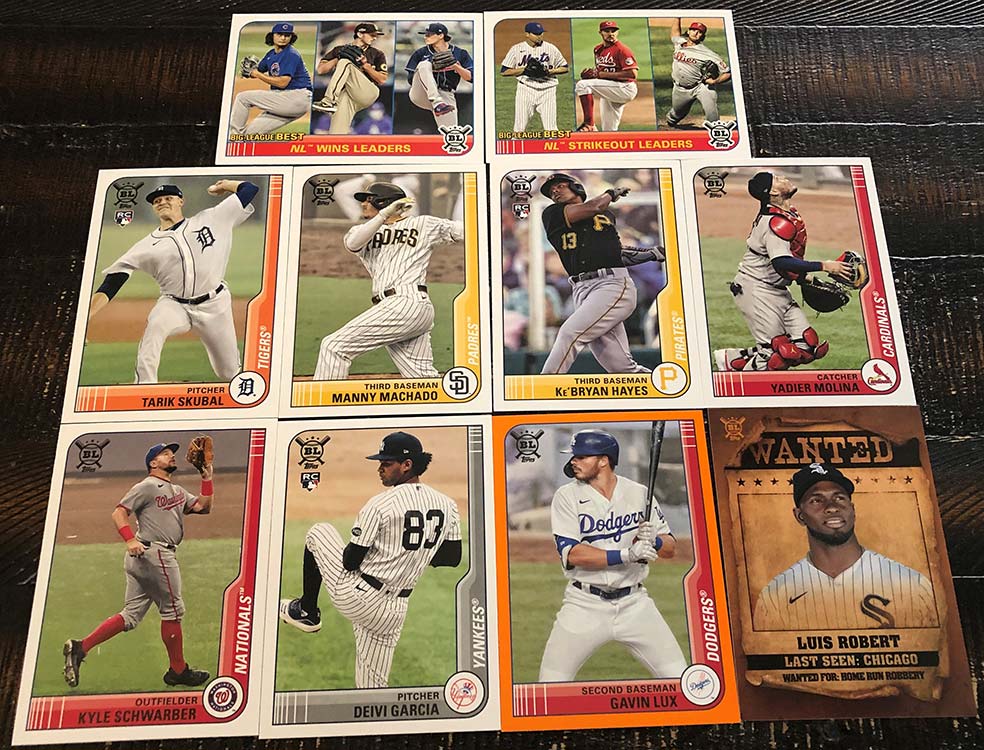 Pack 3:
Yordan Alvarez, Austin Meadows, Keibert Ruiz RC, Brandon Lowe, Yu Darvish, Michael Conforto, Patrick Corbin Orange & Tim Anderson Art of the Game (1:4 packs)
Unfortunately, the news recently broke that Conforto (who is still a free agent) is undergoing shoulder surgery and will miss the entire 2022 season. He is expected to return in time for spring training next year.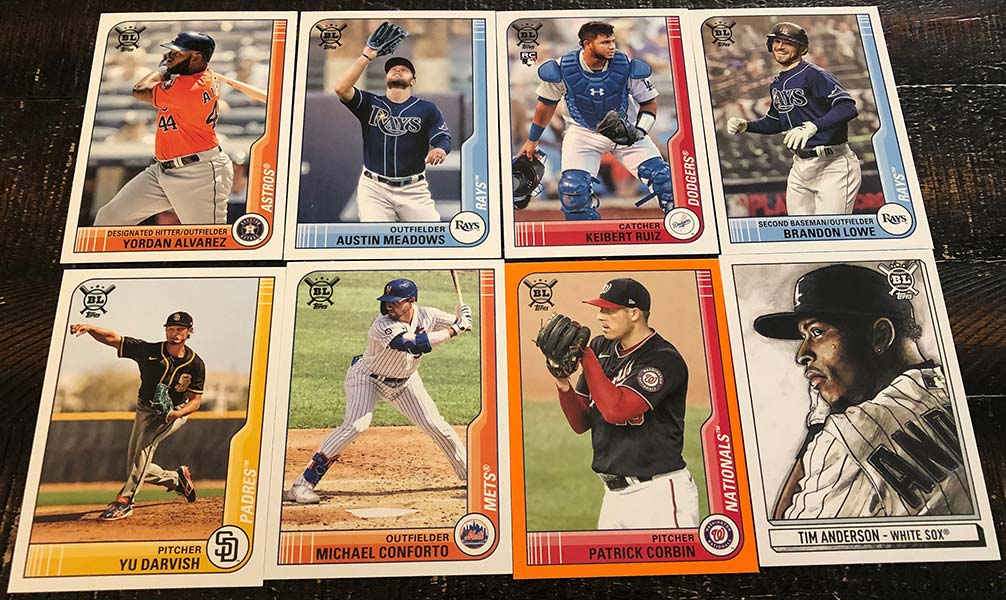 Pack 4:
Freddie Freeman, Evan White RC, Evan Longoria, Walker Buehler, Brady Singer Orange, Mookie Betts Defensive Wizards (1:4 packs) & Mike Trout Rainbow Foil #ed 155/199 (1:37 packs)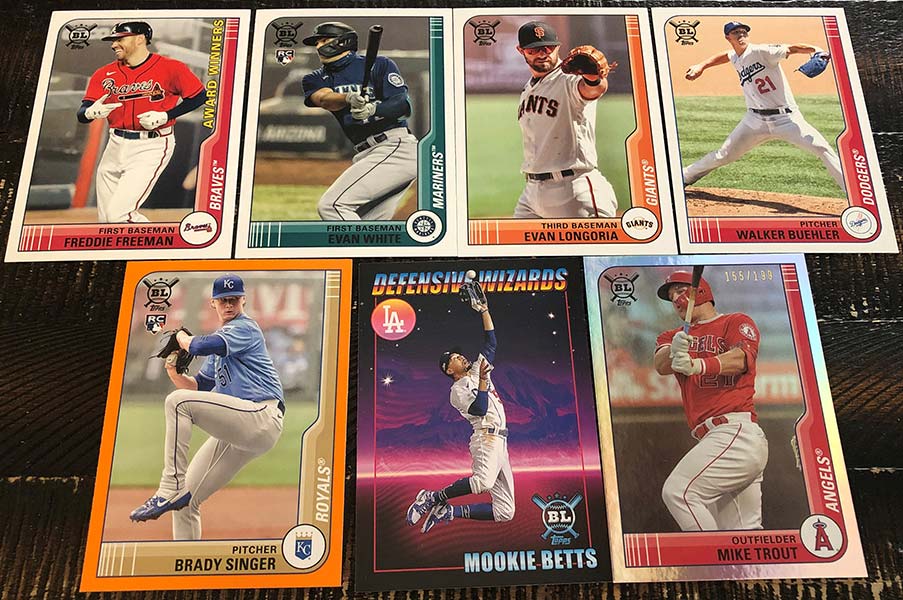 Pack 5:
Estevan Florial RC, Starling Marte, Shohei Ohtani, Blake Snell, Dylan Carlson Orange & Cody Bellinger Souvenirs (1:4 packs)
After struggling mightily last year (he hit .165 in 95 games), Bellinger seems to be finding his groove with four home runs early on this season.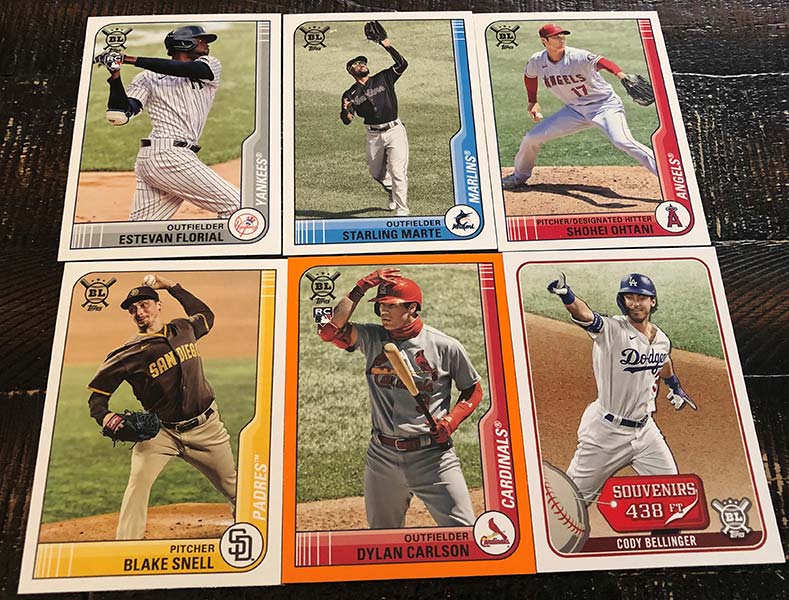 Pack 6:
AL WAR leaders, Tyler Stephenson RC, Matt Olson, Luis Campusano RC, Trea Turner, Christian Pache RC, Ryan Braun, Keegan Akin Orange & Mike Trout Wanted (1:4 packs)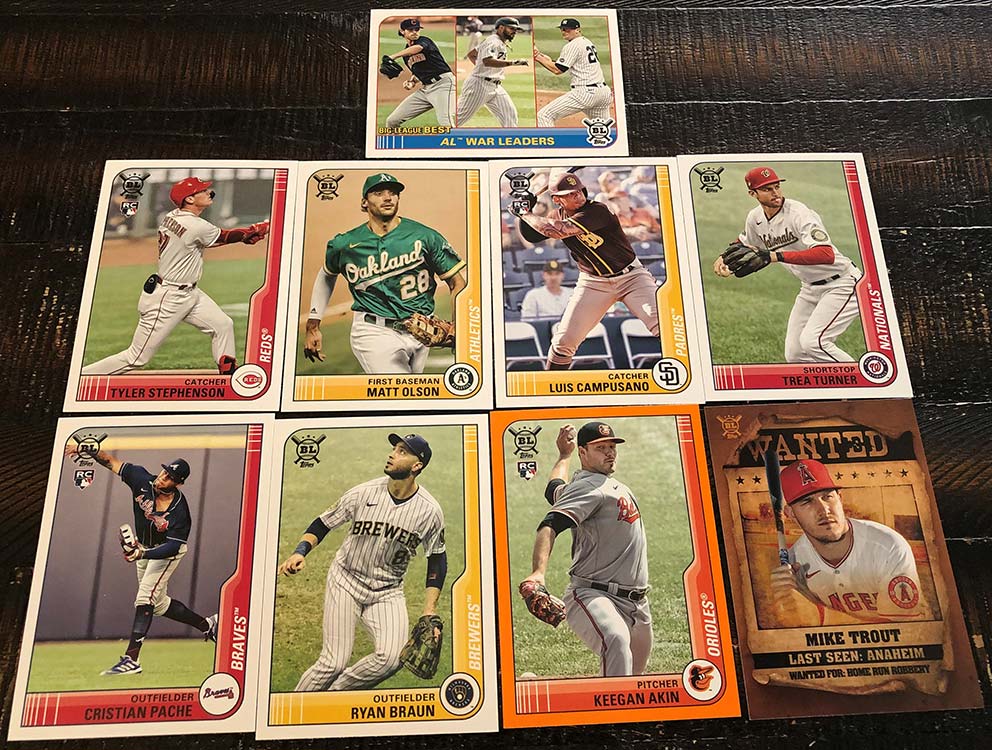 Pack 7:
NL Saves leaders, NL RBI leaders, Shane Bieber, Shane McClanahan RC, Liam Hendriks Orange & Byron Buxton Defensive Wizards (1:4 packs)
The very rare double-Shane pack!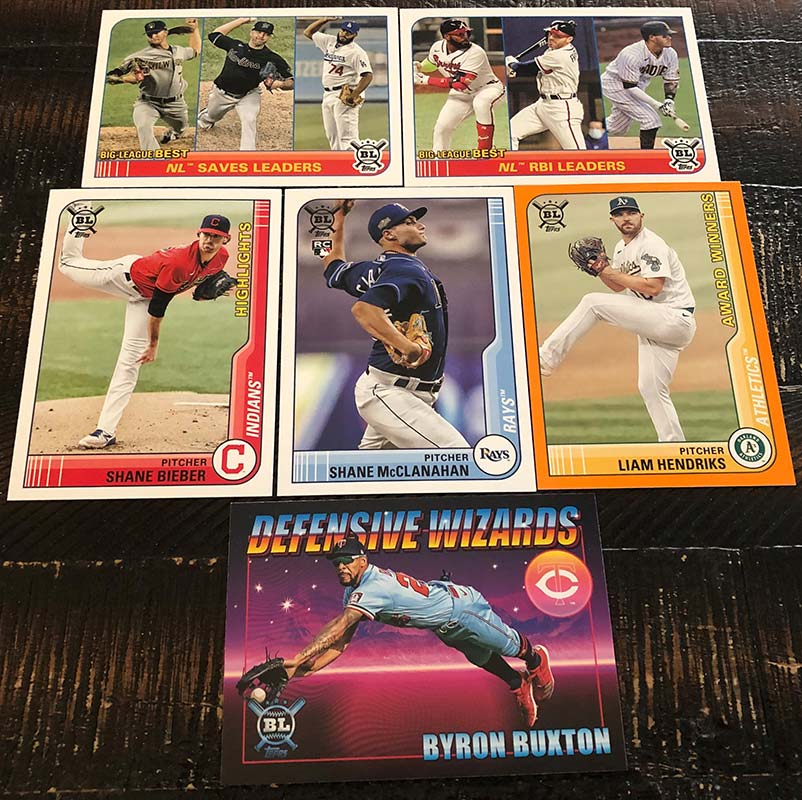 Pack 8:
AL Saves Leaders, Trevor Story, Bryan Reynolds, Jose Abreu, Cristian Javier RC, Kyle Tucker Orange & Mookie Betts Souvenirs (1:4 packs)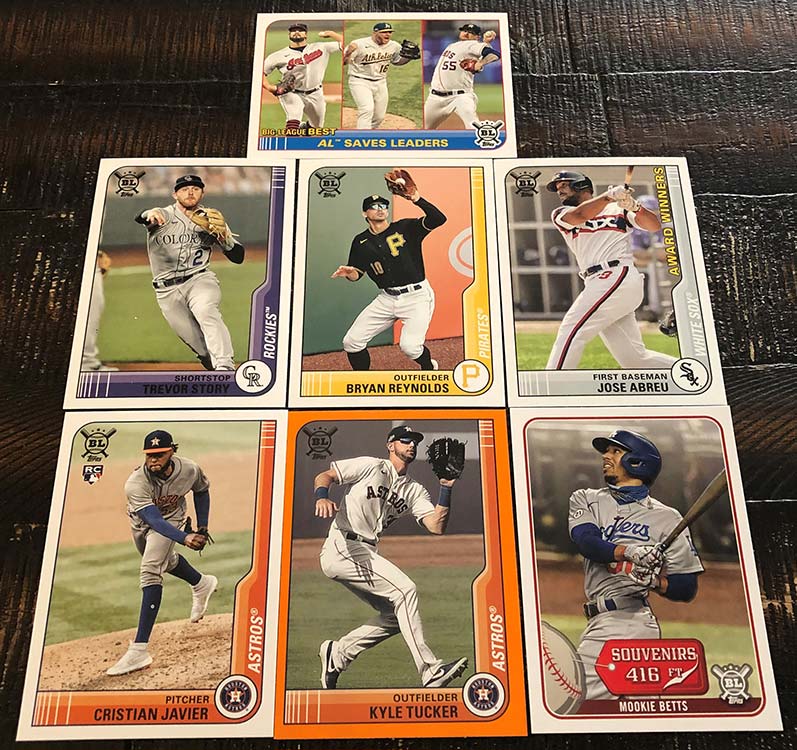 Pack 9:
Ryan Mountcastle RC, Bo Bichette, Hyun-Jin Ryu, J.T. Realmuto, John Means, Casey Mize, Daz Cameron Orange & Ramon Laureano Wanted (1:4 packs)
Some more unfortunate injury news broke recently. John Means will have Tommy John surgery and will miss at least all of this season.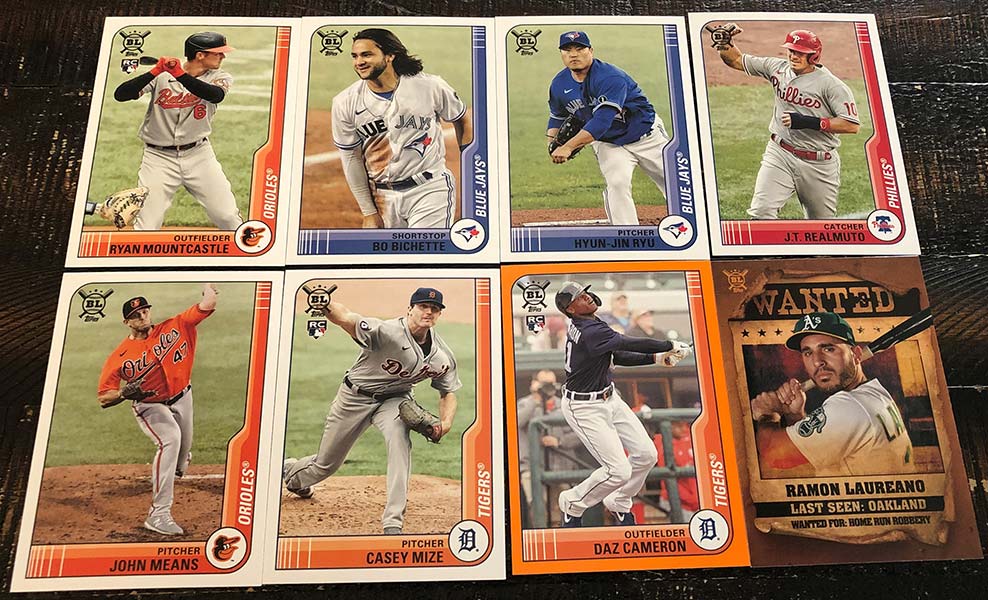 Pack 10:
Justin Verlander, Rhys Hoskins, Freddie Freeman, Zack Greinke, Yordan Alvarez Orange & Alec Bohm Art of the Game (1:4 packs)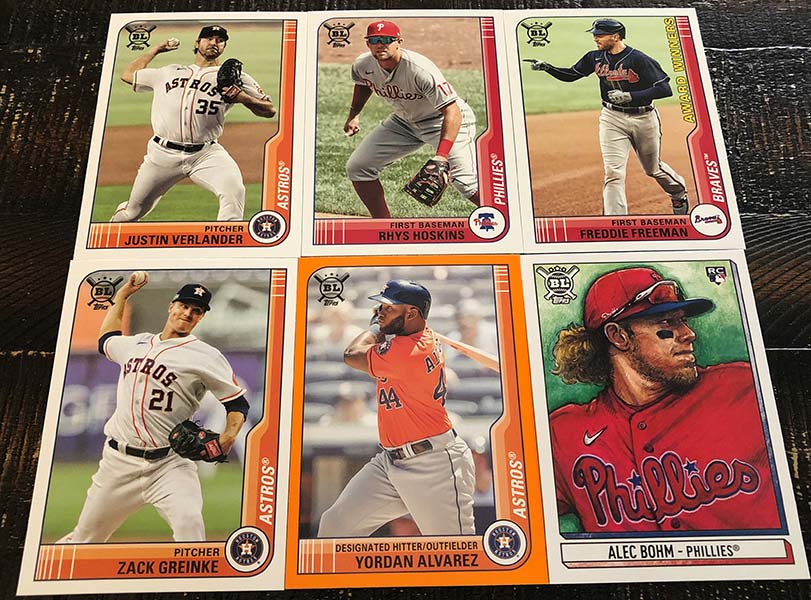 Pack 11:
Tyler Glasnow, Christian Yelich, Eric Hosmer, Brandon Crawford Orange & Paul Goldschmidt Defensive Wizards (1:4 packs)
Goldschmidt is a four-time NL Gold Glove winner at first base.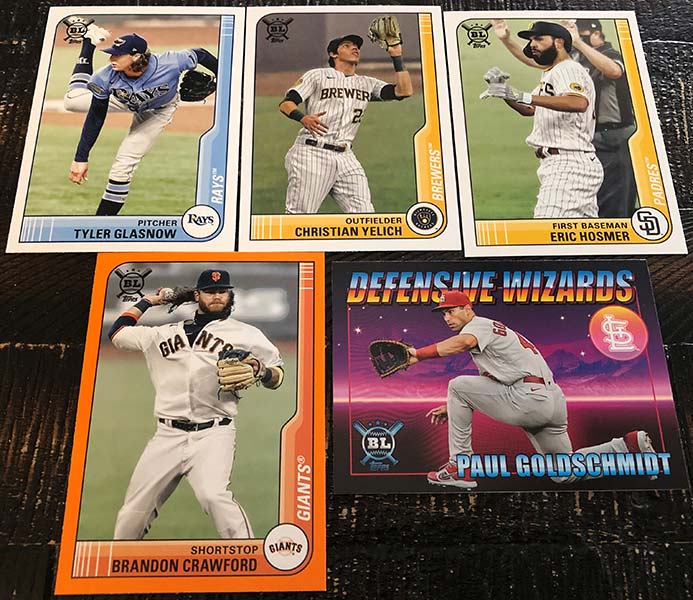 Pack 12:
Carlos Correa, Mike Trout, Estevan Florial Orange, Rafael Devers Souvenirs (1:4 packs) & Jordan Yamamoto Big League Autograph (1:65 packs)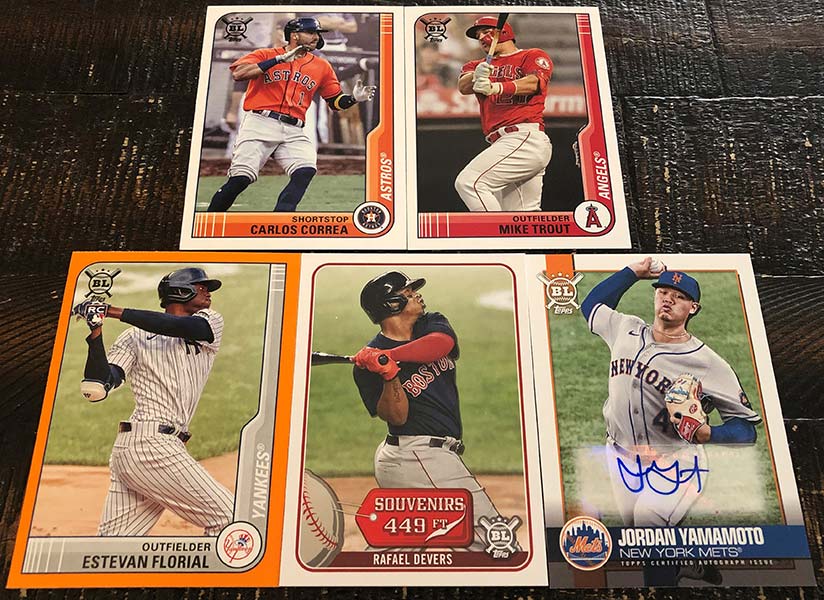 Pack 13:
Nelson Cruz, Ian Anderson RC, Paul Goldschmidt, Brett Phillips, Francisco Lindor, Wil Myers Orange & Ronald Acuna, Jr. Wanted (1:4 packs)
Braves fans are looking forward to Acuna returning from his knee injury. He is currently playing in minor league rehab games.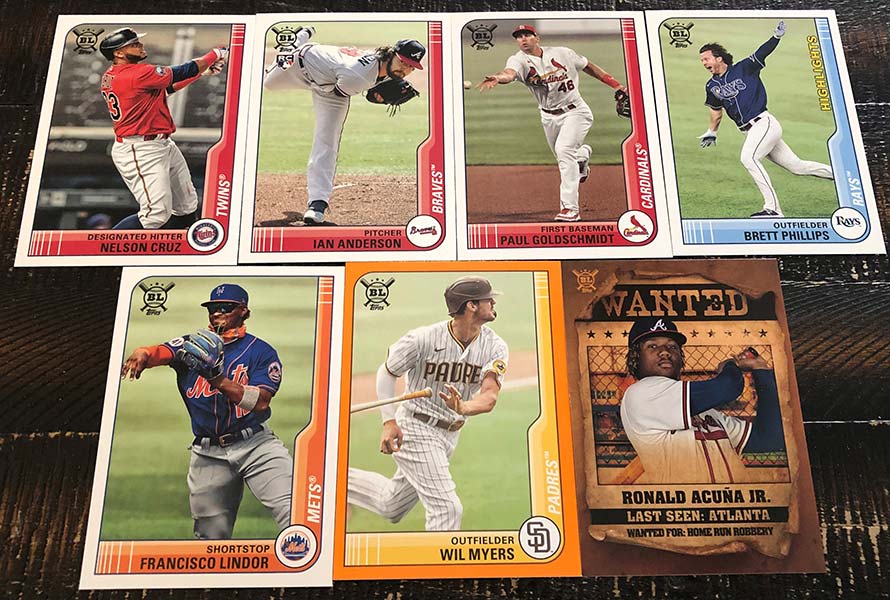 Pack 14:
AL Strikeout Leaders, Nolan Arenado, Alex Kirilloff RC, Nate Pearson RC, Bobby Dalbec RC, Evan White Orange & Ke'Bryan Hayes Art of the Game (1:4 packs)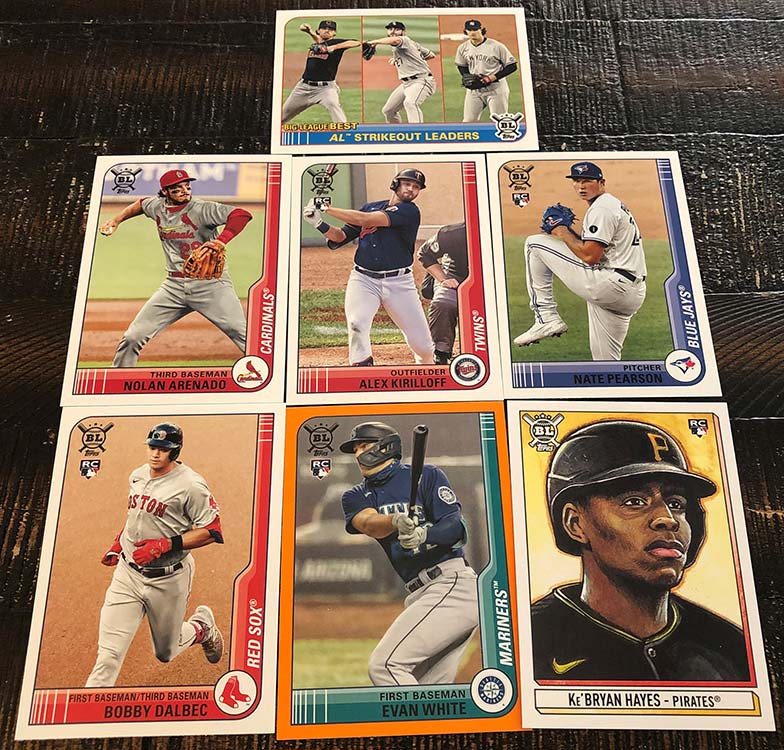 Pack 15:
Willson Contreras, Pete Alonso, Rafael Devers, Alex Bregman, Kris Bryant, J.D. Davis, Zac Gallen Orange & Fernando Tatis, Jr. Defensive Wizards (1:4 packs)
This is likely the last Kris Bryant card featuring him in a Cubs uniform.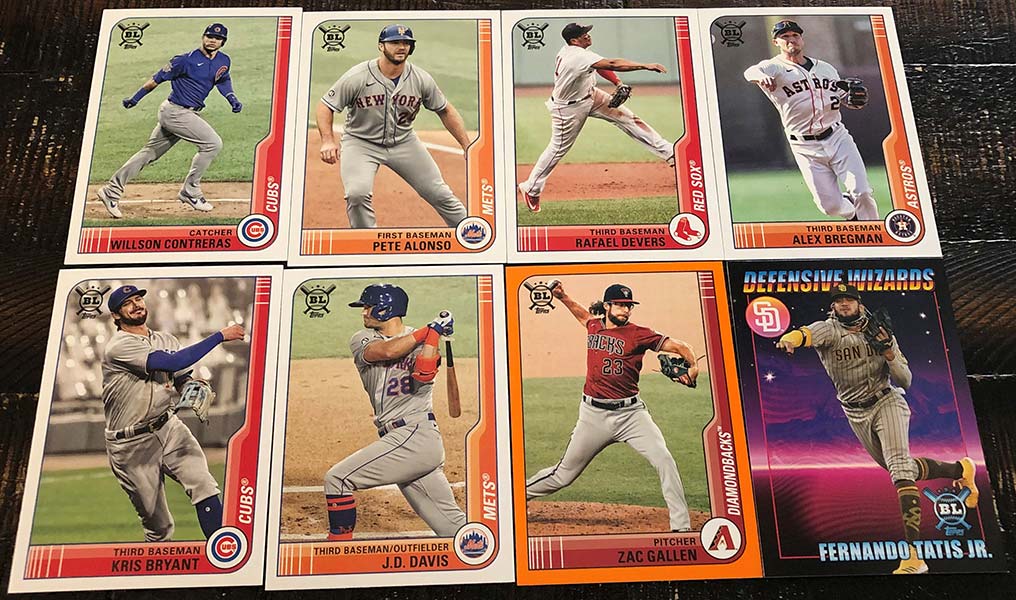 Pack 16:
Brandon Woodruff, Devin Williams, Shane Bieber, Jose Abreu, Giancarlo Stanton, Luis Campusano Orange & Aaron Judge Souvenirs (1:4 packs)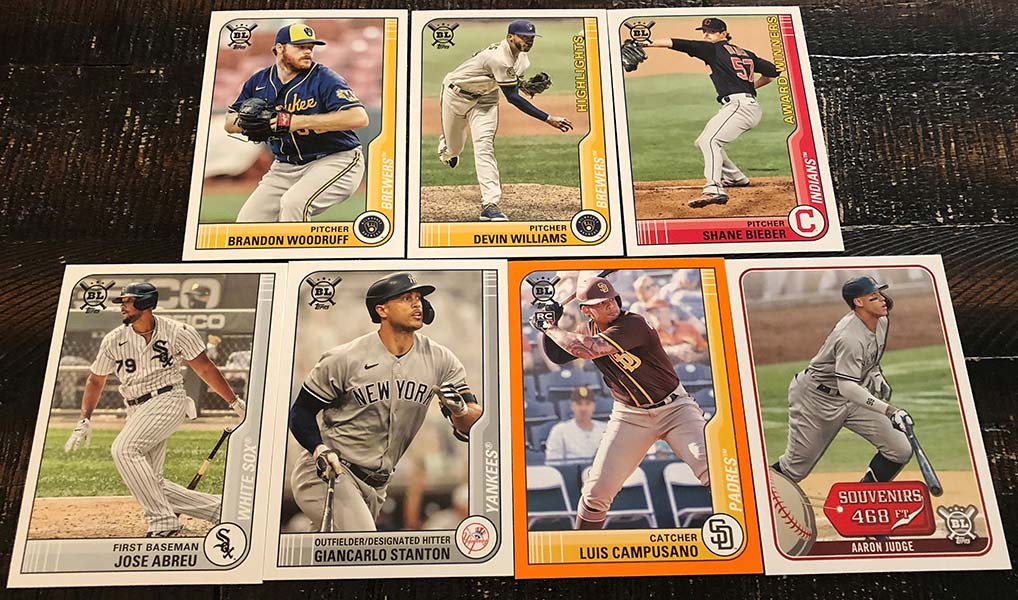 Pack 17:
Teoscar Hernandez, Andres Gimenez RC, Randy Arozarena, Jose Berrios, AL Win Leaders, Juan Soto Orange & Sixto Sanchez Art of the Game (1:4 packs)
Sixto Sanchez has not appeared in a major league game since September 23, 2020. Hopefully we see the fun-to-watch hurler back on the mound soon.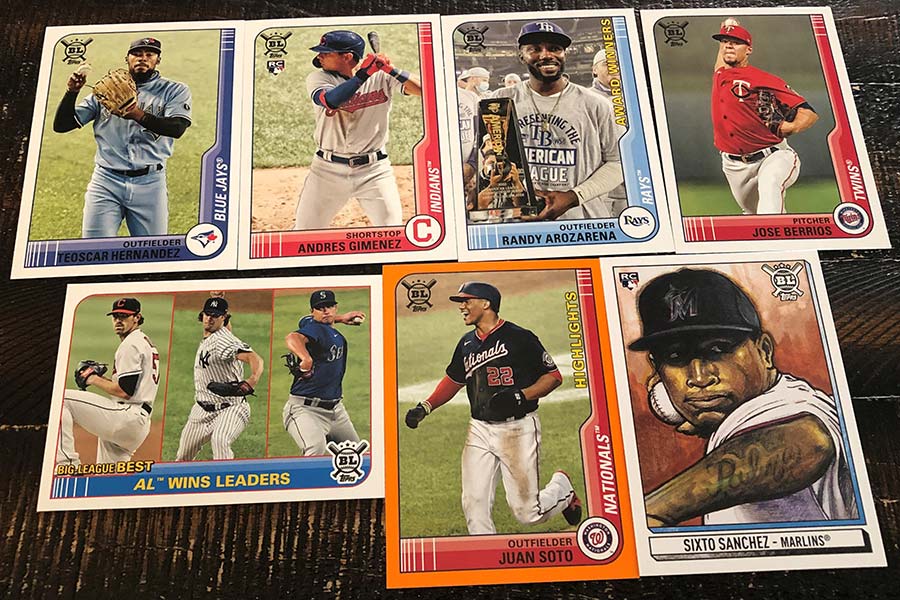 Pack 18:
Luis Robert, Corey Seager, Joey Votto, NL WAR Leaders, Starling Marte Orange & Juan Soto Defensive Wizards (1:4 packs)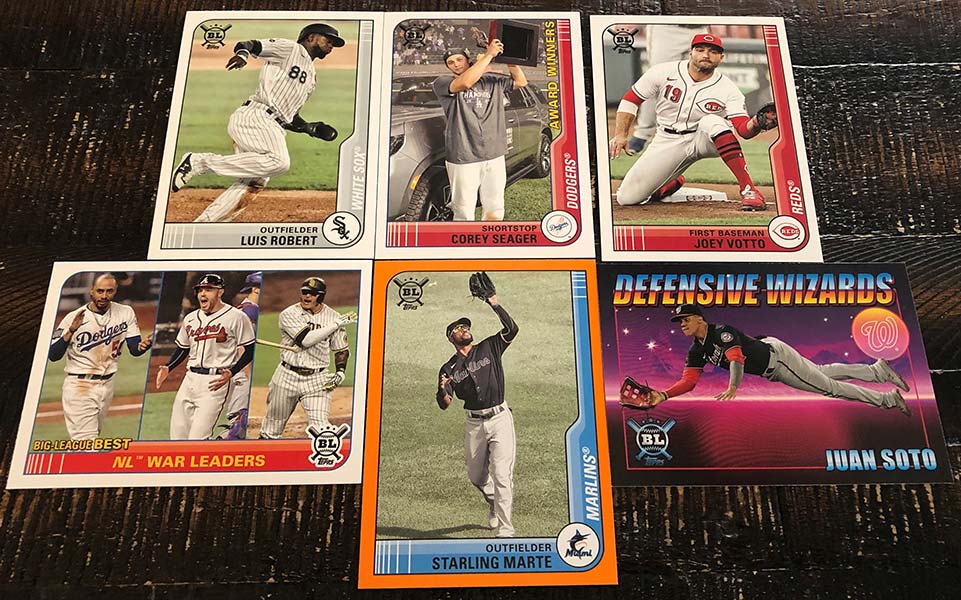 Lastly, the Votto card back. I like its kind of old-school look.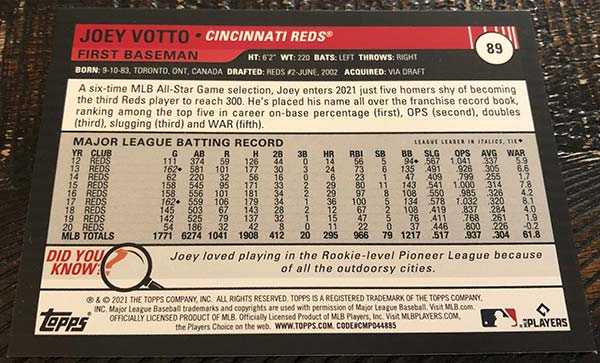 If you are looking for a product with guaranteed big hits, this isn't it. Autographs are found about once in every three or four boxes, so I was lucky to pull one. However, if you are looking for something somewhat current and inexpensive, Big League fits the bill.
I was also extremely lucky to pull the Trout Rainbow Foil parallel. Those are found about once in every two boxes, and pulling Trout was a miracle.
These boxes are readily available online right now for about $40. You don't see many releases these days at that price point.
Shop for 2021 Topps Big League Baseball on:
Want more installments of Shane Salmonson's Cheap Wax Wednesday? Check out his other breaks in the archives.