Cheap Wax Wednesday Box Breaks: 2013 Leaf Perfect Game Baseball
Leaf Perfect Game focuses high school standouts that played in Perfect Game tournaments during the summer baseball season.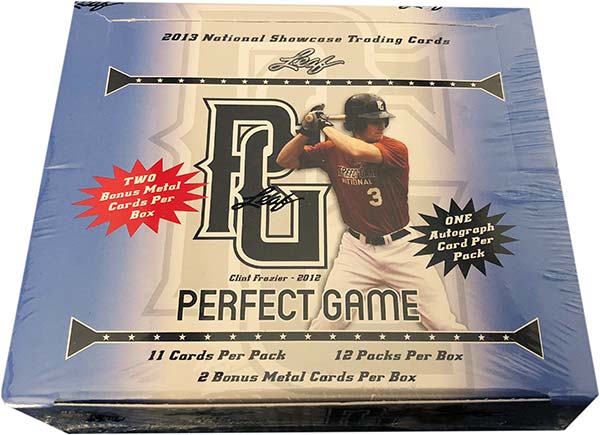 2013 Leaf Perfect Game Baseball features a 295 card base set. As you can imagine, pulling well-known major league players can be tough. Most of the players featured in the base set also have autograph cards. Some of the notable names included in the autograph checklist are Cole Tucker, Dylan Cease, Jack Flaherty, Justus Sheffield, Michael Chavis, and Michael Kopech.
2013 Leaf Perfect Game Baseball Box Break
Cards per pack: 11
Packs per box: 12
Price paid: $39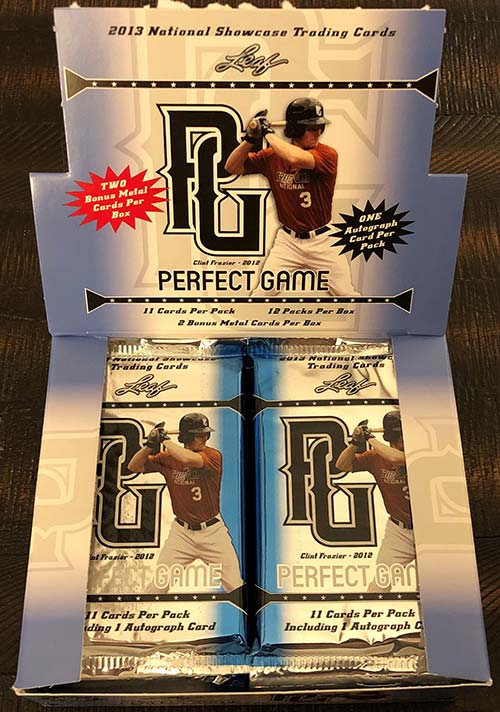 Pack 1 highlight:
Seth Mullis Autograph
Mullis played a couple seasons at UNLV but didn't go any further.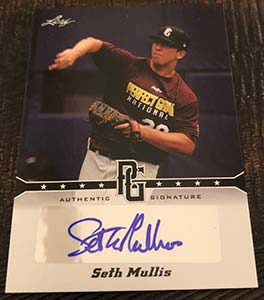 Pack 2:
Chris Bec Autograph (28/50)
Bec was a fifth round pick of the Blue Jays in the 2018 draft. He is currently playing at the Double-A level.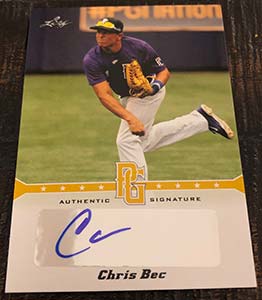 Pack 3:
Michael Cantu Patch Autograph (22/25)
Cantu was a 30th round pick in the 2014 draft but he opted to attend the University of Texas instead. He was signed as a free agent in 2017 by the Padres and has played this season for Triple-A El Paso.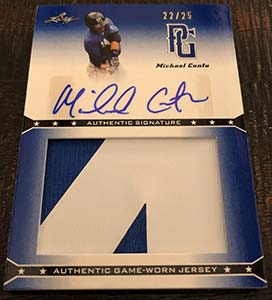 Pack 4:
Mitch Cavanagh Autograph
Cavanagh pitched well during his college career, posting a 2.50 ERA in 27 games. However, that was it.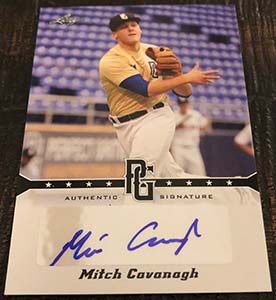 Pack 5:
Yankees prospect Clarke Schmidt & Lake Dabney Autographed (05/25)
Dabney pitched just one season at Missouri, earning a 1.17 ERA over 16 games. It appears he then gave up baseball after a rough 2015 summer league season.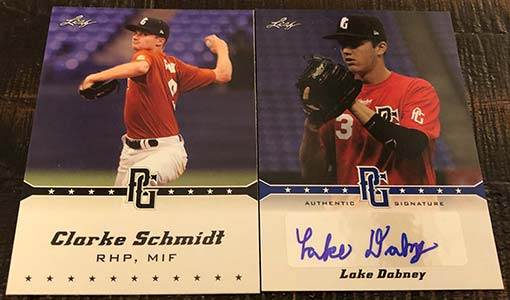 Pack 6:
Tyler Kolek & Ryan Avidano Autograph
Avidano struggled in two seasons pitching for Georgia with a 9.38 ERA in college. He also pitched a summer league season five minutes from where I lived in 2016.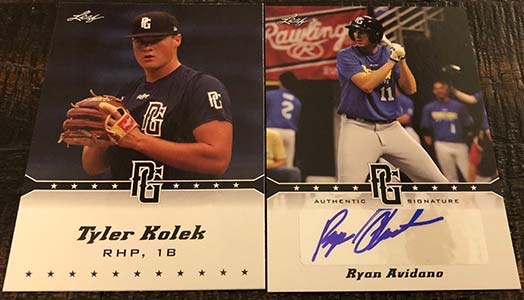 Pack 7:
2014 #1 overall draft pick Brady Aiken & Casey Lenoch Autograph
Lenoch pitched three seasons for the Augusta University Jaguars in Georgia before hanging up his spikes.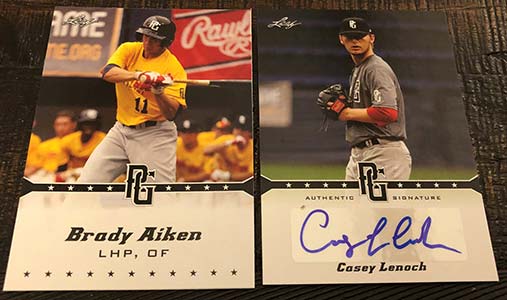 Pack 8:
Jack Flaherty (love seeing the Cardinals ace as a SS/3B), Marcus Wilson & Jose Lopez Autograph
Flaherty gave up playing any infield after high school. That seems to have worked out for him. He has a career 3.31 MLB ERA so far.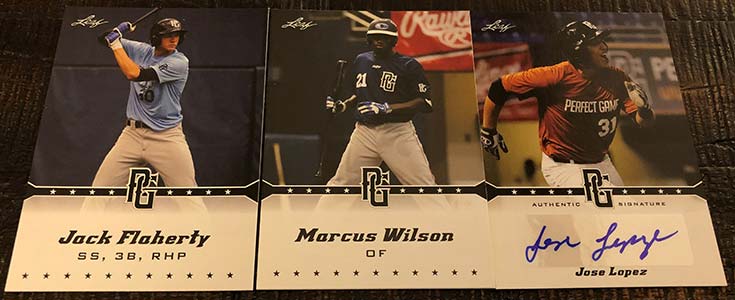 Pack 9:
Devin Smeltzer Red Autograph (03/25)
Smeltzer has just one appearance at the major league level this season. He has been dealing with elbow issues.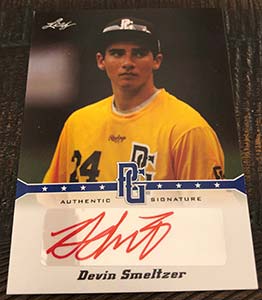 Pack 10:
Adam Haseley, D.J. Peters & Steven Wells Autograph
Wells played three college seasons at Thomas Jefferson University in Philadelphia. He hit .310 with 29 HR and 99 RBI over 134 college games.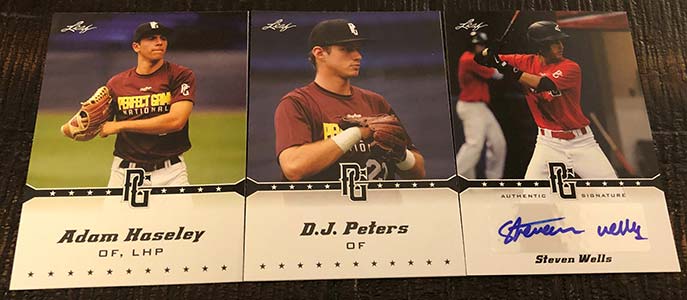 Pack 11:
Touki Toussaint, Michael Kopech & Sam Fichthorn Autograph (43/50)
Fichthorn pitched four seasons for Dartmouth College, posting an 8.14 ERA over 26 appearances.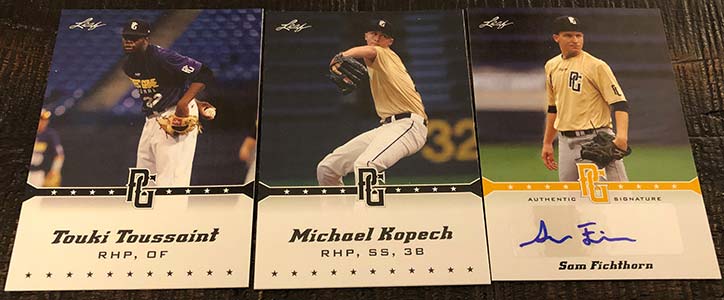 Pack 12:
Fenway Parks (is there a more perfect name for a Red Sox player? Unfortunately that did not happen.) & Brock Barger Autograph
Barger started 25 games for Abilene Christian University in Abilene, TX during the 2018 and 2019 seasons but hasn't appeared in a game since.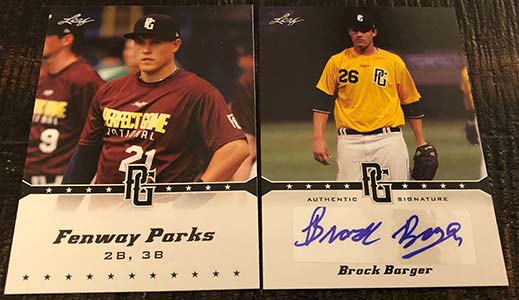 Bonus insert pack:
Tyler Kolek State Pride & Scott Hurst Yellow Printing Plate (1/1)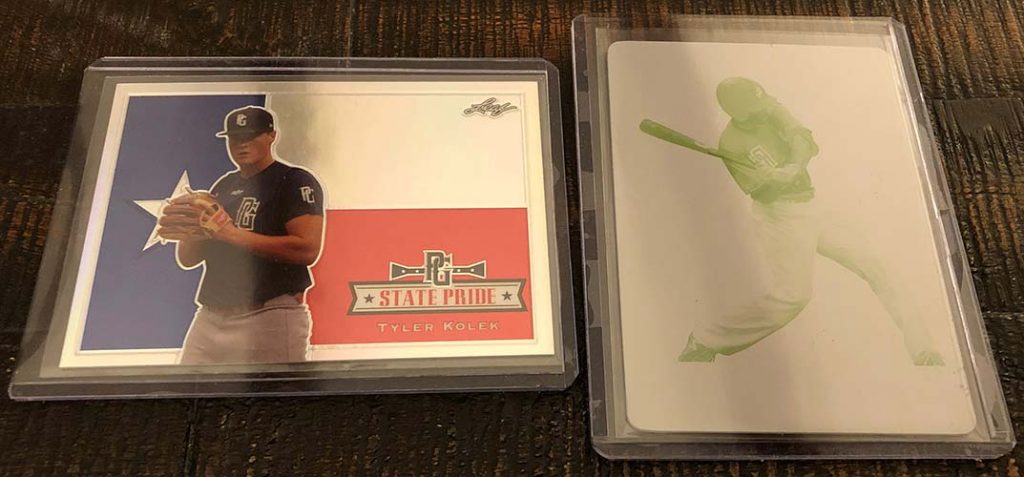 Lastly, the Kopech card back. These are extremely plain, and, unfortunately, the QR codes no longer work.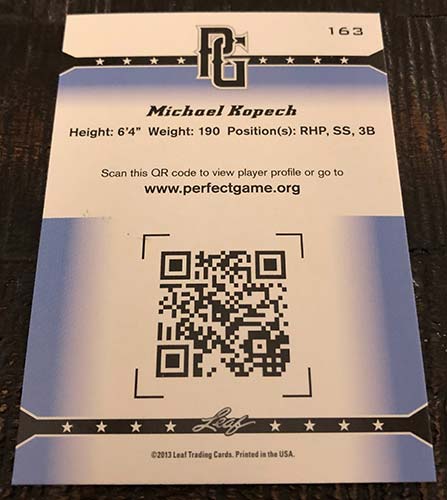 Clearly I didn't pull autographs of any notable names. I was barely able to find any base cards of major leaguers. That is the chance you take in a product like this. The goal when opening a product featuring high school players is to find early cards and autographs of future stars. That didn't quite work out for me in this box, but that doesn't mean it wasn't worth the shot.
Shop for 2013 Leaf Perfect Game Baseball cards on:
Want more installments of Shane Salmonson's Cheap Wax Wednesday? Check out his other breaks in the archives.