Cheap Wax Wednesday Box Breaks: 2006 Bowman Football Jumbo
The 2006 NFL draft featured a bunch of star-quality names. Among those was a pair of Heisman Trophy-winning USC teammates, Reggie Bush and Matt Leinart. Unfortunately for anyone who was stocking up on 2006 products, none of the big prospects turned into the monster superstars that many expected they would. As such, lots of 2006 products can now be found with huge discounts. This is where I come in and scoop all of it up!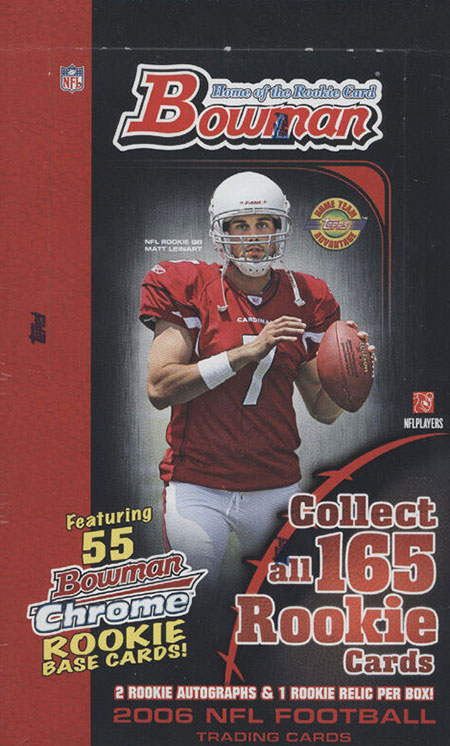 2006 Bowman Jumbo Football Box Break
Cards per pack: 35
Packs per box: 10
Price paid: $29 (I grabbed it as part of a Black Friday sale a few years back)

Pack 1 highlights:
Delanie Walker RC, Santonio Holmes RC, Larry Fitzgerald, Randy Moss, LaDainian Tomlinson, Dwight Freeney, Plaxico Burress Gold (one per pack) & Cody Hodges Chrome RC Refractor (218/500)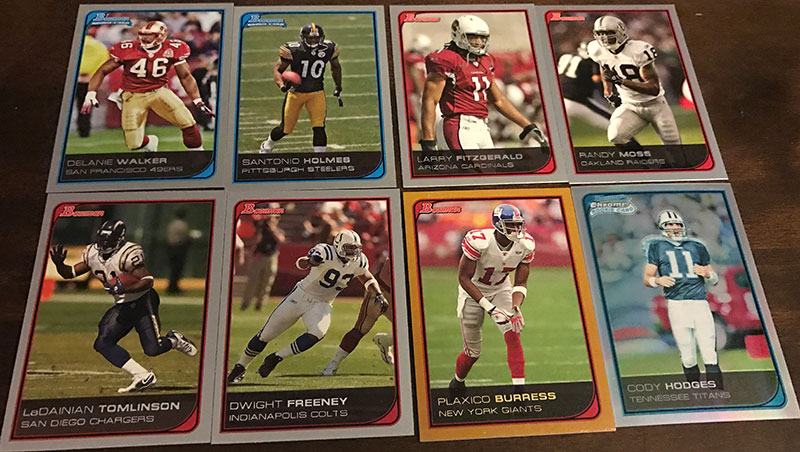 Pack 2:
Isaac Bruce, Drew Bledsoe, Tony Gonzalez, Reggie Wayne, Reggie Bush RC, Owen Daniels Chrome RC & Mario Williams Fabric of the Future Jersey Relic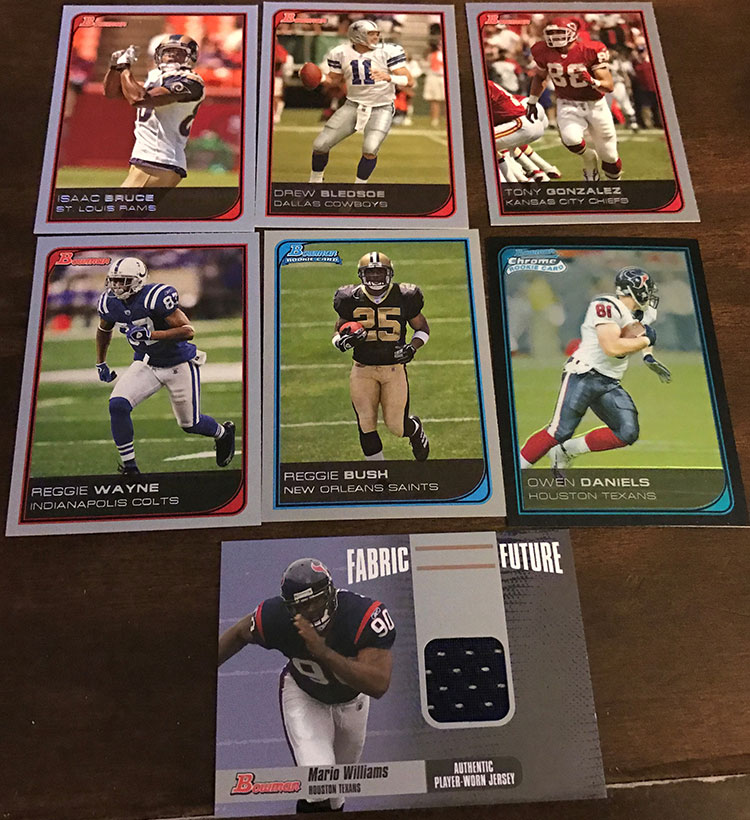 Pack 3:
Reggie Bush RC, Reggie Wayne, Fred Taylor, Terrell Owens, Willis McGahee, Drew Bledsoe, Isaac Bruce, Drew Brees, Chad "Ochocinco" Johnson Gold & Jeremy Bloom Blue RC (402/500)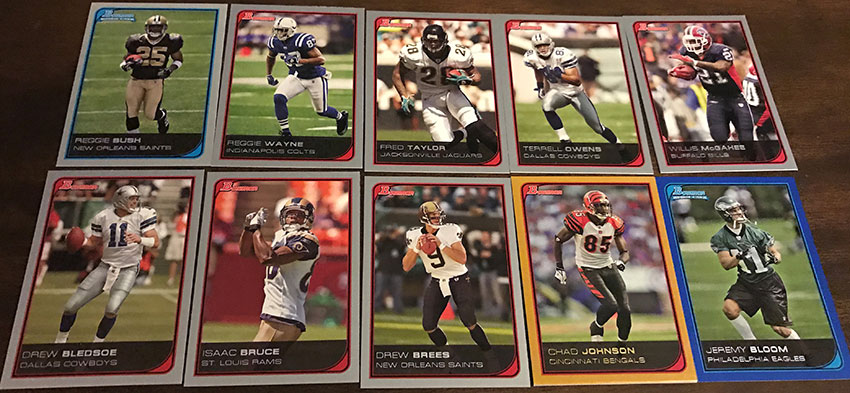 Pack 4:
Haloti Ngata RC, Devin Hester RC, Jason Witten, Tom Brady, Michael Vick, Chad Pennington Gold & Dwayne Slay Blue RC (493/500)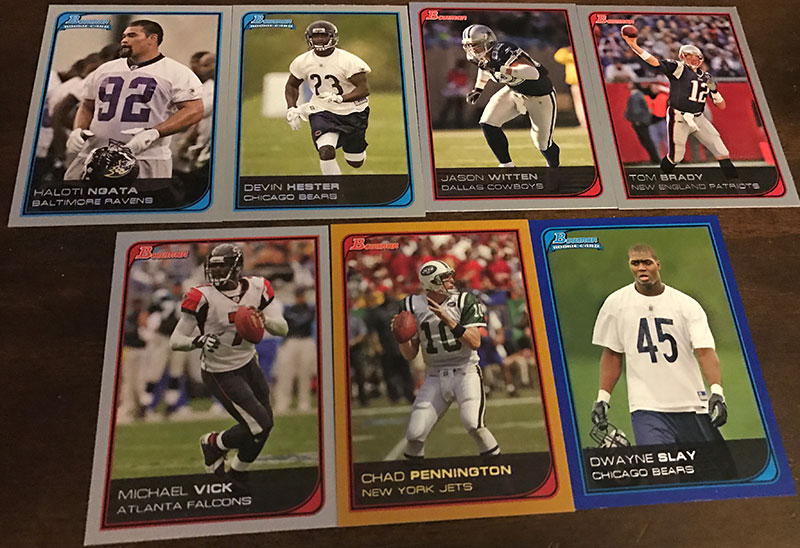 Pack 5:
DeAngelo Williams, Donovan McNabb, Anquan Boldin, Corey Dillon, Eli Manning, Deion Branch, DeMario Minter Gold RC & DonTrell Moore Signs of the Future Autograph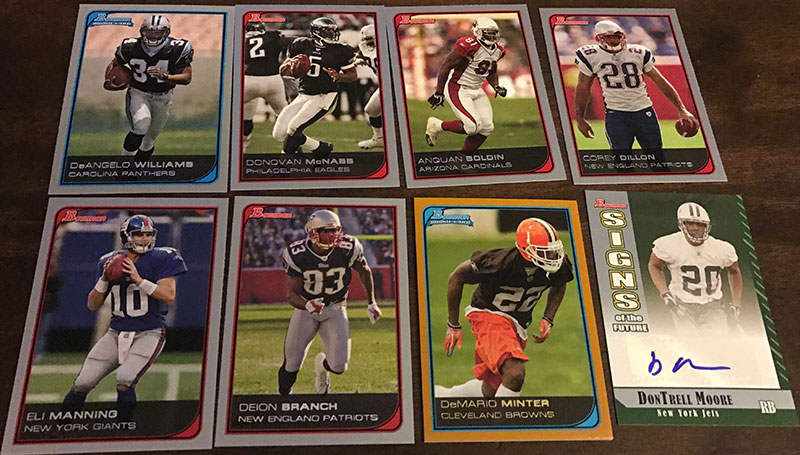 Pack 6:
Antonio Cromartie RC, Elvis Dumervil RC, Brandon Marshall RC, Marvin Harrison, Daunte Culpepper, Alex Smith, Steve McNair, Terry Glenn, Antonio Gates, Kurt Warner, Warrick Dunn & Michael Robinson Gold RC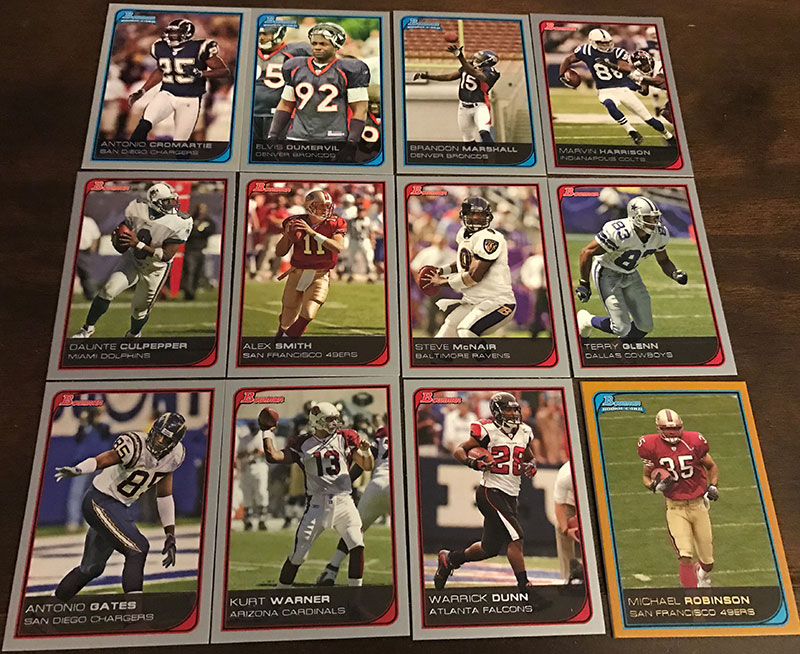 Pack 7:
AJ Hawk RC, Vince Young RC (another one of those supposed-to-be superstars), Vernon Davis RC, Ben Roethlisberger, Steven Jackson, Edgerrin James, Hines Ward, Andre Johnson, Aaron Rodgers, Jovon Bouknight Gold RC & Matt Hasselbeck Blue (172/500)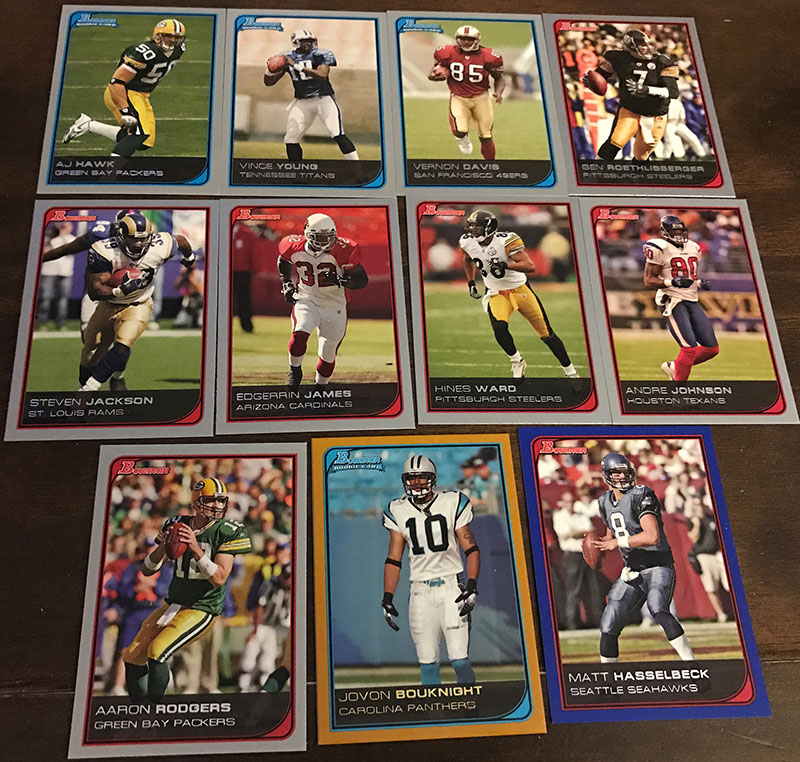 Pack 8:
Maurice Drew RC (now known as Maurice Jones-Drew), Matt Leinart RC, Mario Williams RC, Carson Palmer, Jake Plummer, Shaun Alexander, Peyton Manning, Chad Johnson, Curtis Martin, Maurice Stovall Gold RC & Delanie Walker Chrome RC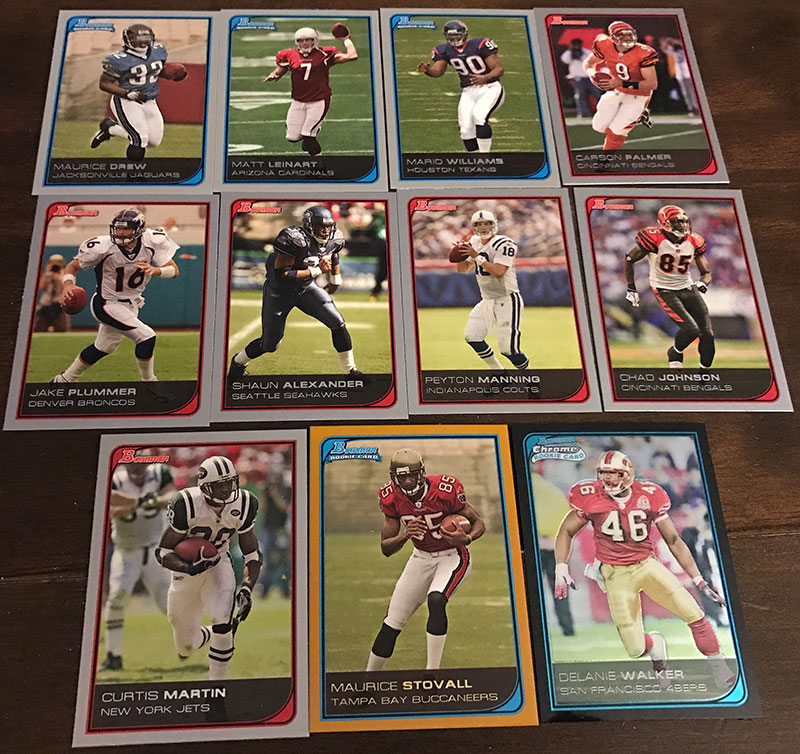 Pack 9:
Laurence Maroney RC, Clinton Portis, Brett Favre, Jamal Lewis, Steve Smith & Brett Favre Gold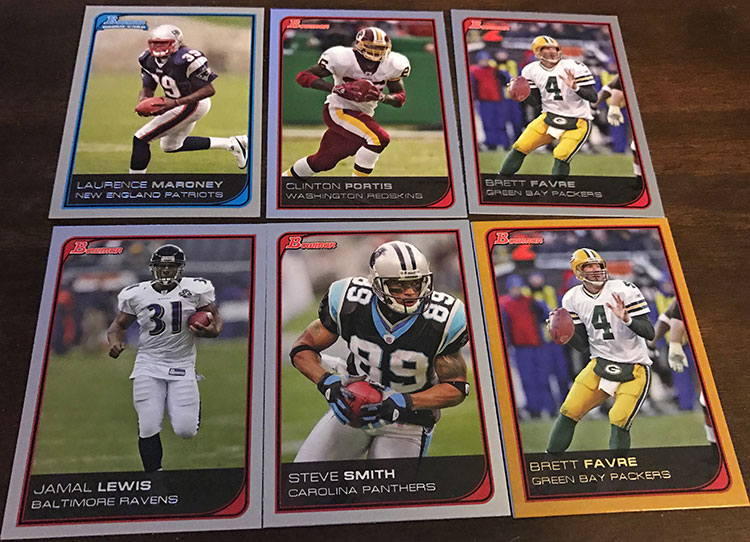 Pack 10:
Marques Colston RC, Jay Cutler RC, Joey Galloway, Philip Rivers, Larry Johnson, Priest Holmes & DeMeco Ryans Gold RC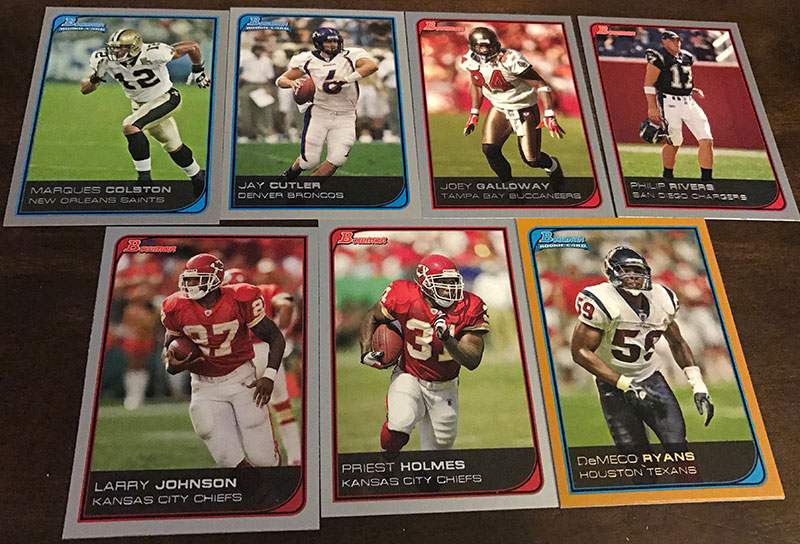 Lastly, each jumbo box comes with a box topper Signs of the Future autograph card. Mine happened to be another Jet — fourth overall pick in the 2006 draft, D'Brickashaw Ferguson.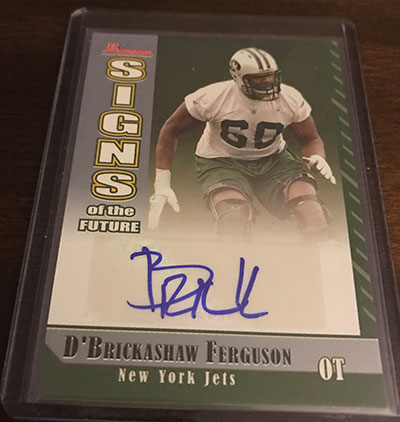 Nothing to write home about on the pulls here. Unfortunately, as we know, only a few positions in football carry much value with their cards, mostly quarterbacks and running backs, and some wide receivers. Now, this can change if certain defensive players turn into superstars, a la Brian Urlacher. But, for the most part, only offensive skills position players hold much value. Unfortunately for me, Moore (a running back) never played in a regular season NFL game.
Despite the lack of major pulls, if I can find another box for the price I paid, I wouldn't hesitate to give this product another shot.
Buy 2006 Bowman Football cards on:
Want more installments of Shane Salmonson's Cheap Wax Wednesday? Check out his other breaks in the archives.