Cheap Wax Wednesday Box Breaks: 2004 Fleer Hot Prospects Draft Edition Baseball
In 2004, Upper Deck, Fleer, and Donruss were given an exemption by the Major League Baseball Players Association, and allowed to produce one product featuring non-major league players. Upper Deck produced SP Prospects, Donruss created Elite Extra Edition, and Fleer went with Hot Prospects Draft Edition. Their goal was to compete with Bowman with a set featuring draft picks.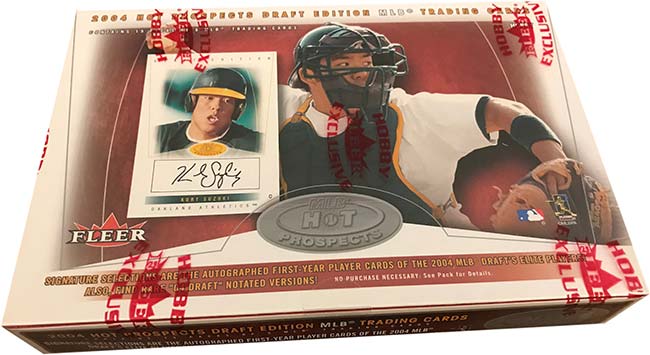 2004 Fleer Hot Prospects Draft Edition Baseball consists of a 120-card base set. Included as part of the base set are 60 veteran cards, 12 Hot Prospects and 48 Signature Selections autograph cards. The biggest name featured as part of the Hot Prospects subset is Yadier Molina. His card was one of two that were inserted into packs as redemptions. Shingo Takatsu is the other. There are only a few notable names included on the Signature Selections autograph checklist, Hunter Pence and Dustin Pedroia being the biggest. 
2004 Fleer Hot Prospects Draft Edition Baseball Box Break
Cards per pack: 5
Packs per box: 15
Price paid: $30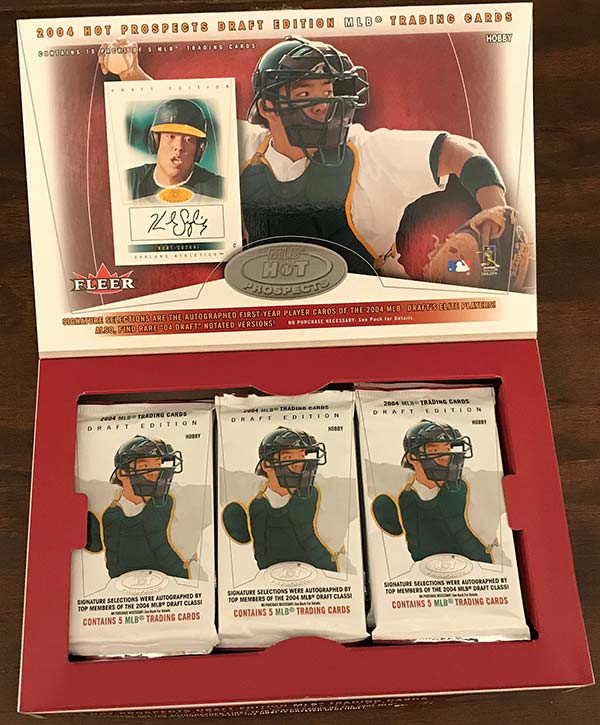 Pack 1 highlights:
Albert Pujols, Ken Griffey, Jr., Roy Halladay, Ichiro Suzuki & Brett Smith Signature Selections (157/299) (1:9 packs)
Nothing like pulling a dud autograph in the first pack, knowing you likely won't pull another. A second round pick of the Yankees, Smith pitched four seasons in the minors, earning a 4.23 ERA.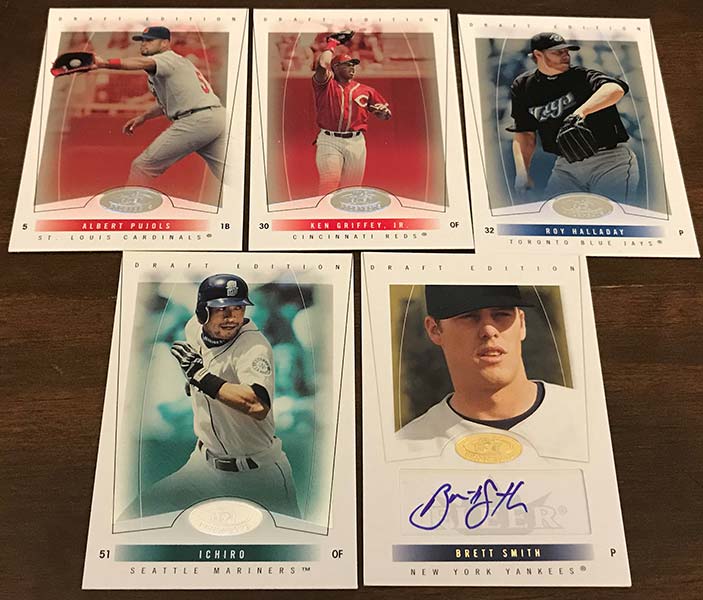 Pack 2:
Curt Schilling, Joe Mauer & Barry Zito
Pack 3:
Alfonso Soriano, Tim Hudson, Pat Burrell & Sammy Sosa/Nomar Garciaparra Hot Tandems (1:15 packs)
Being a Red Sox fan, I still don't like seeing Nomar in a Cubs uniform. He played just 105 games as a Cub, hitting .289. He also hit .289 during his 298 games with the Dodgers.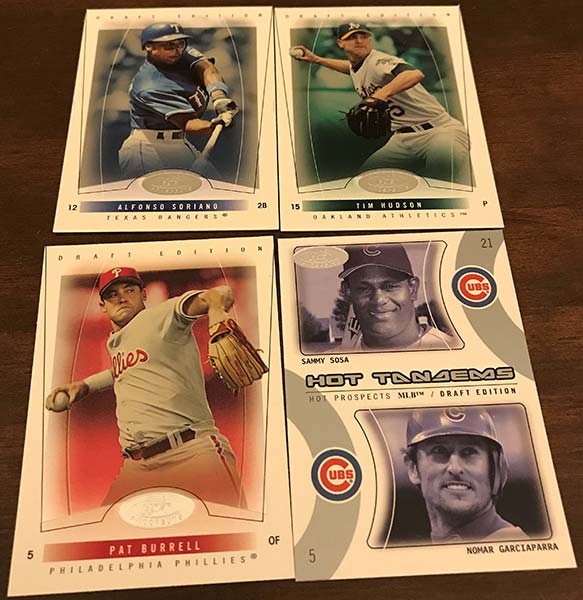 Pack 4:
Frank Thomas, Rafael Palmeiro, Chipper Jones & Pedro Martinez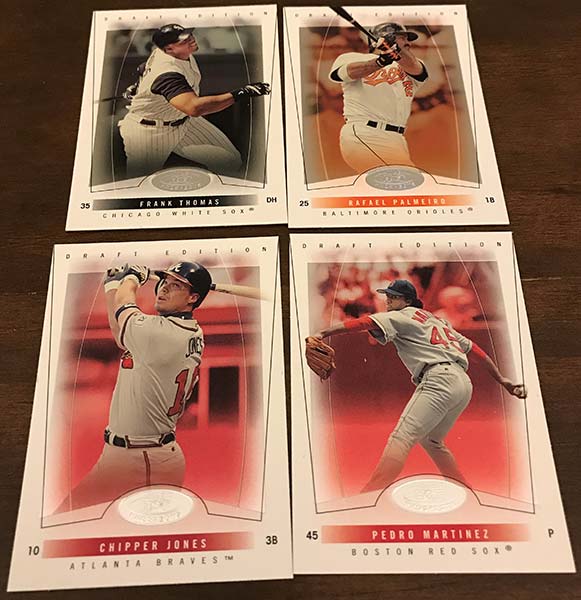 Pack 5:
Randy Johnson, Omar Vizquel, Alex Rodriguez & Sammy Sosa
Vying for his fifth Cy Young Award in 2004, Randy Johnson (at 40 years of age) finished second to Roger Clemens. He posted a 2.30 ERA and struck out 290 batters during the 2004 season.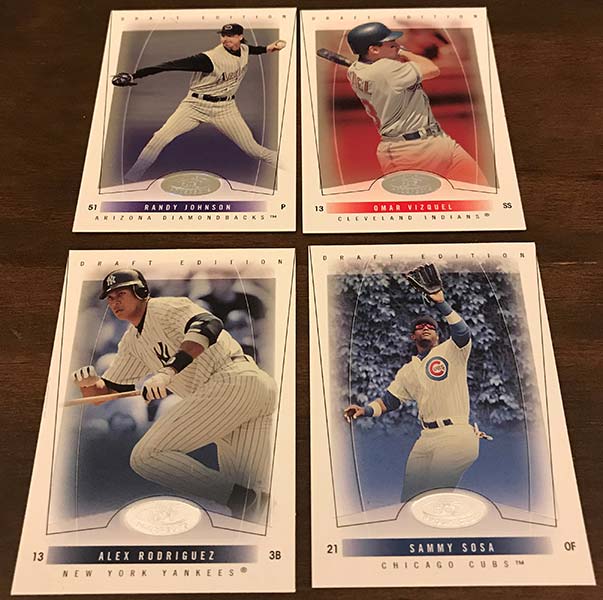 Pack 6:
Todd Helton, Nomar Garciaparra & Miguel Tejada MLB Hot Materials (165/325)

Pack 7:
Hideki Matsui, Miguel Cabrera, Ivan Rodriguez & Barry Larkin Draft Rewind (1:5 packs)
Larkin was selected fourth overall during the 1985 draft. The three players selected before him? B.J. Surhoff, Will Clark & Bobby Witt. Barry Bonds was taken two picks after Larkin.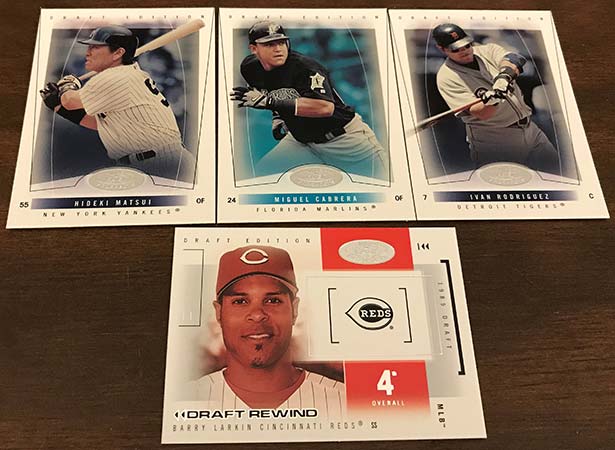 Pack 8:
Jim Thome, Kerry Wood, Scott Rolen & Josh Beckett

Pack 9:
Craig Biggio, Randy Johnson, Alex Rodriguez & Omar Vizquel
Coming up as a catcher, Biggio would be done at the position after his four seasons, switching to mostly second base. He would appear one more time behind the dish, catching two innings during his final season in 2007.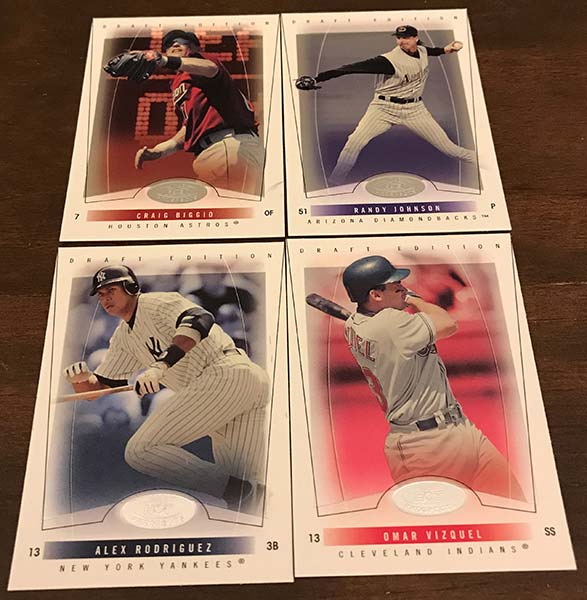 Pack 10:
Sammy Sosa, Tom Glavine, Vladimir Guerrero & Mark Prior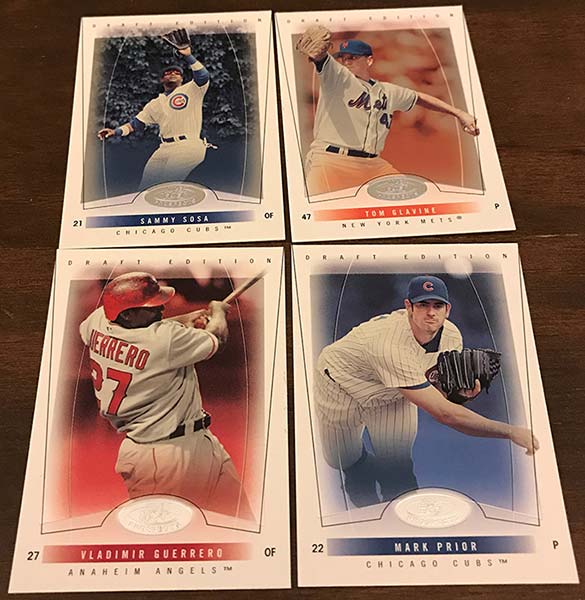 Pack 11:
Andruw Jones, Jason Giambi, Adam Dunn & Mark Mulder Draft Rewind (1:5 packs)
Adam Dunn played his last game at 34-years old. He finished his career just 38 home runs shy of the magic 500 mark.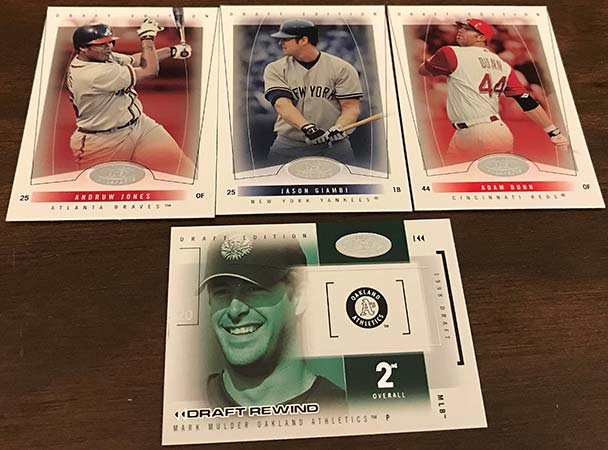 Pack 12:
Tom Glavine, Dontrelle Willis, Vladimir Guerrero & Curt Schilling Draft Rewind (1:5 packs)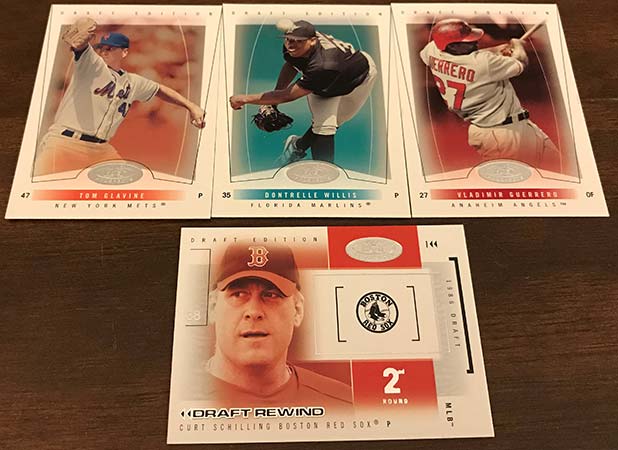 Pack 13:
Roger Clemens, Carlos Beltran, Derek Jeter & Merkin Valdez Hot Prospects /1000 (1:15 packs)
Merkin Valdez pitched in 74 major league games, posting a 5.57 ERA.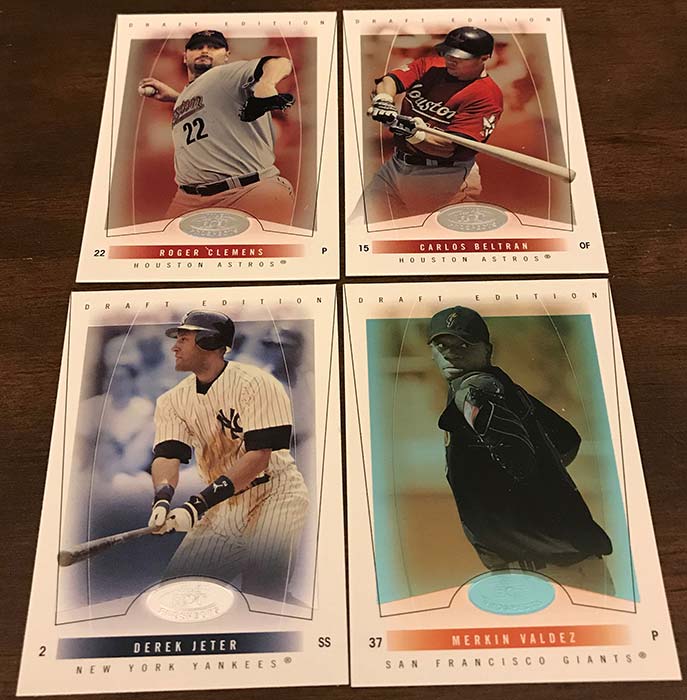 Pack 14:
Mike Piazza, Lance Berkman, Manny Ramirez, Gary Sheffield & Kevin Brown Draft Rewind Jersey (030/104)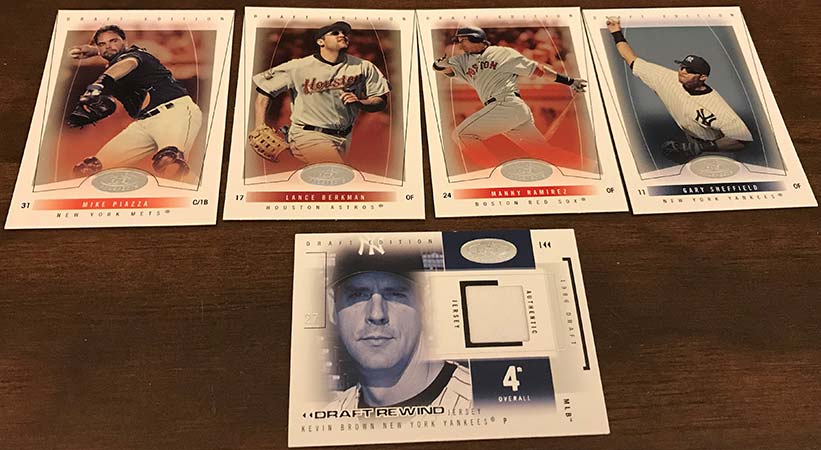 Pack 15:
Adrian Beltre, Jeff Bagwell & John Gall Red Hot #ed 096/150
Gall played for ten seasons, appearing in just 33 major league games. He was a career .293 hitter in the minors. 

Lastly, the Beltre card back. Oddly, Fleer chose to break down each player's 2003 stats by inning. Apparently Beltre really struggled late in games, hitting .197.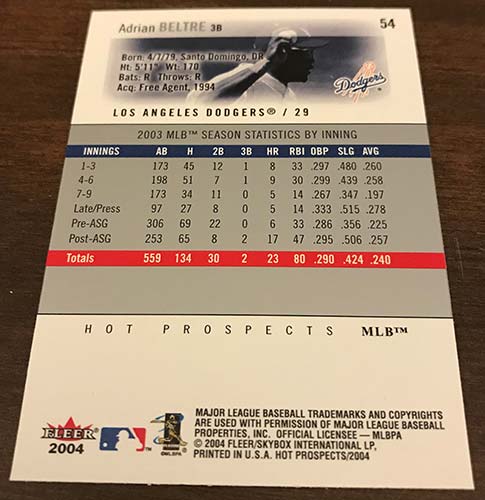 Obviously I did not pull the Pedroia autograph I was hoping for. The cheapest one currently available on eBay is $80.
This set is actually pretty sharp looking. I wonder if it would have hung around in this form had Fleer not gone bankrupt in 2005.
Buy on:
Want more installments of Shane Salmonson's Cheap Wax Wednesday? Check out his other breaks in the archives.