Cheap Wax Wednesday Box Breaks: 2003 Fleer Hot Prospects Baseball
Hot Prospects Baseball was a Fleer release that ran for just three years, from 2002 to 2004. Considered a premium product, the base cards are a thicker card stock and feature an advanced design. The 2003 Hot Prospects set consists of just 80 regular base cards plus another 35 hits-based cards that are a mix of Future Swatch jersey cards, Certified Cuts autographs, and Game Graphs. The cards are actually numbered up to #119, but four cards (88, 96, 106 and 108) do not exist.
On release day these packs were priced at $12 a piece! Obviously, I did not pay nearly that much.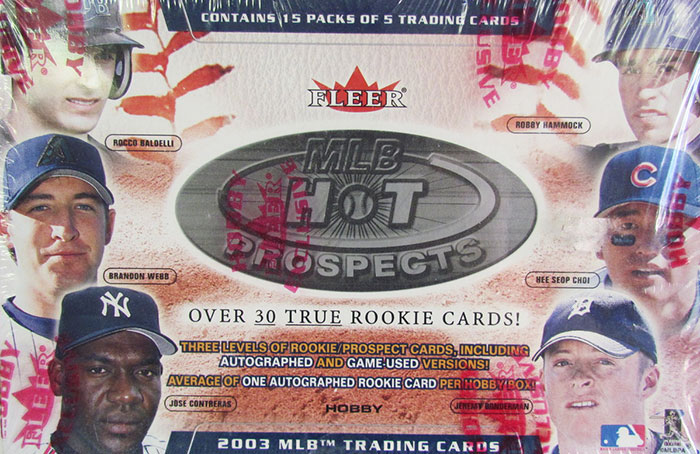 Now, first things first. You may be looking at the box of this product, titled Hot Prospects and wondering where all the "hot prospects" are. Baldelli, Webb, Contreras, Hammock, Choi and Bonderman aren't exactly household names. You could certainly argue that none of these players lived up to the hype. Keep in mind, though, that Baldelli (now manager of the Minnesota Twins) was the #6 pick out of high school in 2000. He debuted in the majors in 2003, and had two very solid seasons before an illness really affected his ability to play the game. Brandon Webb was also a very good major league pitcher from 2003-2008, including winning the 2006 NL Cy Young Award, before arm troubles ended his career far too early.
The names to look for in the autograph and relic portion of the base set are Mark Teixeira, Shane Victorino, Hideki Matsui (which is actually just a base Rookie Card numbered to 1250, the only one in the product) and Dontrelle Willis. The prospects in 2003 Hot Prospects did not end up being very, you know, hot.
As you scroll, you may notice a fun, new addition to the series. Along for the ride starting with this week's edition of Cheap Wax Wednesday is Bleacher Report National MLB Columnist Joel Reuter. Below each pack reveal, he's provided a fun fact about one of the players pictured. You can follow Joel on Twitter (@JoelReuterBR) and check out his work at Bleacher Report.
2003 Fleer Hot Prospects Baseball Box Break
Cards per pack: 5
Packs per box: 15
Price paid: $35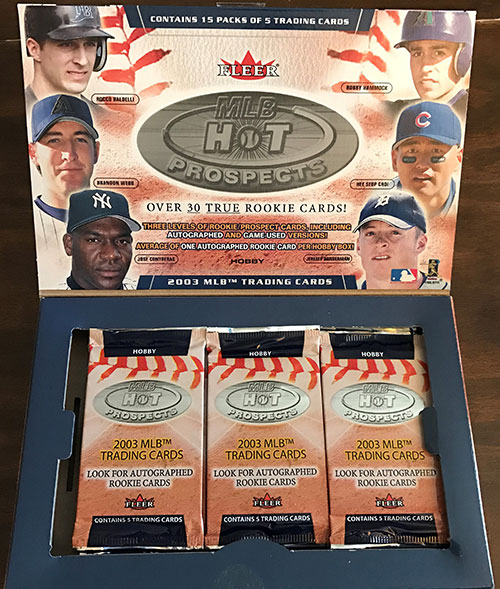 Pack 1 highlights:
Eric Chavez, Randy Johnson, Troy Glaus & Kerry Wood
Pack 1 fun fact: Despite his 260 career home runs and six Gold Glove Awards, Eric Chavez never made an All-Star team in his 17-year career.
Pack 2:
Luis Gonzalez, Mike Piazza, Garret Anderson, Nomar Garciaparra & Roy Oswalt
Pack 2 fun fact: Garret Anderson checks in at No. 96 on the all-time list with 2,529 career hits. That puts him ahead of legends like Joe Morgan (2,517), Mickey Mantle (2,415), Eddie Mathews (2,315), and many others.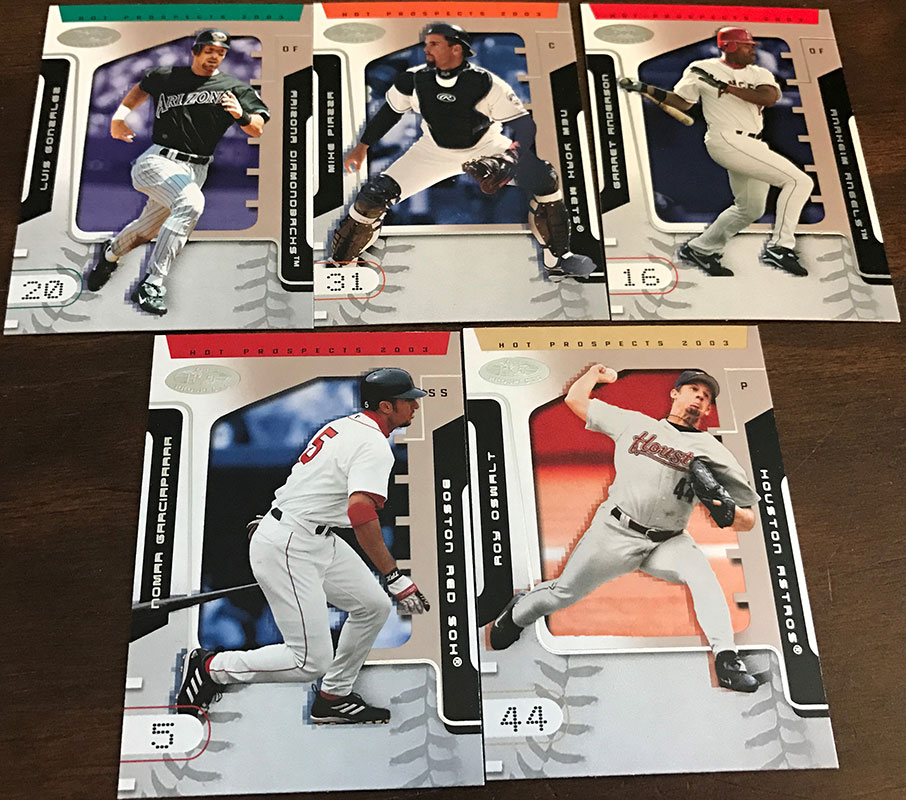 Pack 3:
Frank Thomas, Todd Helton, Rafael Palmeiro & Roger Clemens Cream of the Crop (1 in every 5 packs)
Pack 3 fun fact: Todd Helton served as the backup quarterback to an exciting young freshman named Peyton Manning at the University of Tennessee in 1994. In limited action, he completed 36-of-66 passes for 406 yards, two touchdowns and three interceptions.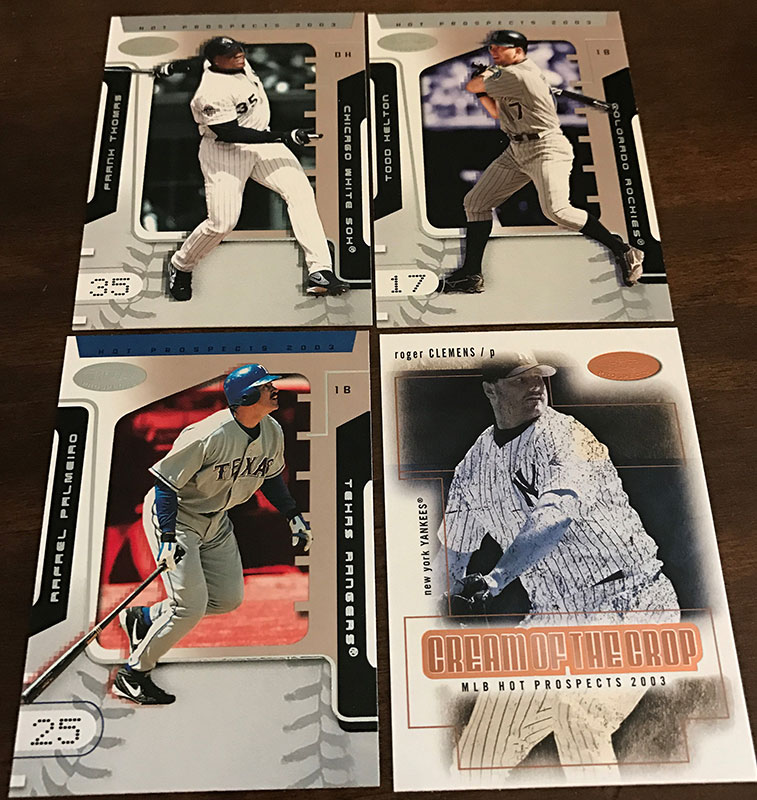 Pack 4:
Larry Walker, Adam Dunn & Derek Jeter Hot Materials (299/499)
Pack 4 fun fact: During his 1997 NL MVP season, Larry Walker actually had better numbers on the road (1.176 OPS, 29 HR) than he did at home (1.169 OPS, 20 HR). So much for his stats being inflated by Coors Field.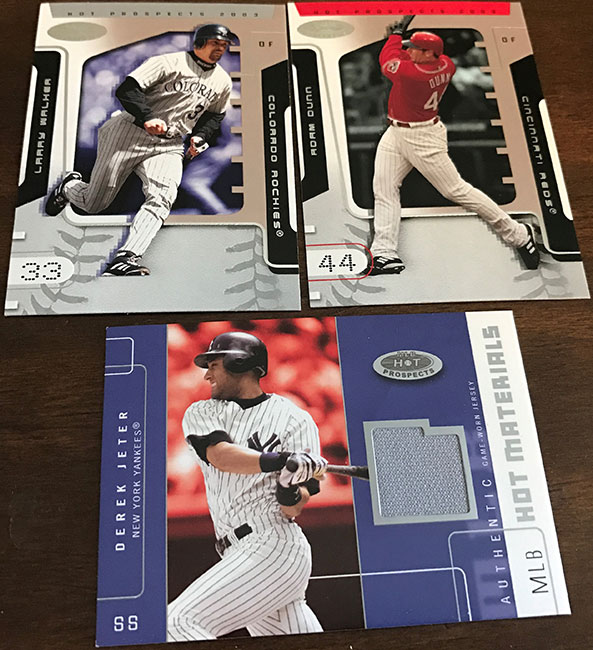 Pack 5:
Bret Boone, Albert Pujols, Ivan Rodriguez & Josh Beckett
Pack 5 fun fact: During the 2003 season, Josh Beckett had a 2.99 ERA and 9.8 K/9 when Ivan Rodriguez was catching, compared to a 3.45 ERA and 8.6 K/9 when Mike Redmond was behind the plate.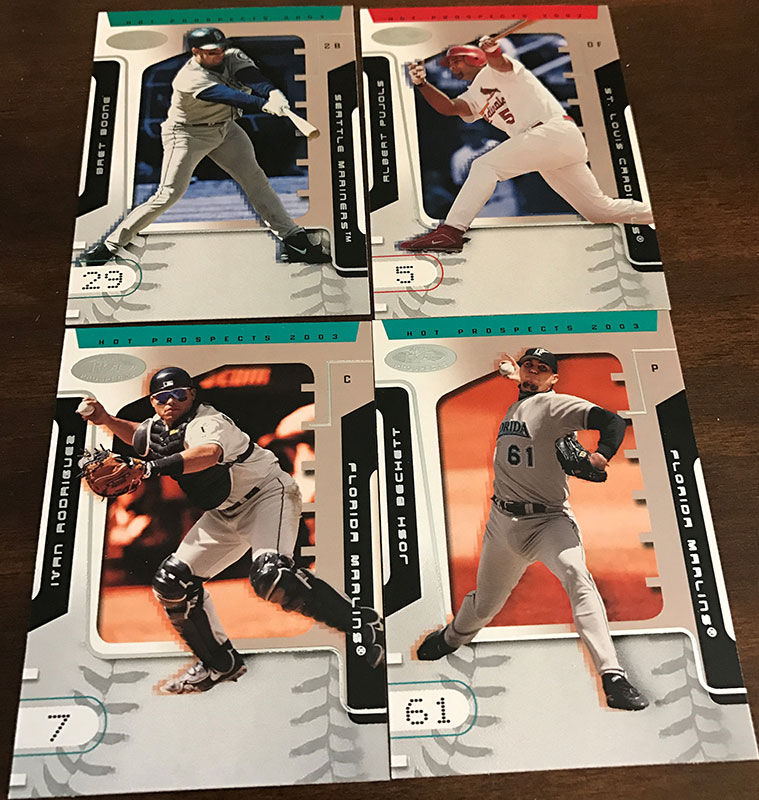 Pack 6:
Jim Edmonds, Juan Gonzalez & Carlos Delgado
Pack 6 fun fact: Carlos Delgado (3.8%) and Jim Edmonds (2.5%) both went one-and-done on the Hall of Fame ballot, while two-time AL MVP Juan Gonzalez (5.2% and 4.0%) stuck around for just two years.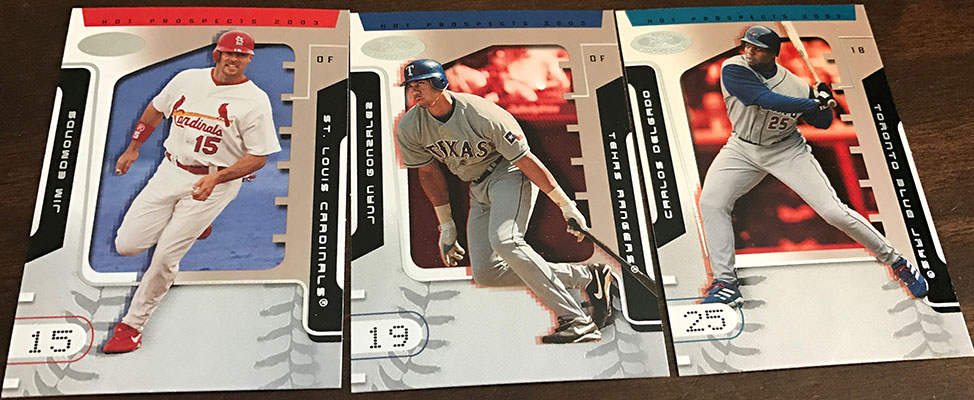 Pack 7:
Jim Thome, Omar Vizquel, Barry Bonds & Jason Kendall
Pack 7 fun fact: Among catchers with at least 3,000 plate appearances since 1990, only Mike Piazza (.308), Buster Posey (.302), Ivan Rodriguez (.296) have a higher career batting average than Jason Kendall (.288).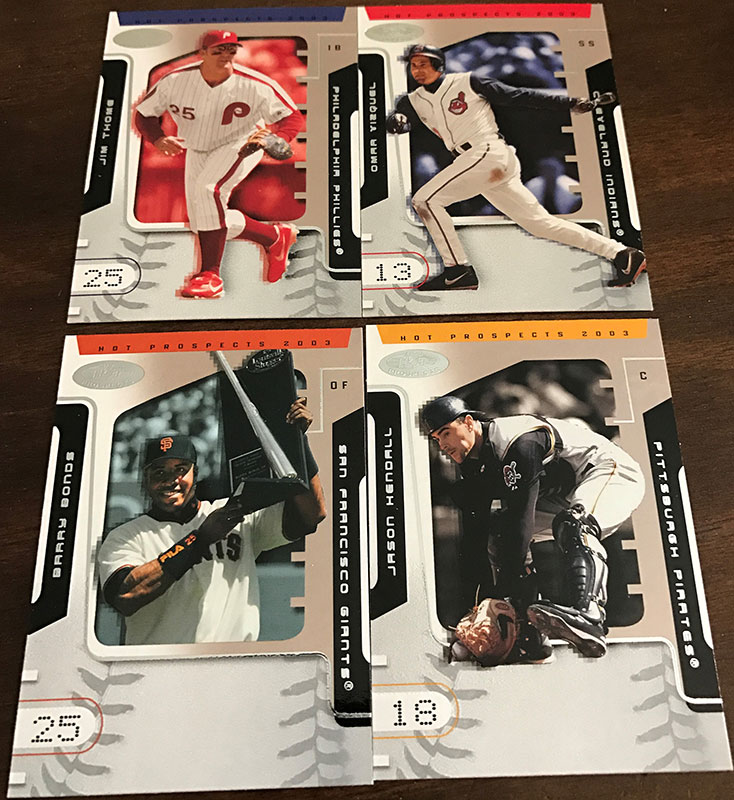 Pack 8:
Torii Hunter, Carlos Beltran, Ben Sheets, Mike Sweeney & Sammy Sosa Cream of the Crop (1:5 packs)
Pack 8 fun fact: Ben Sheets gave up just one run in 22 innings for the 2000 USA Olympic team that took gold at the Sydney games. He had not yet made his MLB debut at the time.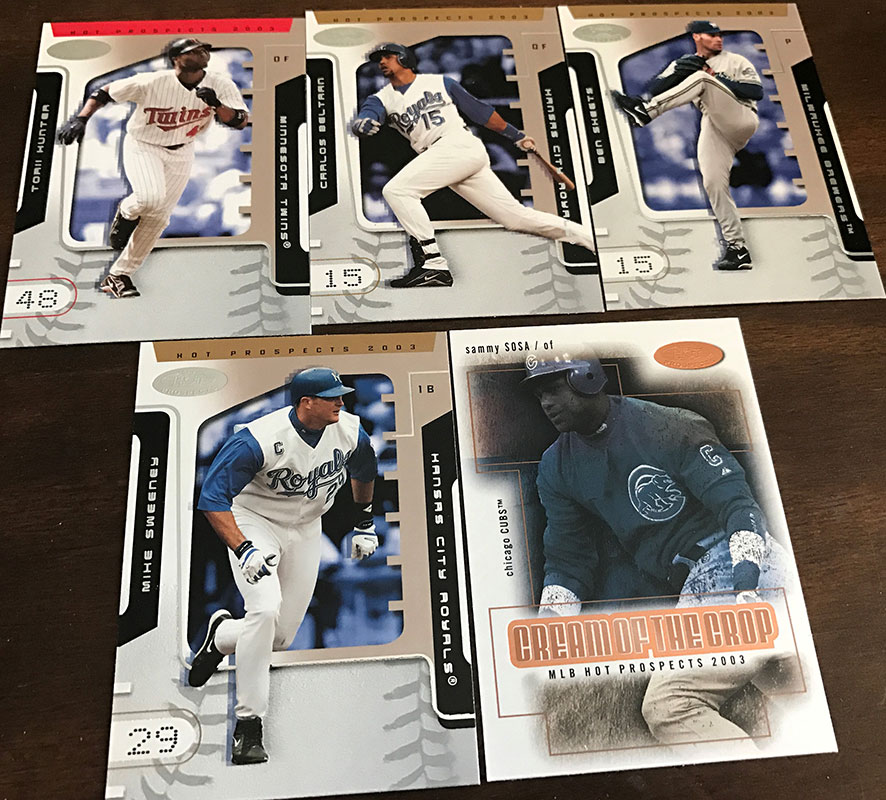 Pack 9:
Fred McGriff, Lance Berkman, Ken Griffey, Jr. & Jesse Foppert Future Swatch (1218/1250)
Pack 9 fun fact: Jesse Foppert posted a 5.03 ERA in 111 innings as a rookie in 2003, then pitched just 11.1 more innings total at the MLB level. The Giants eventually used him to acquire Randy Winn from the Seattle Mariners at the 2005 trade deadline.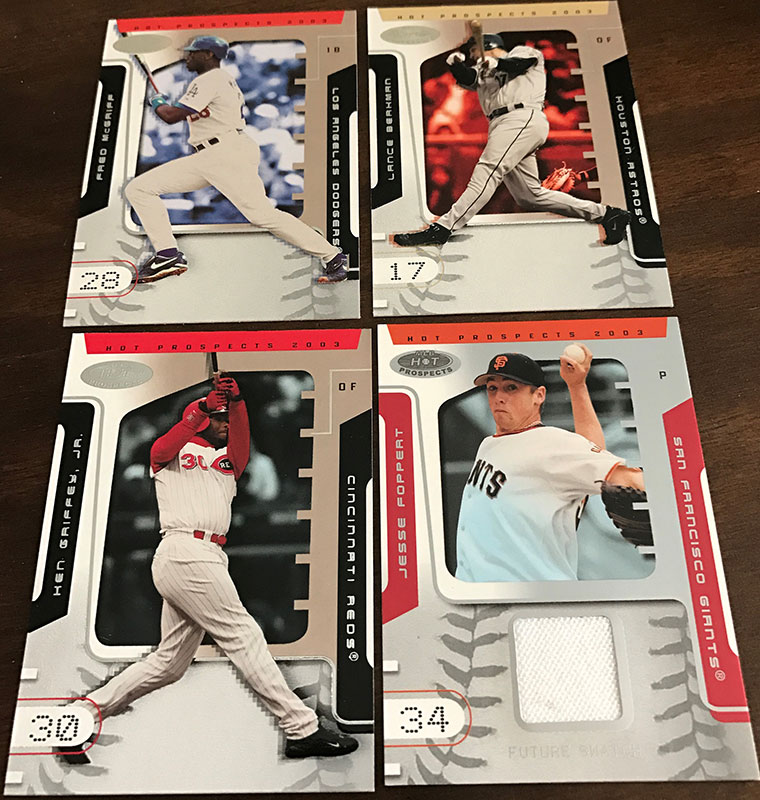 Pack 10:
Kazuhisa Ishii, Scott Rolen, Pat Burrell, Tim Salmon & Vladimir Guerrero
Pack 10 fun fact: Remember how we mentioned earlier that Eric Chavez never made an All-Star team? The same is true of Tim Salmon, despite an impressive 14-year career that included 299 home runs, 1,016 RBI and a .282/.385/.498 batting line.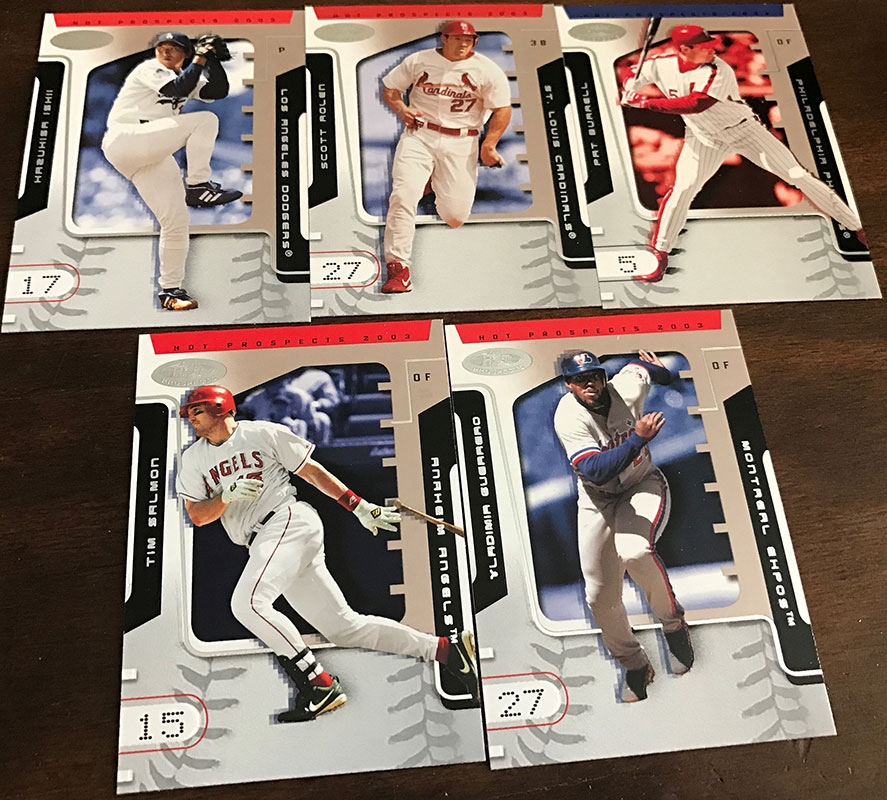 Pack 11:
Sammy Sosa, Ichiro Suzuki, Paul Konerko, Jeff Kent & Matt Morris/Kerry Wood Class of '95 (1:15 packs)
Pack 11 fun fact: To expand on the "Class of '95" card, Kerry Wood went No. 4 overall in that draft and Matt Morris was the No. 12 pick. Other notable first-round selections that year include Darin Erstad (1), Jose Cruz (3), Todd Helton (8), Geoff Jenkins (9) and Roy Halladay (17).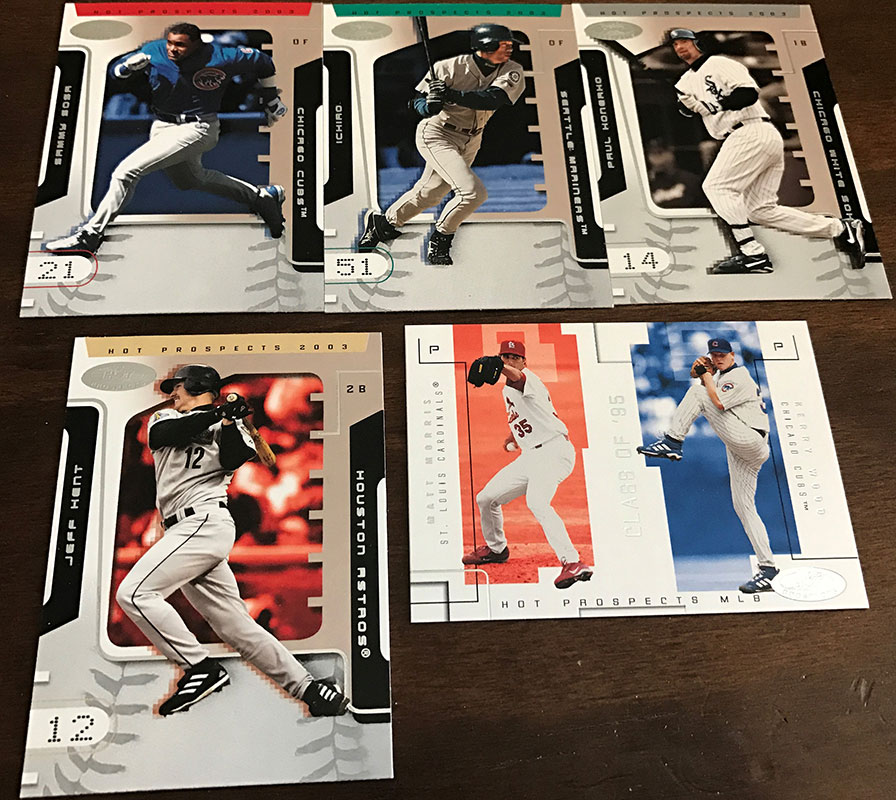 Pack 12:
Edgar Martinez, Shawn Green & Daniel Cabrera Game Graphs Autograph/Relic (072/400)
Pack 12 fun fact: Daniel Cabrera somehow finished third in AL Rookie of the Year voting in 2004, despite posting a 5.00 ERA with more walks (89) than strikeouts (76) in 147.2 innings. Oakland shortstop Bobby Crosby won the award, while White Sox closer Shingo Takatsu finished second in the balloting.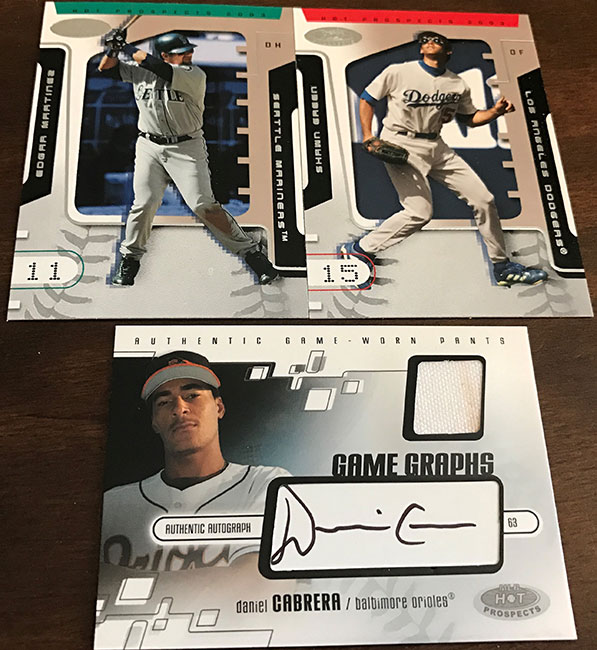 Pack 13:
Alex Rodriguez, Mo Vaughn, Mark Prior, Pedro Martinez & Barry Bonds Cream of the Crop (1:5 packs)
Pack 13 fun fact: Mark Prior went 10-1 with a 1.52 ERA and 95 strikeouts in 82.2 innings over the final two months of the 2003 season. He averaged 117 pitches per start during that stretch, including three games where he topped 130. What could go wrong?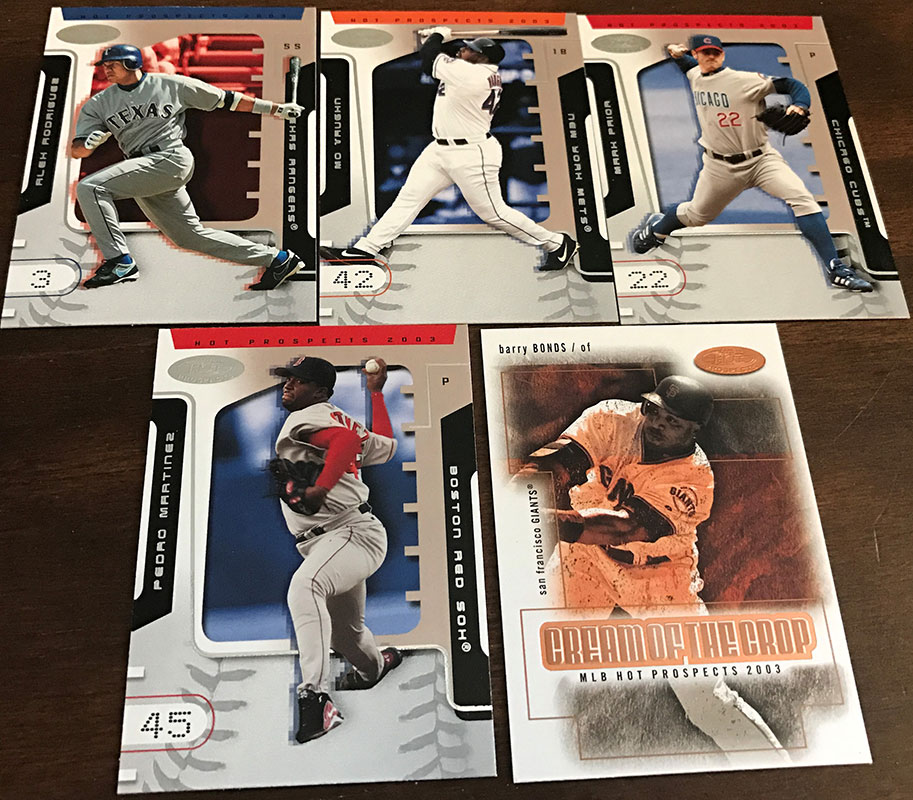 Pack 14:
A trio of Braves base cards: Gary Sheffield, Greg Maddux & Chipper Jones. And a Nomar Garciaparra Hot Materials (063/499)
Pack 14 fun fact: Gary Sheffield was traded from the San Diego Padres to the Florida Marlins midway through the 1993 season. Hall of Fame closer Trevor Hoffman went the other way in that deal.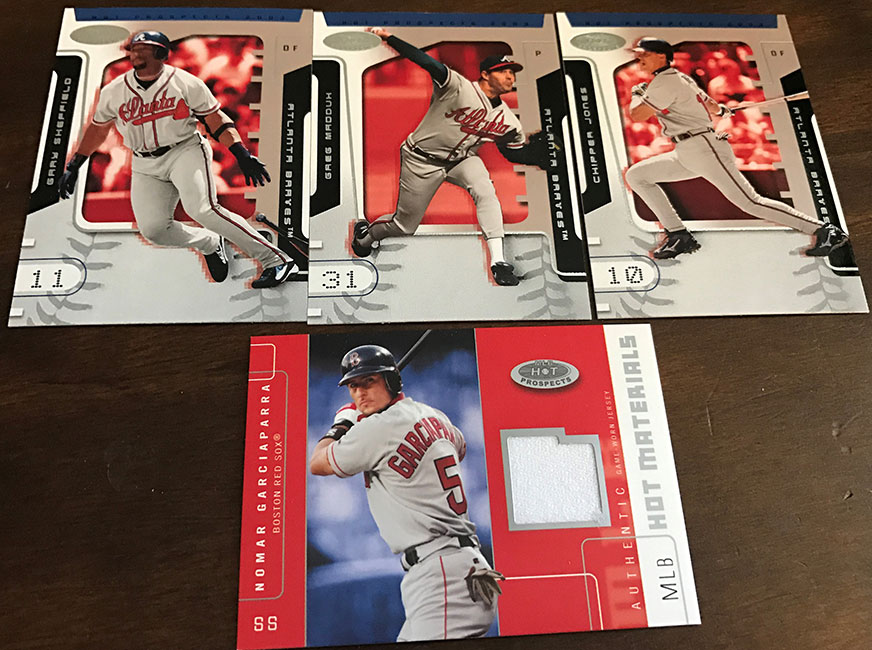 Pack 15:
Bobby Abreu, Manny Ramirez, Derek Jeter & Curt Schilling
Pack 15 fun fact: Bobby Abreu was chosen by the Tampa Bay Devil Rays in the sixth round of the 1997 expansion draft, then promptly traded to the Philadelphia Phillies for light-hitting veteran shortstop Kevin Stocker. Whoops.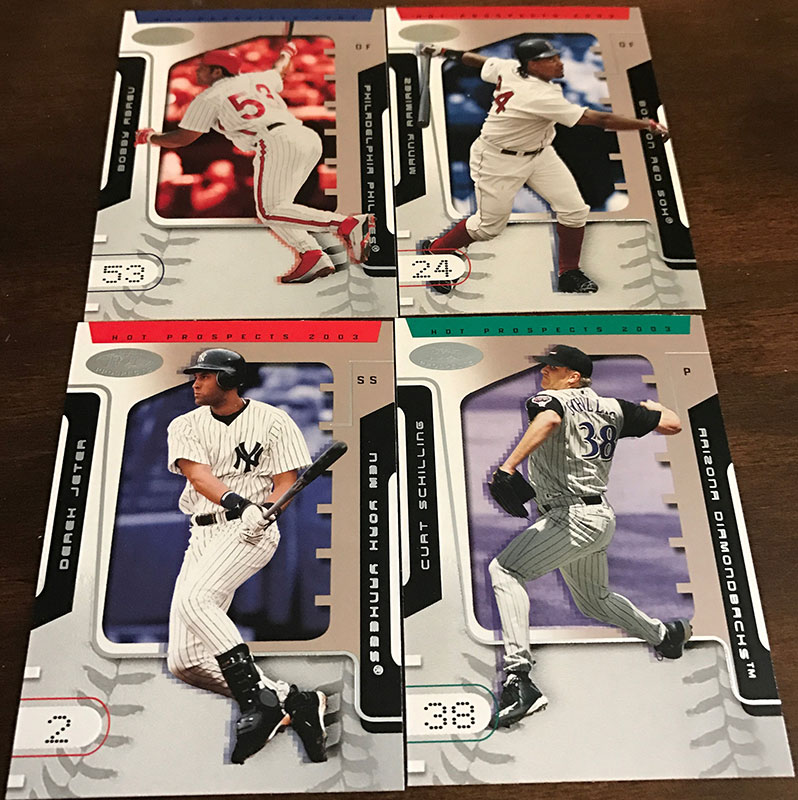 Is this a product I would be buying for $12 a pack? Absolutely not. However, 17 years later and paying just $35 a box, I would definitely give this another shot. The base set does certainly feel and look like a premium set should. The two cards I pulled from the "prospect" portion of the checklist definitely were not big names: Jesse Foppert and Daniel Cabrera. However, the two Hot Materials jersey cards I pulled were two of the best shortstops of that time, Derek Jeter and Nomar Garciaparra.
There are also some relic and autograph sets I did not see in this box.
Class of Game Used and MLB Hot Tandems feature dual jersey cards.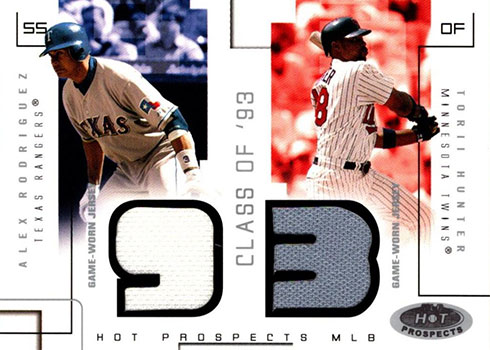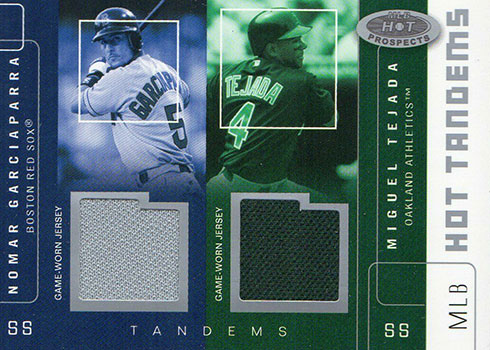 MLB Hot Triple Patch cards are tough to find and numbered to 50 copies.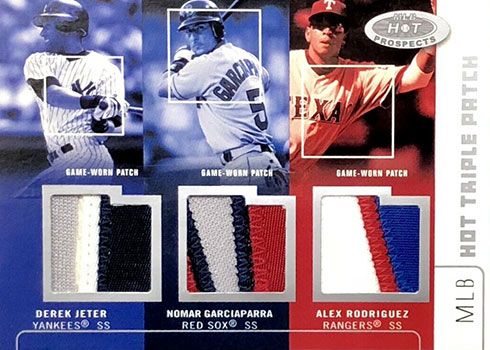 Playergraphs are autograph cards limited to 400 copies each.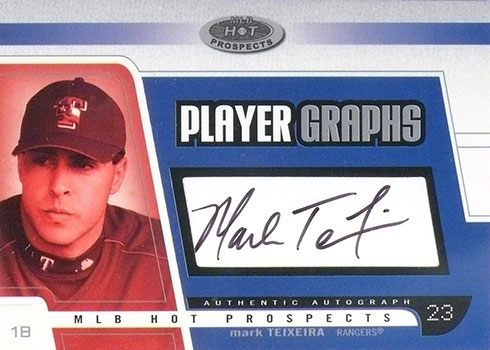 All in all, 2003 Fleer Hot Prospects a good looking set and, at this price, something worth opening.
Shop for 2003 Fleer Hot Prospects Baseball cards on:
Want more installments of Shane Salmonson's Cheap Wax Wednesday? Check out his other breaks in the archives.