Cheap Wax Wednesday Box Breaks: 2002 Upper Deck MVP Baseball
Starting with a single release in 1989, Upper Deck was continually adding new brands to its baseball portfolio. By 1999, Upper Deck featured nearly 20 different products. MVP was introduced as a new affordable brand in the middle of that 1999 baseball season. That first release was loaded, featuring three parallels, five insert sets, and autograph and memorabilia cards. The MVP brand looked about the same in 2000, but after that things started to change. The 2001 set featured no parallels, and just two insert sets in addition to the long-odds autographs and memorabilia cards.
The 2002 Upper Deck MVP Baseball set makeup is about the same as 2001, with just one insert set, and the reintroduction of parallels — though now at long odds. The autographs are gone, leaving a few different memorabilia sets to chase.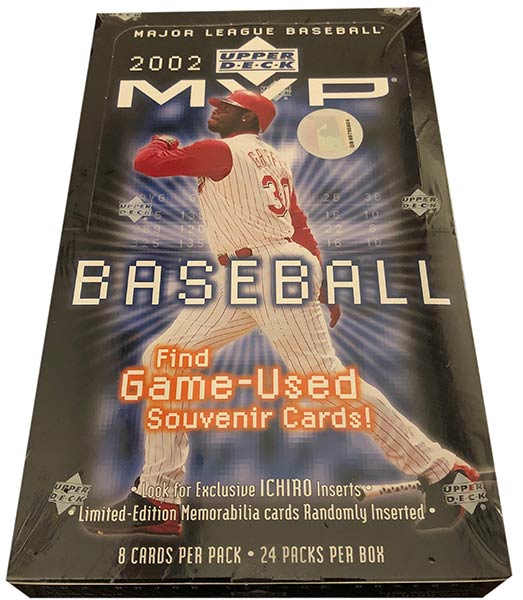 Those aren't the only changes this brand would see. The first two sets had bright white borders. The 2001 release got a bit darker, with black and silver borders. By 2002, the cards featured all black borders. Not only that, but the photo backgrounds were replaced by a large MVP and a random assortment of stat lines. This is definitely not the same product as the one introduced just a few years earlier.
2002 Upper Deck MVP Baseball Box Break
Cards per pack: 8
Packs per box: 24
Price paid: $28

Pack 1 highlights:
Tom Glavine, Kenny Lofton, Roy Oswalt & So Taguchi RC. If it seems weird to see Lofton in a White Sox jersey, it is because he only played 93 games for the South Siders, all in 2002.

Pack 2:
Gary Sheffield, Edgar Renteria & Brian Roberts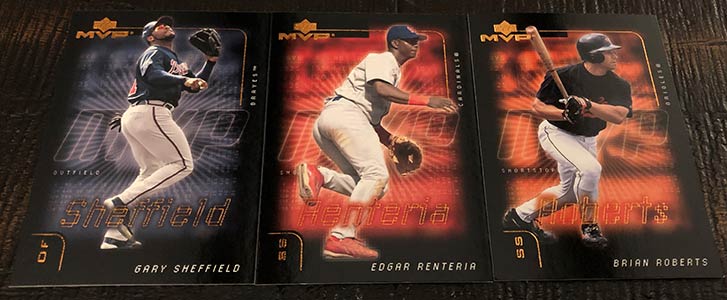 Pack 3:
Pat Burrell, Chipper Jones & Barry Zito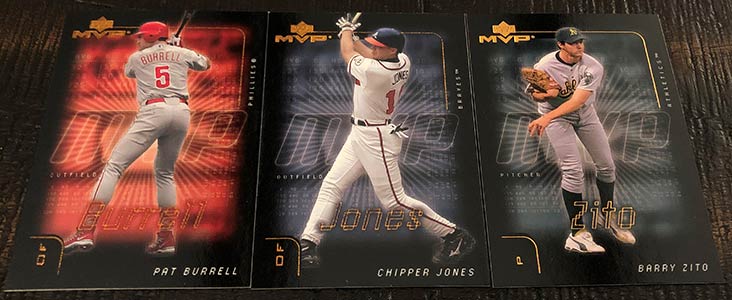 Pack 4:
Hideo Nomo, C.C. Sabathia & Bobby Abreu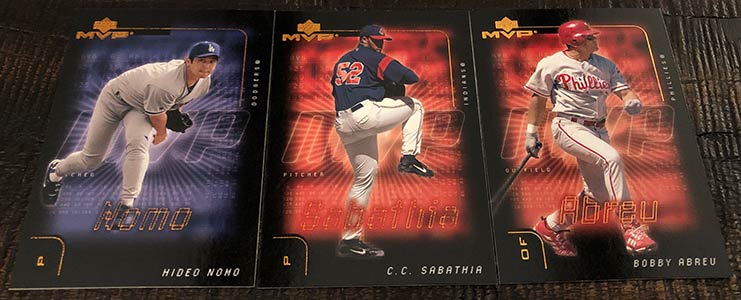 Pack 5:
Derek Jeter & Tom "Flash" Gordon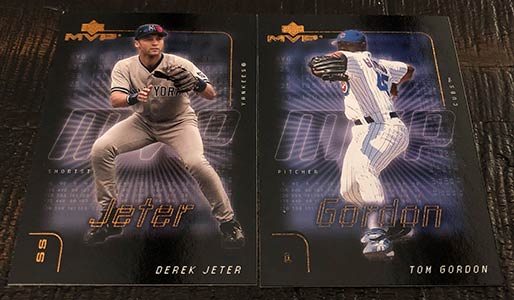 Pack 6:
Rafael Palmeiro, Bret Boone, Barry Bonds & Barry Larkin. These four combined to slug 159 home runs in 2001, even with Larkin only contributing two long balls on the season.

Pack 7:
Jim Edmonds & Ichiro Suzuki A Season to Remember (1 in every 12 packs). 2001 certainly was a season to remember to Ichiro, as he broke into MLB and won the AL ROY and MVP awards.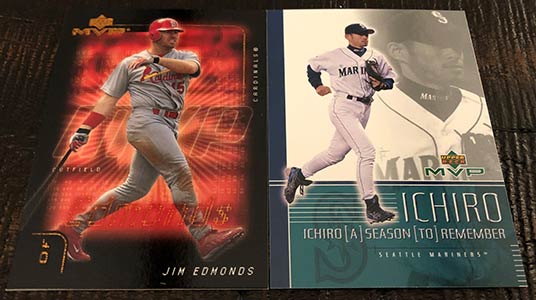 Pack 8:
Magglio Ordonez, Ken Griffey, Jr. CL, Jason Giambi & Manny Ramirez

Pack 9:
Tim Hudson & Cliff Floyd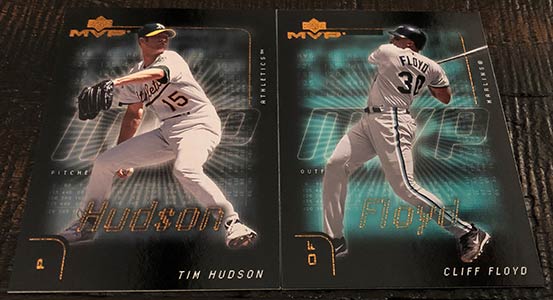 Pack 10:
Troy Glaus & Ichiro Suzuki CL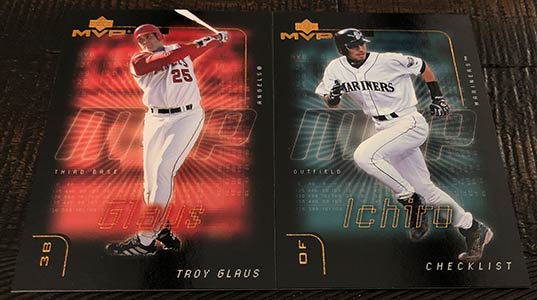 Pack 11:
Jorge Posada & Mark Kotsay MVP Souvenir (1:48 packs). I always liked Kotsay. He wasn't a superstar but he always played hard. He bounced around quite a bit, playing for seven different teams in a 17-year major league career.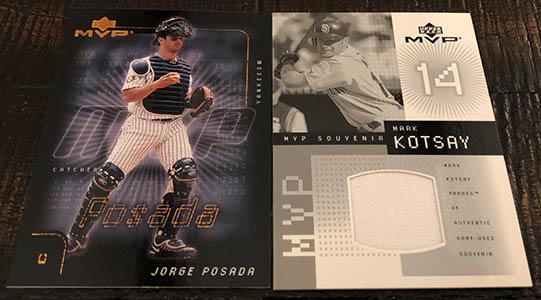 Pack 12:
Moises Alou & Ivan Rodriguez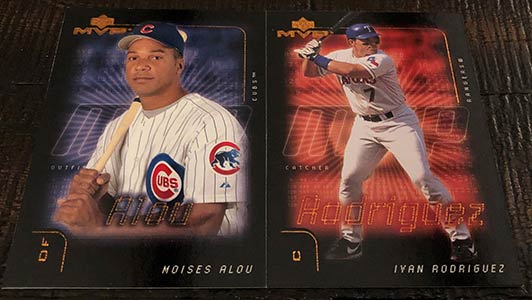 Pack 13:
3-time Gold Glove winner Mike Cameron & Matt Williams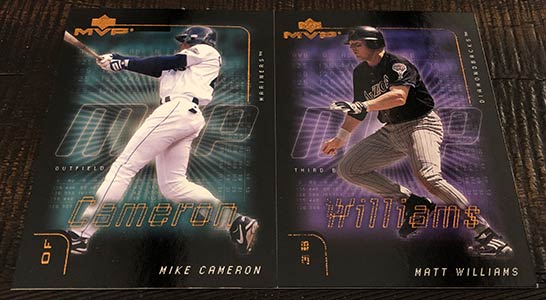 Pack 14:
Jeff Bagwell, Fred McGriff & Ken Griffey Jr. CL

Pack 15:
Tim Salmon, Mike Mussina, Pedro Martinez (as a pretty serious Pedro collector, I own eight copies of this card) & Scott Rolen

Pack 16:
Trevor Hoffman, Ichiro Suzuki, Adrian Beltre & Sammy Sosa. It is pretty safe to say both Ichiro and Beltre will get elected to the Hall of Fame, making this one a three-HOFer pack.

Pack 17:
J.D. Drew, Derek Jeter CL & Greg Maddux

Pack 18:
Curt Schilling, Mark Teixeira & Bartolo Colon. I surely can't be the only one that would like to see Colon get signed and pitch just one more season, right?

Pack 19:
John Smoltz, Barry Bonds CL, Paul Konerko, Mike Lowell & Ichiro Suzuki A Season to Remember (1:12 packs)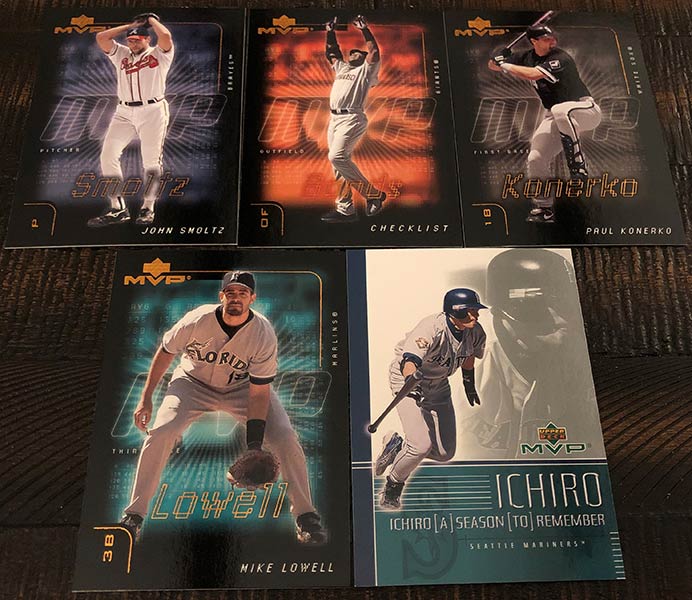 Pack 20:
Sammy Sosa CL, Alex Rodriguez & Rafael Furcal

Pack 21:
Eric Chavez & Omar Vizquel. We all know Vizquel was an amazing defensive player, winning 11 Gold Gloves, but Eric Chavez was no slouch, winning six Gold Gloves of his own.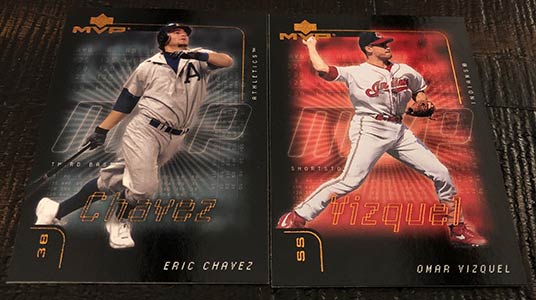 Pack 22:
David Ortiz. It was after this 2002 season that Minnesota would make a big mistake, releasing Big Papi.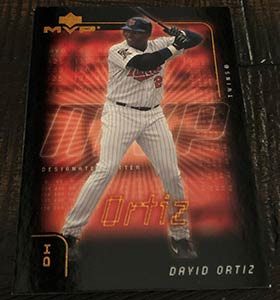 Pack 23:
Carlos Beltran, Edgar Martinez & Randy Johnson

Pack 24:
Mo Vaughn, Jeff Kent & Mariano Rivera. The Angels traded 1995 AL MVP Mo Vaughn to the Mets for Kevin Appier prior to the 2002 season.

Lastly, the Mariano card back. The backs featured full career stat lines (one of my favorite things) and some player info. Works for me.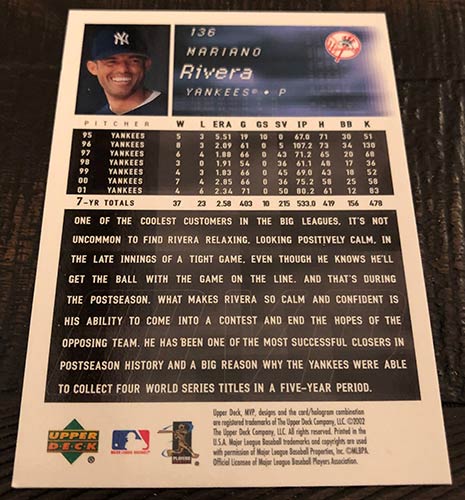 This set left me a bit confused. I feel like they could have done so much more with this one. One insert set doesn't leave much to look for, especially with memorabilia cards landing in every other box.
The remaining parallels were both tough pulls, and numbered to 100 and 25 copies. I didn't pull any of those.
The memorabilia checklists are fairly stacked, with Kotsay being one of the few non-star players included.
The lack of inserts left this one as kind of a boring break. This isn't something I would seek out to break again.
Shop for 2002 Upper Deck MVP Baseball on:
Want more installments of Shane Salmonson's Cheap Wax Wednesday? Check out his other breaks in the archives.